wearing Westman Atelier Baby Cheeks in Chouchette
Makeup Tip For A Youthful Look
If I had to pick ONE cosmetic item to use for the rest of my life, it would be blush. Okay, wait. Honestly, it would be lipstick because 1) um, hello, LIPSTICK, and 2) I can use lip color as a blush so it's like killing two birds with one stone, people. Regardless, bottom line – it's a very rare occurrence if you see me without color on my cheeks. It's my #1 tip for creating a youthful, healthy appearance.
I fancy myself quite the blush aficionado. I have a ridiculous amount of blushes, yet completely unapologetic because you can bet your bottom dollar that I find a use for every single shade I own. Here's the rub, though. #nopunintended Blush can make you look years younger OR, if applied incorrectly, add many years to your face. It's all in the texture you choose and the application technique. (Say NO to awful-looking stripes across the cheekbones! The worst.)
As a lady in my mid-40s, the texture of blushes is becoming more and more important so I rarely stray from cream blushes. Cream blushes are the literal crème de la crème – they create a dewiness that is unparalleled and are so easy to blend on the apples of cheeks, which is key as you develop more texture on aging skin. Although I do have a few powder blushes I enjoy, the majority of my favorites are creams or balms.
WHY CREAM BLUSH FOR MATURE SKIN?
Cream blush is ideal because it looks more natural on the skin, leaves a dewy sheen, and doesn't settle into lines or creases. Powders can sometimes accentuate wrinkles and make older, drier skin look even more dehydrated. Cream blush gives such a luminescence to the skin, making it appear more translucent and youthful. Personally, I always feel like my skin looks much more hydrated and glowing when I wear a cream blush.
You can apply with your fingers or I really prefer using a stippling brush like my very favorite by RMS Beauty. I use a patting, circular motion to keep any harsh lines from forming. If you check out my Blush Highlight on Instagram, about 1/3rd of the way through, I have a Blush Tutorial showing exactly how I apply cream blush.
Alright! Let's take a look at some of my favorites.
Westman Atelier Baby Cheeks Blush Stick
These creamy, luxurious cream blush sticks by Westman Atelier have become one of my very favorite makeup items across the board. I have worn these almost every day since receiving the first two and continue to purchase more. I currently have 4 in my collection and they are all fantastic!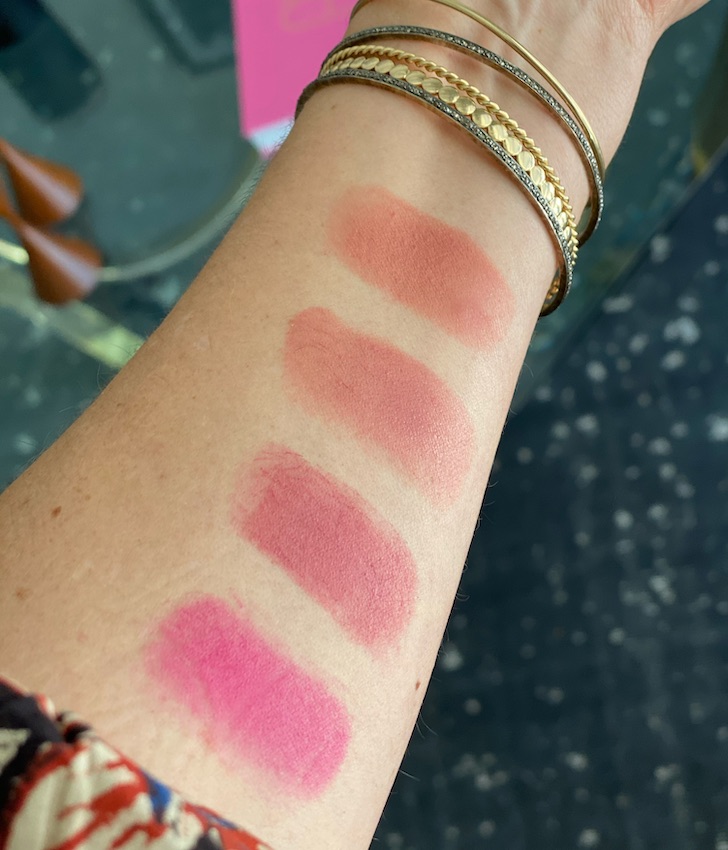 From top to bottom: Chouchette, Petal, Dou Dou, Poppet
If I had to rank my most-worn in order, it would be Petal, Chouchette, Dou Dou, and Poppet. I think Petal is the most universal shade for fair-to-medium skin tones and Dou Dou for medium-to-dark skin tones.
wearing Westman Atelier Baby Cheeks in Petal
Olio e Osso Tinted Lip and Cheek Balms
Looking for a versatile, lightly-pigmented product for lips and cheeks? Look no further than Olio e Esso balms…as you can see above, I'm quite a fan. These balms are perfect for those who are looking for a hint of color and/or might be a little hesitant to try heavily pigmented creams. These little beauties are foolproof to apply – I don't even need a mirror or brush! That's why this is my top recommendation for those of you who are new to cream blushes and/or balms.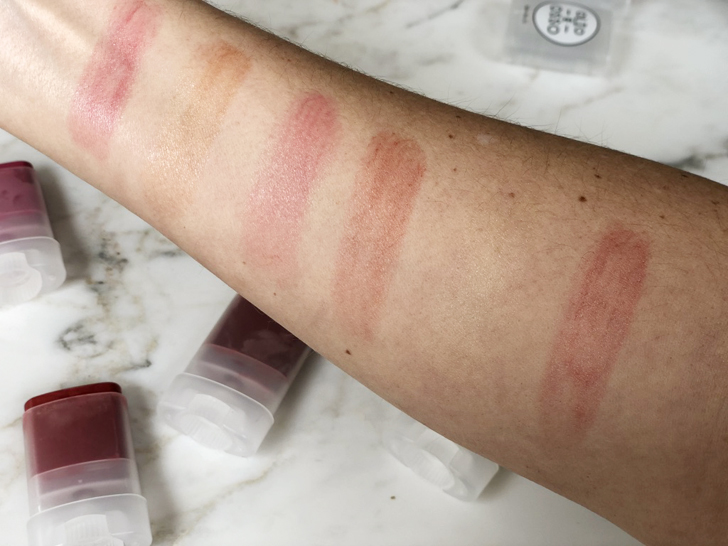 left to right; olio e esso balms in no. 3, no. 6, no. 9, no. 10, no. 11, no.13
See what a lovely wash of color these balms create? All of the shades are so easy to wear and a blending dream. Ingredients include Butyrospermum Parkii (Shea) Nut Oil, Olea Europaea (Olive) Fruit Oil, Cera Alba (Natural Beeswax), and Citrus Paradisi (Grapefruit) Peel Oil. I reach for no. 9 and no. 11 the most. (No. 11 is a brand new shade…clear with just a bit of sparkle and works great as a highlighter on the high points of my face.)
wearing no. 9 on my cheeks with no. 11 on tops of cheekbones for extra glow 
If you are new to creams or balms and/or prefer a subtle look, you will love Olio e Esso.
Kjaer Weis Cream Blush
wearing kjaer weis cream blush in blossoming 
left to right; kjaer weis cream blush in happy, reverence, blossoming, suntouched, radiance, abundance, and the rms blush brush
I don't even know where to begin with these little dreams. I have been obsessed with Kjaer Weis cream blushes for years. As you can see above, I've transferred my blushes from their signature KW luxury metal compacts to a Z Palette in the interest of saving space, and well, I love to see them all in front of me when choosing my blush for the day.
left to right: reverence, blossoming, suntouched, happy, abundance, radiance highlighter
If Olio e Esso balms are the sweet next-door neighbor, Kjaer Weis cream blushes are the envy-inducing, opulent friend. One word for you. PIGMENT. These blushes pack a punch but still manage to look fresh and sweet when needed. I obviously applied heavy swatches on my arm to demonstrate the true shade, but these blend out like a dream. My top two faves are Reverence (a cool, sheer pink) and Blossoming (a best-selling rosy pink seen on me in the first photo), although Suntouched is my Spring and Summer go-to (seen on me here), and Abundance is perfection for Fall. (I can also use Abundance as a contour when my skin is lighter in the winter.) You can see Abundance on me here.
These blushes include jojoba seed oil (which adds moisture to the skin), rosa rubiginosa seed oil (excellent for tissue regeneration), and gardenia florida fruit extract, which is an antioxidant and works as a natural preservative. Also, of the agriculturally derived ingredients in this product, a minimum of 95% comes from organic farming. Fantastic.
Kosas Color + Light Creme and Powder Palettes

kosas palettes + my favorite brush for powder blushes and bronzers
left to right: longitude zero (powder), contrachroma (powder), 8th muse (cream), Helios (cream)
Last but certainly not least, the Kosas Color + Light Creme Palettes are fantastic. Each compact comes with a beautiful blush and a coordinating highlighter. If Olio e Esso and Kjaer Weis had a baby, these duos would be it. The blushes have a very creamy, dewy texture but still pack a pigment punch. The cream duo in 8th Muse is my very favorite – I'm already on my second compact which is downright impressive because I don't think I've ever hit pan on a cream blush. A little goes a long way! I'm wearing 8th Muse on my cheeks in this photo. For those of you looking for a warmer cream blush, Helios is your answer. It is downright spectacular. I'm wearing Helios here.
Finally, when I do wear a pressed powder blush, Kosas makes my faves. The Kosas Color + Light Pressed Powder Palette in Longitude Zero is a cool-toned dream and I use Contrachroma as a bronzer.
wearing Contrachroma as a bronzer and KW red on my lips
A Quick Summary
Westman Atelier Baby Cheeks: creamy and luxurious with incredible performance
Olio e Esso Balms: lightweight, subtle color, can apply straight from the tube, versatile, foolproof
Kjaer Weis Cream Blush: gorgeous colors, pigmented, lasts all day, can pack a punch but still completely blendable
Kosas Color + Light Palettes: cream blushes are super creamy and pigmented, powder blushes are silky and pigmented, coordinating highlighter is the cherry on top
If you haven't tried a cream blush, what are you waiting for? They are truly the best. As always, if you have any questions, feel free to leave them in the comments!
You might also like:
My Ultimate Skincare and Makeup Favorites