The past 6 years of my follicular existence have always included some sort of bang situation on my forehead. Short, long, blunt, sideswept…you name it, I've done it. It seems I've settled on a sideswept look – mainly because they are so much easier to style (and grow out) than heavy, blunt bangs, but also because I have some serious cowlicks.
See for yourself.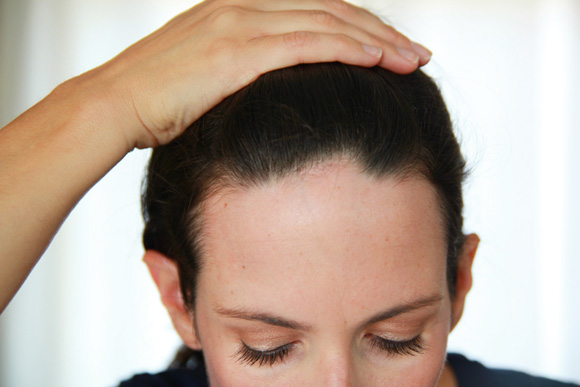 Yep. I definitely don't have the world's most perfect hairline.
Are you scared to cut bangs because of your hairline? It's something I hear from friends all the time – "I want bangs so badly, but I have cowlicks. They would never work on me!" Well, I'm here to tell you that you can definitely style bangs, even with the most stubborn cowlicks. Let's get down to business.
First off, take a gander at what my bangs would look like if they were left to their own devices.
Not cute. Not cute at all, people. So! Here's my step-by-step process to achieving great-looking, sideswept bangs.
1. Start with wet hair.
2. Blow dry (this is a fantastic hair dryer!) a good amount of the moisture out before styling, raking the bangs back and forth between your fingers.
3. Once damp, your main mission is to absolutely confuse your cowlicks. Start by brushing your bangs to one side while pointing the nozzle of the dryer close to the forehead.
4. Now switch directions.
Switch again.
And again.
At this point, your cowlicks will be completely confused. Surrender, cowlicks! RESISTANCE IS FUTILE.
5. After drying, begin moving your bangs in the direction you want them to lay, making sure the pieces are lying flat.
6. Voila! Smooth, sideswept bangs without any crazy cowlick action.
Yes, it's really that easy. It might take a few times to get the hang of it, but your bangs will be trained in no time.
Good luck and good styling! Here are my all-time favorite hair tools and styling products.