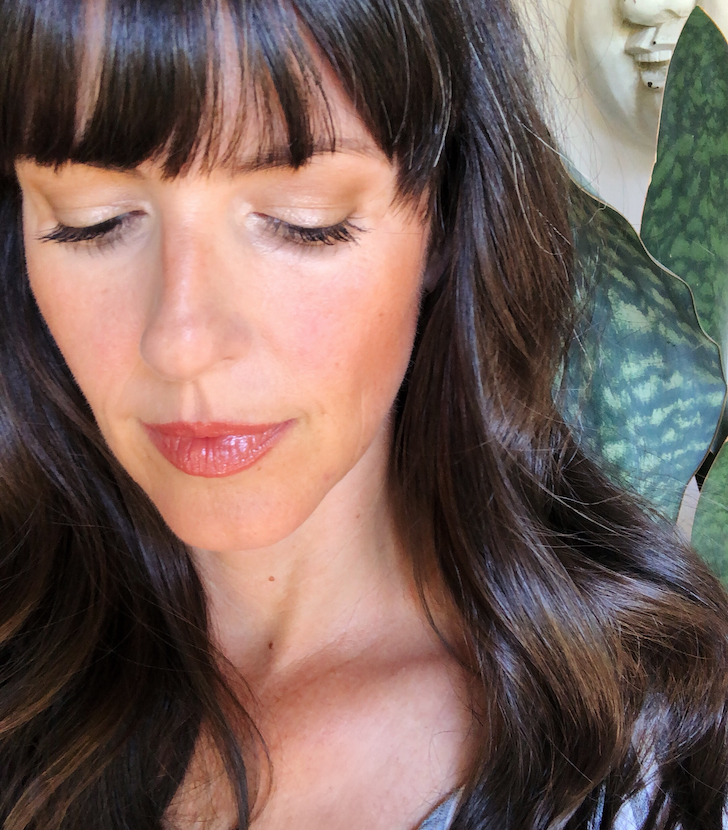 I certainly enjoy my mid-forties – there's a confidence that comes along with being a certain age and I celebrate the aging process as much as I can. Except for that little part of the aging process influenced by gravity. Um, can we opt out of that part?
As our skin matures, it gradually loses elasticity. Couple that lack of elasticity with the constant pull from gravity and we've got some loose, excessive skin issues.
Whereas excess skin on the lower eyelid can cause wrinkles, puffiness, and bulges, the upper eyelids are usually plagued with an extra fold of skin that hangs a little lower than the days of yore…sometimes even over the eyelashes. Rude, if you ask me.
Crepey skin, sagging eyelids, fine lines and wrinkles, dark circles…hoo boy, women over 40, your eyes are in for a treat!
Lucky for you, I've been cursed blessed with hooded eyes my entire life so I have been training for this moment for decades and I'm here to show you how to wear eye shadow when your lids have seemed to drop a bit. (Along with your breasts and knees. Again, gravity. *shaking fists at sky*)
How To Wear Eyeshadow Over 40
You Don't Need to Pack It On
Just like foundation and concealer, your forties really isn't the time to pack it on in terms of makeup. Skin texture and fine lines can be exaggerated when you have too much makeup on, thus aging the face even more. This goes for the eyes too – we want to help brighten and open up the eye area, and that takes surprisingly less eye shadow layering than you think!
(With that being said, there are no hard-and-fast rules here. If you love a seriously smoky eye and/or vibrant colors on your lids, YOU GO GIRL. Seriously, life is too short. Rock that look, woman! These are just tips that work for me in helping to minimze droopy, hooded eyelids.)
Placement, Placement, Placement!
In terms of hooded eyelids, it's all about the placement. The most important eye shadow you can own is one that looks like your own crease color, but just a tad bit deeper. When you have a shade like that and use small, circular motions to apply eye shadow to the crease and slightly beyond, you'll be shocked at how much the droopy skin will visually recede and allow your peepers to shine through!
More on that below in the tutorial video.
Brighten the Eyes with an Inner Corner Highlight
You've probably seen it done on social media or You Tube by folks of all ages, but adding just a bit of light-reflecting powder or cream highlighter to the inner corner of the eyes instantly makes eyes look bright and alert. It's one of the easiest tricks in the book…just dab a bit of highlighter in the inner corners with a finger (I prefer the pad of my ring finger) or you can use a small fluffy brush.
Create Contrast with Brows and Lashes
Did you ever see the study that looked at participants in terms of perceived age and facial contrast? It is super interesting! Individual faces were perceived as younger when aspects of facial contrast were artificially increased, but older when aspects of facial contrast were artificially decreased. The findings showed that facial contrast plays a role in age perception and that faces with greater facial contrast look younger. Because facial contrast is increased by typical cosmetics use, we can infer that cosmetics function in part by making the face appear younger.
It makes sense when you think about it – younger faces typically have rosy cheeks, full eyebrows and lashes, and pigmented lips. As we age, we lose a lot of that contrast in our faces, so it's great to help boost that contrast with mascara and brow products.
I've listed my favorite mascara and brow products below – in general, brow gels create a fuller, fluffy look while pencils create a more defined line. No matter what, don't forget to work that product all the way through the tail of the eyebrow since that's where we tend to get sparser first!
Don't Give Up on Eyeliner
Many tend to give up on eyeliner because it's far more difficult to apply when you can't see as well as you used to. (Multifocal contacts, anyone?) But eyeliner gives a wonderful definition to the eyes. You can smudge a pencil for a softer look (which is practically fool-proof, no harsh lines!) or you can dab a damp angled liner brush in your favorite dark eyeshadow and apply to your lash line for a lovely look. The latter is my daily go-to method.
So! What's my favorite eye makeup, you ask?
Best Eyeshadow For Women Over 40
Beautycounter Velvet Eye Shadow Palette, $50
My obsession with these eye shadow palettes hasn't wavered for years. The Romantic (seen on left) palette is hands-down THE BEST eye shadow palette I've ever owned, clean beauty or not. This particular palette has a knack for being perfectly neutral. Not too warm and not too cool, it looks insanely good on almost any skin tone. The Brúlee shade is the perfect crease shade for light-to-medium skin types and the Truffle makes such a nice outer corner shade for depth.
Even on days when I don't wear eye shadow, I always line my eyes with the gorgeous dark plum shadow called "Smolder." I just dampen a liner brush and apply very close to my lashline to visually enhance the fullness of my lashes at the base. You can see this palette in action in my Tutorial for Hooded Eyes video below.
Looking for a warmer palette? The Classic (seen on right) is for you! Regardless of shade, you will adore this palette. Full stop.
Kosas 10-Second Eye Shadow, $28
Cream shadows can be a little iffy on me. While many simply adore the RMS Beauty Eye Polish cream shadows, they tend to crease on me. However, I do enjoy the liquid, yet quick-drying, eyeshadows by Kosas. The 10-Second Eye Shadows are exactly that – super quick to apply and easy to use. The shade Globe is a universally-flattering color that gives a pop of brightness to the lid.
Best Eye Products for Women Over 40
Ilia Limitless Lash Mascara
Ilia Limitless Lash Mascara is the best. Long, full lashes with absolutely no flaking or smudging. Do I need to say more?
Jane Iredale Mystikol Powdered Eyeliner
The Jane Iredale Mystikol Liner us a unique and fantastic eyeliner formula that is cream-to-powder. I love using this with my liner brush and it comes in tons of beautiful colors.
Ere Perez Jojoba Eye Pencil
If pencil liners are your thing, I like the Ere Perez liners a lot. They stay put but aren't so long-wearing that they are virtually impossible to wash off at night. I love the Earth shade.
Ilia Brow Gel
Now, being that I have bangs that cover my eyebrows, this isn't a huge issue for me, but I do like the Ilia Brow Gel for creating natural-looking, full brows. It thickens, fills, and sculpts brows into place.
With that being said, I've been testing an up-and-coming brow gel and pencil that I am obsessed with and as soon as the product launches, I will share ASAP!
Wayne Goss The Eye Set
I've used the brushes in the Wayne Goss The Eye Set for years. They are super soft, durable, and each brush is carefully handmade in Kumano, Japan by more than 20 artisans using traditional brush-making techniques. They are not, however, vegan.
An Angled Liner Brush
This is important for eyeliner application with gels and/or shadows. I have several that I like, including the Jenny Patinkin Liner Brush and the Antonym Angled Liner Brush.
My Eyeshadow Tutorial for Mature Eyes
Finally, here's my step-by-step tutorial on how I use eyeshadows to help brighten and visually lift my eyes.
Other Posts You Might Like:
My #1 Makeup Tip for a Youthful Look