If a global pandemic, online school, natural disasters galore, and polarization of our country weren't enough, 2020 bestowed something upon me that I had never experienced in my 45 years. Yes, my friends, I became very acquainted with a condition known as perioral dermatitis. #UGH
However, with the help of expert advice, a pared-down skincare routine that supported my skin barrier, and some stress management, my perioral dermatitis is completely controlled. Here's what worked for me.
What is Perioral Dermatitis?
For those of you who struggle with perioral dermatitis, you know 100% what a true pain in the ass it can be. Perioral dermatitis can range anywhere from mildly annoying to completely agony-inducing and can be very hard to pinpoint the cause, thus effective treatment can take a while to figure out.
In mild cases, PD presents itself as patches of slightly bumpy, red, or irritated-looking skin around the mouth, chin, and nose. It can also show up around the outer corners of the eye. (That's where mine loved to linger long after the rest had disappeared.) For some though, the skin can become incredibly angry, painful, and even infected. It's like if eczema and acne had a child. A very agitative and obstinate child.
Here's the rub…there are a myriad of things that can cause PD and those can be different for everyone. Ingredient sensitivities, stress, pregnancy, diet, and steroid withdrawal, to name a few. The key is finding what's causing it FOR YOU. Looking back, I think mine was caused by the perfect storm of compromising my skin barrier via overuse of skin care products and my overall stress levels. (Hello, pandemic.)
My Perioral Dermatitis Experience
It started in the spring of 2020 – what seemed to be a few red, slightly itchy bumps around my nose area. Honestly, I didn't think too much about it…I just assumed it was from one of the many new products that I was testing for the blog. But the bumps seemed to spread over time – running from around my nose to my laugh lines and especially my upper lip. I couldn't really wear any foundations or concealers over because it would aggravate it, as well as most lip products being bothersome as well.
I think most would consider my case relatively mild, but given the fact that my job revolves around reviewing multiple products at a time, consulting with several brands on product development behind the scenes (i.e. experimenting with products that haven't hit the market yet), and being in front of a camera weekly, this was not good for me. My case might have been "mild," but it was stubborn as hell and didn't budge for months.
Suddenly, everything I normally used on my face made my face so angry and irritated. I was baffled by this since I had never experienced anything like this ever.
Looking back, I think my first mistake was constantly slathering products on my face in an attempt to quell the flare-up.
I just wanted it to go away quickly. Well, with PD, patience is a virtue. Not my strong suit.
Believe it or not, over the course of a couple of months, I couldn't find ONE product on my shelf that was helping this condition. (Ahem, have you seen my product shelves? I could run a damn skincare boutique out of my home.)
And that's when I knew it was time to consult an expert on the matter. I reached out to my bud Dr. Sarah Villafranco, who is a wealth of information on perioral dermatitis not only because she is a physician, formulator, and owner of Osmia Organics, she's dealt with the PD beast herself.
Sarah put me on the right track and I'm happy to report it worked!
It goes without saying, if you have been struggling with PD to no avail, please see a dermatologist because there may be options (including prescriptions) to help get your skin back to a happy and healthy state.
My Perioral Dermatitis Routine
The first thing I did was completely stop using all of my usual skincare products. *brushes a tear away*
Folks, if there is one takeaway from this post, let it be this. SLOW YOUR ROLL.
Please stop over-treating your skin with products. Yes, that means no more retinol, AHAs, Vitamin C serums, masks, oils, you name it, just for the time being.
I followed this simple routine morning and night – a gentle cleanser and a moisturizer. Period.
Let your skin barrier repair with patience and gentleness – it took me about 3 weeks of this pared-down protocol for my PD flare-up to start improving.
My Perioral Dermatitis Product Picks
We all have different skin so what works for me might not work for you, but the following products have been great options to gently cleanse the skin and protect my skin barrier.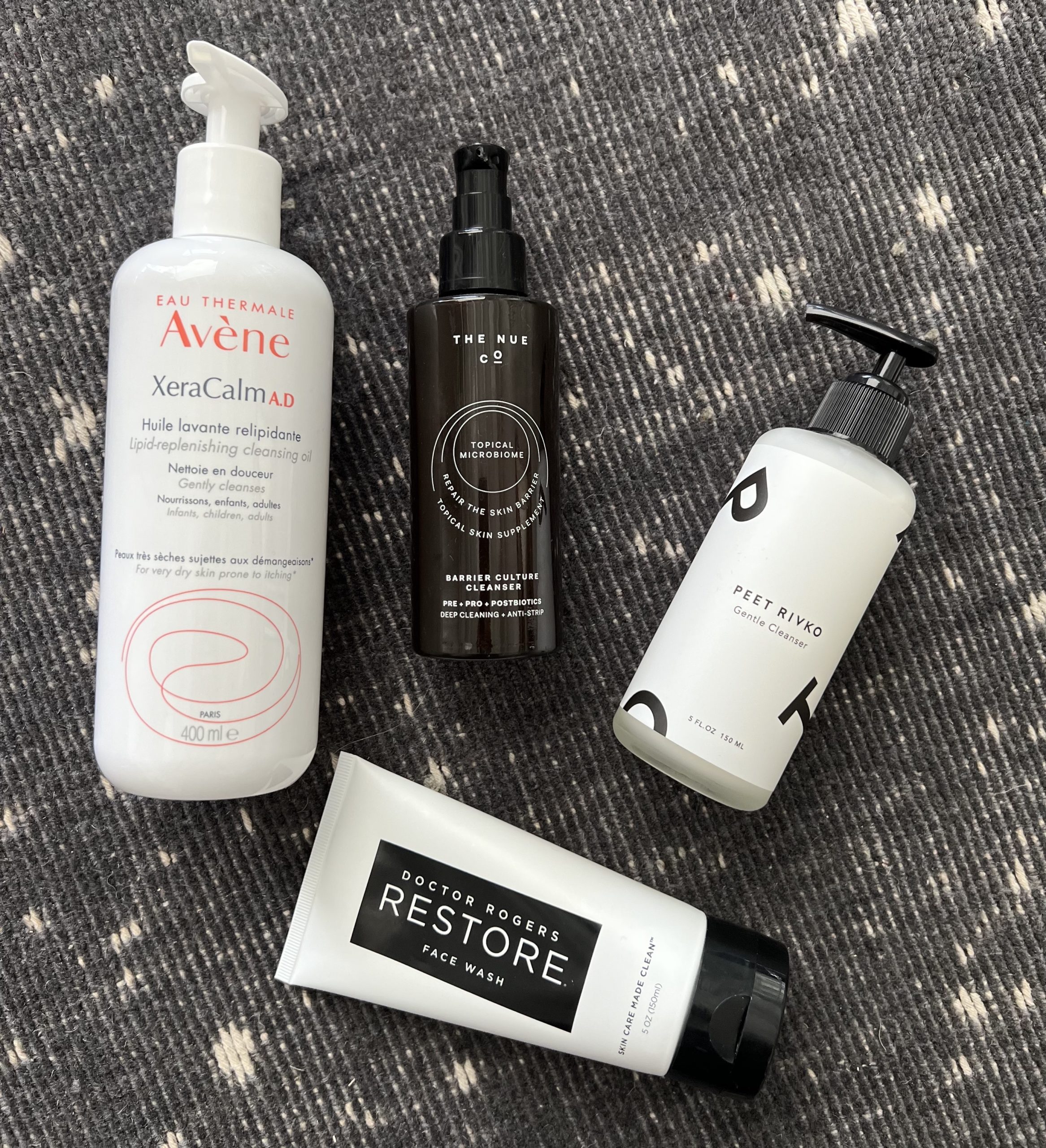 Gentle Cleansers
Avene XeraCalm AD Lipid-Replenishing Cleansing Oil
I'm borderline obsessed with the Avene XeraCalm AD – it's called a cleansing oil but it actually lathers and rinses away clean without the use of a washcloth. (My skin does not enjoy washcloths AT ALL when it has PD or any dermatitis for that matter.) It's super hydrating and gentle while still removing all makeup and sunscreen. It keeps my sensitive skin very happy year-round.
Peet Rivko Gentle Cleanser
Designed for the most sensitive of skin conditions, this non-foaming cleanser is formulated with aloe vera, comfrey, and green tea. It's very creamy and comforting – leaves my skin super soft and smooth.
Doctor Rogers Restore Face Wash
Doctor Rogers Face Wash is a great foaming cleanser for reactive skin types that also are on the oily/combo side. Simple, clean, and non-irritating.
The Nue Co Barrier Culture Cleanser
The Barrier Culture Cleanser is a one-and-done treatment cleanser deeply cleans the skin, removing dirt, pollution, and makeup, without stripping or disrupting the skin's pH. Soap-free, sulfate-free – it actively repairs the skin barrier and replenishes the topical microbiome by using prebiotics, probiotics, and postbiotics to leave your skin balanced, smooth, and nourished.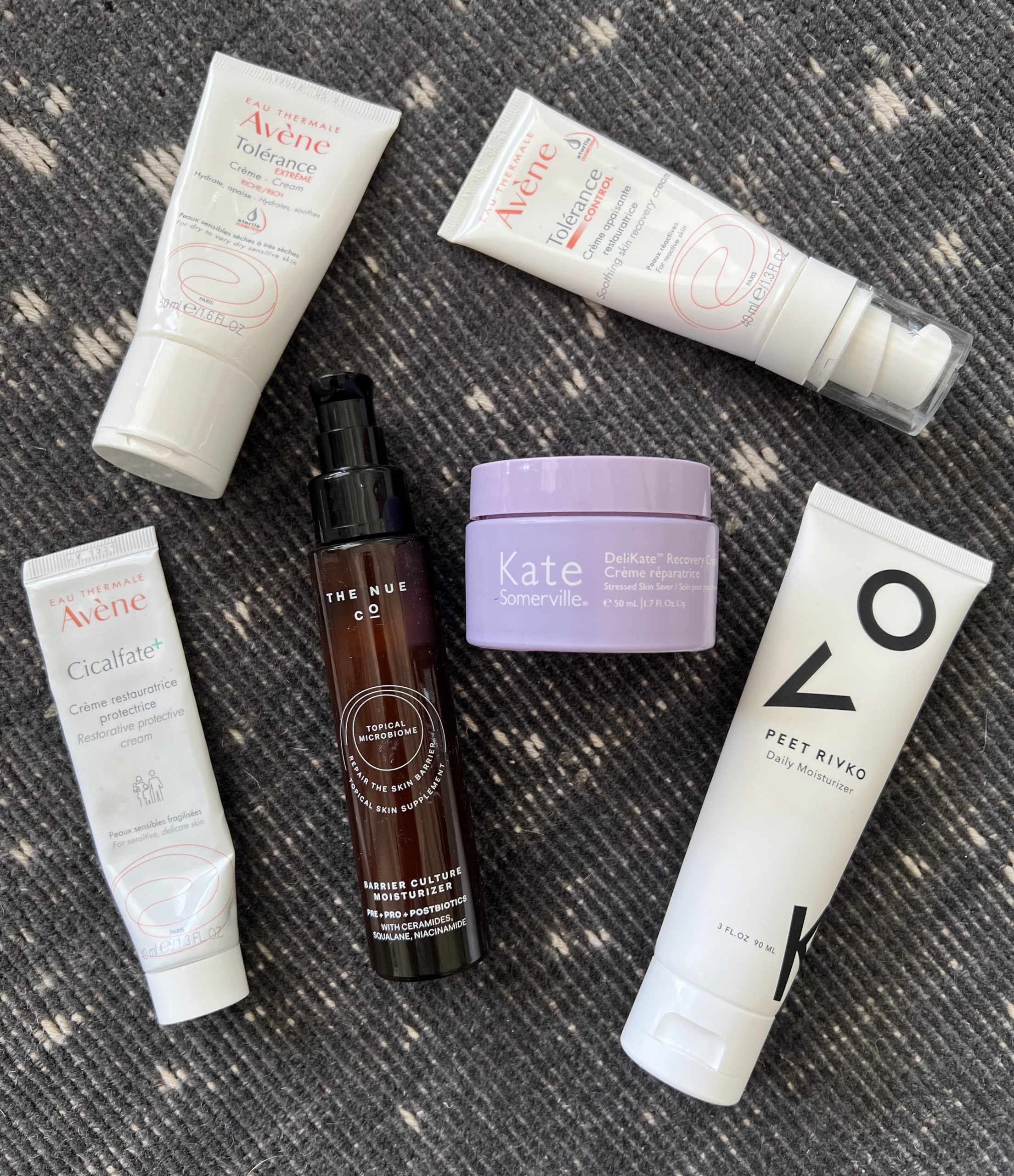 Calming Moisturizers
Kate Somerville DeliKate Recovery Cream
The Kate Somerville DeliKate Cream is clinically formulated to calm and restore stressed skin while supporting a healthy skin barrier. It's non-irritating, soothing, provides lasting relief and my skin LOVES it. My face feels so good after applying it – goodbye tight, sensitized skin!
Avene Cicalfate Restorative Cream
A very rich and super-nourishing cream (it's thick!), Avene Cicalfate Restorative Protective Cream is infused with restorative ingredients that save my skin again and again. It promotes an optimal environment for skin recovery, helps to maintain proper hydration levels for skin restoration, and preserves the skin's natural barrier. I'm a HUGE fan and wrote about it in detail here.
FYI – this cream contains mineral oil, which can be triggering for some. If that's the case, I highly recommend the Avene Tolerance Extreme Cream (for very dry skin) or the Avene Tolerance Soothing Skin Recovery Cream (for normal-to-dry).
The Nue Co Barrier Culture Moisturizer
The Barrier Culture Moisturizer is a lightweight moisturizer that repopulates the topical microbiome, protects against pollution, and locks in moisture. Such incredible ingredients too – Squalane, Niacinamide, and a complex of peptides, ceramides and prebiotics, probiotics and postbiotics repair the skin barrier. My skin feels firm and fresh after using – this is my go-to through the summer months!
Peet Rivko Daily Moisturizer
The Peet Rivko Moisturizer is great for reactive skin types that aren't necessarily dry. A great everyday moisturizer that doesn't trigger or excarabate PD.
Barrier Repair Product Faves
Like I mentioned above, keeping my skincare routine pared down to only a cleanser and moisturizer worked best for me during the first month of healing my PD, but once my skin began to heal, I slowly introduced products specifically designed to support the skin barrier.
These are my favorite picks for barrier repair if you are looking to add one (or two! you don't need all of them!) to your skincare routine.
Josh Rosebrook Vital Balm Cream
Josh Rosebrook Vital Balm Cream – Unscented is such a skin savior for me. Suitable for dehydrated, sensitive, acne, rosacea, and eczema conditions, this balm/cream hybrid gives my complexion a lot of anti-inflammatory love by facilitating maximum cellular hydration, repair, and reinforcing my skin barrier. It's like a hug in a little pot.
Twelve Beauty Nutritive Repair Emulsion
Twelve Beauty Nutritive Repair Emulsion is a rich yet fast-absorbing cream that repairs and restores skin while you sleep. With a powerful combination of ingredients rich in unsaturated fatty acids such as linoleic acid and phytosterols, this cream helps to regenerate and strengthen the epidermal barrier.
Avene Tolerance Control Soothing Skin Recovery Balm
This soothing skin recovery balm's magic is how it hydrates and soothes without suffocating the skin. It's thick and rich, but never causes my skin to feel smothered and/or overheat.
Arcana Holocene Intense Lipid Repair Balm
This nutrient-dense, hydrating formula protects, repairs, regenerates, and hydrates through a sumptuous blend of botanical ingredients including Tucuma butter and amino acids. Gentle enough for PD and/or reactive skin.
Dermalogica Barrier Repair
Dermalogica Barrier Repair is one of my favorites for spot-treating areas of inflammation, especially around my eyes and nose.
Other Helpful Tips
Check your toothpaste.
Confession. Although I've used natural toothpaste at times in the past, I was still using conventional brands most of the time up until my PD started. Well, SLS, or Sodium Lauryl/Laureth Sulfate, is PD's #1 enemy. Stay the hell away from this ingredient, friends. Most conventional toothpaste brands like Colgate or Crest use SLS and it's a huge no-no for reactive skin. Now, I exclusively use David's Toothpaste in the morning and David's Charcoal Toothpaste at night.
Consider your diet.
When we went into quarantine, the baking was out of control in our house and my system was not ready for that kind of increase in refined and processed foods such as sugar and flour. If you are noticing reactive skin, take a look at what you are eating. Has anything recently changed in your diet?
Another thing I did was take this Food Sensitivities Test which pinpointed certain foods that are reactive in my body. The jury's not out on whether these tests are fully accurate, but my test definitely confirmed some suspicions that I had and I'm SO GLAD I took it. (Although, goodbye egg whites! We had a good run, but my skin is more important.)
Drink lots of water.
Water is crucial for overall health. Please be drinking at least half of your body weight in ounces. I definitely need a large water bottle to keep me on track and I love my Welly 28oz Traveler. I drink 3/day.
Supplements might be helpful.
Always talk to your doctor or healthcare provider, but I started taking Evening Primrose Oil after hearing about it from Dr. Villafranco, and I also take this daily Zinc supplement for skin health.
Wash your masks!
Unclean masks unfortunately can cause a myriad of skin issues like PD, acne, or just general irritation. Since I've gotten my skin under control, I do notice that I get some patches of inflamed skin around my nose if I'm wearing a mask for long periods of time and/or it hasn't been washed recently. (Yes, I get lazy and forget to wash it every day.) Although washable masks are better for the environment, if you are truly struggling with your skin due to mask-wearing, try wearing a disposable one like these.
FYI – be sure to check your laundry detergent for SLS, as many conventional detergents contain it!
KISS.
Keep it simple, stupid. I'm probably sounding like a broken record by now, but this is NOT the time to try a whole slew of new products. Cleanser. Moisturizer. Done. Hey! Think of all the time you'll save!
Most importantly, lessen your stress levels.
Easier said than done, right?
I know.
BUT. Despite all of the craziness going on in our lives right now, you simply have to find a way to quiet your stress response and that can look different for everyone. For me? It's a mandatory 2-3 mile dog walk with my pup every single day. I listen to great tunes, take deep breaths (despite the pollen invading my nostrils), and I always feel better. So for me, it's exercise and moving my body. Whatever works for you, make it happen.
The one thing I really want all of you with PD to do is this. Please try to stop stressing and obsessing about your skin condition. (I know, I know. Easier said than done.)
You all, I was really freaked out about my skin and I got really obsessed about researching PD and looking at my skin and thinking about it all the time…and you know what? There was a direct correlation between how many negative thoughts I had about my skin and how many bumps appeared on my face.
More negative thoughts, more irritation and bumps.
Less negative thoughts, less irritation and bumps.
The mind is an incredibly powerful thing. Just know it's going to get better. And it will, I promise you!
Speaking of the mind, meditation is incredibly helpful in terms of working with obsessive negative thoughts. I really enjoy both the Simple Habit and the Calm app because I can approach my meditation practice in bite-sized sessions and it feels realistic and doable.
My Post-PD Skincare Routine
I'm happy to report that since I healed my skin barrier and said goodbye to PD for the time being, I can use all of my skincare products again, including oils, retinol, and Vitamin C serums.
However, after learning about the skin barrier over the past year, I now only exfoliate once a week (at most!) and do not use acid toners on my skin ever. Once again, this is what works for me and may not be the same for you, but I am about keeping the skin barrier healthy these days. Also, I know shaving your face is all the rage, but it takes me right back to PD-ville any time I attempt it. Tread lightly!
I hope these tips help those of you currently struggling with perioral dermatitis or any skin condition for that matter. Be sure to share your own wisdom in the comments…you never know, it might help someone greatly!
Other Posts You Might Like: