Best of the Best is a series showcasing my favorite, tried-and-true, go-back-again-and-again clean beauty brands. Being a beauty blogger, I'm in a constant state of flux with skincare and cosmetics, as I'm always trying new products. However, these brands are always in my rotation and are worthy of my highest recommendation.
How is it possible that it's 2021 and I haven't written a Best of the Best post about my beloved Kjaer Weis?! KW is *the* OG clean luxury beauty brand that I've adored for years and years.
Let's chat Kjaer Weis favorite products and shade swatches! You might want to grab a snack because this one's a bit lengthy.
Best of the Best: Kjaer Weis
Since its inception in 2010, Kjaer Weis has taken the clean beauty concept to a higher level with discerning standards for safety, performance and good-for-you ingredients as well as being cruelty-free and gluten-free. Kjaer Weis works directly with formulators to hand-select certified-organic, biodynamically grown ingredients based on a multitude of benefits that are truly transformative and kind to skin. The ingredients are sustainably sourced and the formulas are certified by one of two leading European certifications for organic: COSMOS or CCPB.
Kjaer Weis has led the charge in sustainability, being the first luxury beauty brand to introduce refillable packaging at launch. (And beautiful packaging at that!) Their commitment to the environment extends from refillable through to recyclable and recycled packaging into their approach to formulation. Certified-organic ingredients are hand-selected for quality and sourced from partners who all share the commitment to Earth kindness.
As you can see above, the Iconic cases are little works of art – so gorgeous sitting out on a vanity, but they were created that way for a reason. Sustainability is huge to Kjaer Weis, so they implemented a fantastic refill system so you don't need to waste money or create waste on packaging that's made to be discarded. The architecturally bold design of KW products is meant to be kept –built out of beautiful, quality metal that can be refilled again and again and again. Also part of the lineup is the Red Edition case. Love both!
As founder Kirsten Kjaer Weis says, "combining ingredient integrity with innovative packaging, we are committed to sustainability — a key pillar of Kjaer Weis. Our brand celebrates beauty in all of its expressions, including kindness, inclusivity, and the connection to our unique self."
My Favorite Kjaer Weis Products
Matte, Naturally Liquid Lipstick
Favorite Shades: KW Red, Honor, Visionary
The Matte, Naturally Liquid Lipsticks have such a unique, gorgeous formulation. Beautiful, long-wearing, and matte, but never drying. For real, my lips never feel dry throughout the day. What is this voodoo magic, pray tell? I love KW Red, which is my very favorite shade of red of all time. Visionary and Enthralling are lovely too. Click here for a video of me swatching all shades! (Honor makes a lovely blush too.)
Red Edit Lipsticks
Favorite shades: KW Red, Adore, Sucre, Authentic
Leave it to Kjaer Weis to create EIGHT shades of red lipstick. Be still my beating heart! These lipsticks are a work of art…pulling one out of my purse always draws questions from friends and strangers. And the formula is just gorgeous – leaves a satin matte finish with incredible staying power.
The formula heats up with your body temperature – it's not a quick, slippery swipe…you work them into your lips and they stay so much longer than traditional lipsticks. I swatched 7 of the shades on my lips here!
Lip Pencils
Favorite Shades: Soft and Bare
Softly matte lip pencils that glide on effortlessly. I love to wear these with a balm on top – they last on the lips forever and wear very well under masks.
Cream Blush
Favorite Shades: Inner Glow, Sun Touched, Embrace, Reverence
I have been singing the praises of these cream blushes for years and years! They really just can't be beat and are available in so many beautiful shades. A few shades are swatched in the above photo and I have more swatched here. Two shades that I must mention for being so unexpected in the best way are Inner Glow (click here to watch me apply) and Abundance, which I'm wearing here. So many shades, it's hard to narrow it down!
FeatherTouch Brow Gel
Shade: Medium Brown
The Kjaer Weis Brow Gel is new to me this year and I adore it. If you are looking for a very natural brow look – maybe just a bit of color and definition – this is for you. (And me! Because that's exactly what I'm looking for in a brow gel…nothing over the top!) This formulation is perfection and I love that the medium brown doesn't look too warm on my brows, as you can see from the swatch above.
Pressed Eye Shadows
Favorite Shades: Angelic, Grace, Wisdom, and Charmed
I own most of the Kjaer Weis single eye shadows and if you asked me to choose my favorite four, it would be Angelic, Grace, Wisdom, and Charmed. Well, guess what? The Quadrant in Wanderer includes those four shades. Was Kirsten thinking of me and only me when she created this eye palette? PROBABLY NOT, but it still feels good. This palette is fantastic for everyday wear. Subtle definition FTW – as you can see in the photo above, the shades are quite lovely for all eye colors.
The Beautiful Eye Balm
THE SLEEPER OF THE BUNCH. Run, do not walk. This eye balm is all about smoothing the undereye area and works as a gorgeous primer for concealer. I occasionally have people reach out saying that concealer is frustrating due to their dry and/or flaky under eye area – um, THIS IS WHAT THEY NEED.
It also acts as a lovely non-shimmer highlighter on the cheekbones and I've been known to put it on my cuticles, my hair, and my lips.
Eye Pencils
Favorite Shade: Blue and Brown
Super pigmented eye pencils that you can smudge out upon application but still last all day.
Lip Gloss
Favorite Shades: Affinity, Fascination, Red Hot
Ooooh, these lip glosses have rosehip oil and vanilla in them so they have the loveliest scent and slight flavor. Super cushiony and plush!
Invisible Touch Liquid Foundation
Shade: Paper Thin
The Invisible Touch Liquid Foundation is a serum-like formula with light-to-medium coverage that you can use sparingly for a fresh-faced, luminous glow or add more for a natural-looking, medium coverage that smoothes and evens skin tone. It's super-gentle on the skin, and has a long-lasting, hydrating, comfortable wear, thanks to the addition of ingredients like Certified Organic Chamomile Water, Hyaluronic acid, a blend of cold press oils and natural waxes. It's lightweight, soothing, and gives me a healthy glow. I wear the color Paper Thin or Ethereal.
Translucent Pressed Powder
Dubbed "the face powder for people who don't like face powder" (me!), this is the only pressed powder I've used for years. I might dabble in some other powders once in a while, but I always come back to this one.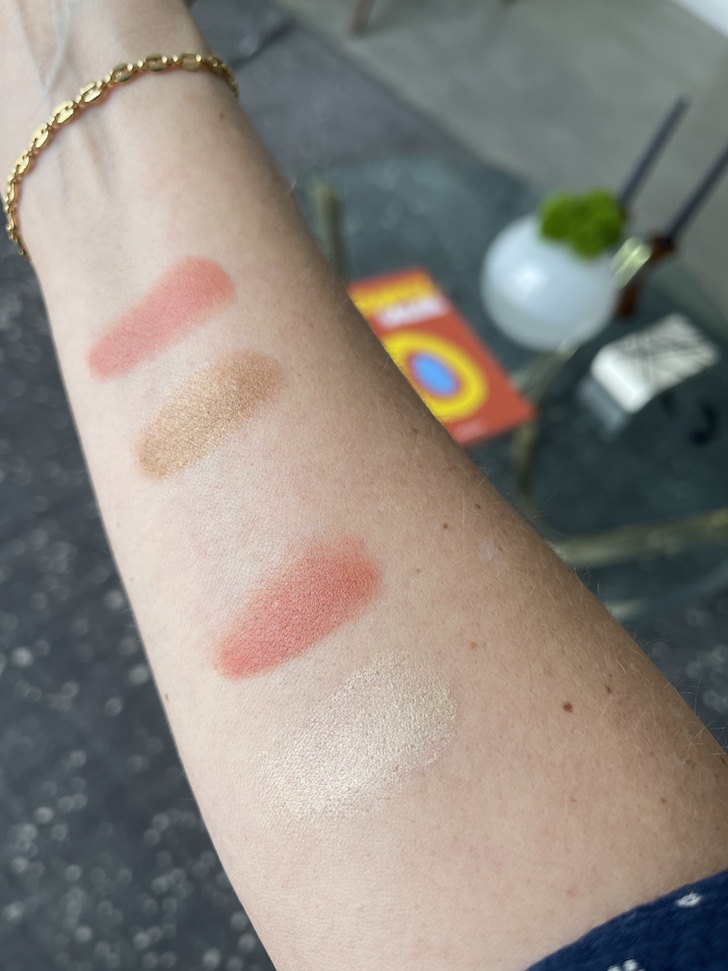 Flush and Go Duos
A great way to dip your toe into the Kjaer Weis waters is the Flush and Go Duo. These duos work in tandem to give you color and dimension and my two favorites are Sunlit Glow (a warm sun-drenched pink and golden bronze glow) and Vibrant Ray (sun-warmed coral and golden luminous glow). Both of these are perfect for the upcoming warmer months.
Those are my faves from the line…anything that I'm missing? Would love to hear in the comments!