Okay folks, after reading through all of your tinted moisturizer and BB/CC cream recommendations, I decided to try out a few myself. The only caveat? The formulas had to score a 3 or lower on the Environmental Working Group's Skin Deep website. Trust me, that designation cuts out A LOT. As you know, I have spent an enormous amount of time cleaning up my act over the past decade. (My household cleaner post started it all 7 years ago…can you believe that post was SEVEN years ago?) I've completely overhauled what we use to clean our house, our medicine cabinet, cooking tools, the food we put in our bellies…everything.
Except beauty products.
When I sit down and think about the fact that I've turned a blind eye to everything I put on my skin, it's kind of ridiculous. I mean, our skin is our largest organ…yet I continually apply lotions and cleansers and sunscreens and cosmetics without any consideration to the ingredients. Well, things are changing around here. Big time. (And I apologize in advance for forthcoming posts on the subject if you aren't very interested, but I am in the process of replacing ALL of my beauty products. Just wait until you see the before and after photos of my bathroom cabinet. I easily got rid of 85% of my products. Not going to lie, my attempts to rationalize holding onto lipsticks chock full of horrible chemicals were pretty entertaining. I did chuck them, though!)
Anyway. Back to the current subject matter. Tinted moisturizers and BB/CC creams. These days, mama needs to put a little something on her face before stepping out. I don't know if it's my age or what, but GOODNESS GRACIOUS, I just can't go out and about with a bare face anymore. It is not right, people. I took Wita to get her bangs trimmed last week without anything on my face, took a gander at myself in the stylist's mirror, and audibly gasped at the situation before me. Dark circles, redness around my nose and mouth, hyperpigmentation…I mean, gahhhhhhhhhhhh.
So. Yes. Bring on the tinted moisturizers. I love tinted moisturizers because they create a natural, healthy look while "buffering" some imperfections. They don't cover the imperfections completely, but that's okay with me…I'm not looking for a mask.
After doing research on the safest ones for skin, I chose three to try out. Tarte BB Tinted Moisturizer, and Clinique Moisture Surge CC Cream, and Beauty Counter Tint Skin.
Aren't the color variations crazy?
Here are the results. Get ready to look at lots of closeups of my mug. Sorry about that.
Here I am, au naturale and au blotchy.
The first product I tried is Tarte Amazonian Clay BB Tinted Moisturizer in Light, $35.
This tinted moisturizer boasts all the benefits of a BB cream in an ultralight formula. I like the coverage and how it evens out my complexion, but unfortunately, I couldn't deal with the feel of the product. Let me explain – I prefer to use products that feel hydrating on my skin and leave me feeling dewy. This formulation is velvety smooth and super lightweight – it practically disappears on the skin immediately after applying. My skin in no way felt moisturized or hydrated after application – in fact, I had to put moisturizer on over it because my skin felt like it might crack off.
However, let me say, people LOVE this BB cream. (Just read the comments!) If you have oily areas or get shiny very easily, you will probably love this product. Younger ladies would probably enjoy it too. However, if you have dry skin or don't like a velvety dry finish, I would hesitate. This tinted moisturizer scores a 2 on Skin Deep, comes in 5 shades and has an SPF of 20. It was also the longest-lasting of the three products.
Next up, Clinique Moisture Surge CC Cream in Light/Medium, $37.
This is a hydrating, dewy moisturizer that feels very moisturizing on the skin. This CC cream comes in 8 shades, and unfortunately I was sent home from Sephora with the wrong color sample. As you can see, it's a bit too dark for my complexion, so I think the Light or Natural shade would have worked better for me. This one was the thickest of all the three, and I felt like it was sitting on top of my skin a little bit. However, it did give a really nice glow. I'd like to check out the lighter shades, because it could be a great option during the drier winter months. I love that the product is SPF 30, and it scores a 3 on Skin Deep.
The last product I tried is Beautycounter Tint Skin in Linen, $38.
I love the way this product feels. It's creamy, super easy to blend, and feels very hydrating. I used the color "linen," which I think was a touch too pale for my skin tone at the time of these photos. I had a little bit of color left from summer when I shot these, but the linen shade works really well on me now. This tinted moisturizer has a EWG score of 2, and comes in 7 shades.
The only bummer about this product is that it doesn't contain sunscreen. I love it though, and if Beautycounter comes out with a version with sunscreen, it will be my holy grail product.
By the way, many of you asked about my makeup in the photo below from a previous tutorial, and it was predominantly from Beautycounter.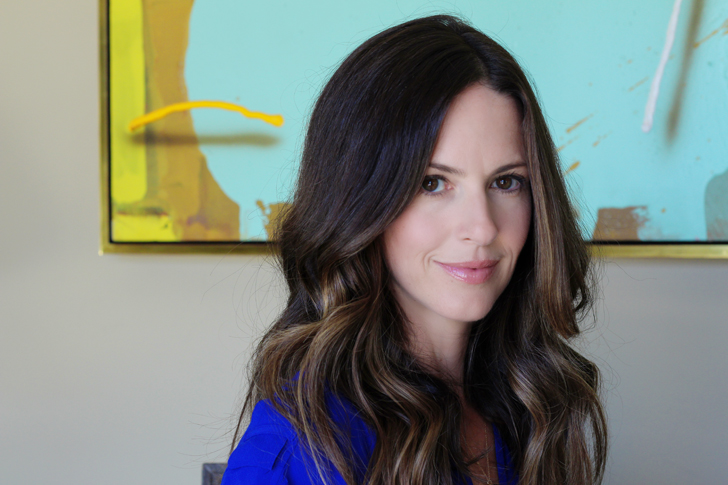 I have recently started using Beautycounter skin care, lip sheers, blush, and eye shadow. Shampoo, conditioner, and the kids' personal care items are on the way to me right now and I'll report back. I am completely enamored with the brand, especially their mission to get safe products into the hands of all consumers. More on this later, but if you are interested in learning more, check out all the products here or shoot me an email. I have LOTS to say.
So, for me, Beautycounter Tint Skin wins the face off. I've been wearing it for about a month now and love it, plus I'm not scaring folks on my morning grocery store runs anymore. Bonus.