1. I'm starting a Blunt Bangs Brigade. (That sounds a little porny, doesn't it?) I'm inducting Metalia and Kristen as my first two members. Against their will, most likely.
Wanna join? You need to have blunt bangs and a missing body.
2. I have a cold. I caught it from Wito, who caught it at a children's museum. See what you get for trying to educate your children in a fun, hands-on environment? I'm sorry, but next week it's Goldfish crackers and Chutes and Ladders in our germ-free living room, kid. Mama's a little bitter.
3. Remember when y'all suggested the Sookie Stackhouse series to me? I read a few, but was feeling a little neutral. Well, I just started watching True Blood last night. (We don't have HBO, so I'm watching the episdoes online. I CAN'T STOP. I'm staying up past my bedtime (10 p.m – shut up), already dreaming about vampires and I'm only through Season 1, Episode 3.)
(Sooookie.)
4. I would like to retract my previous statement that my favorite Jelly Belly flavor is Green Apple. Please excuse me, I was misinformed. My favorite flavor is Sour Cherry. What's your favorite flavor again? Are you in that crazy Juicy Pear majority?
5. I need a good book to read, and no, I don't want to visit Goodreads. (Nothing against Goodreads, I'm just WAY too lazy to weed through all of the suggestions. In fact, if I possessed an iota of intelligence, I would re-read the other suggestions from the above post, but, well, I'm sick.) You know what I like, right? Please tell me what to read. Did I mention I was sick? Have mercy.
6. I will gladly accept any book suggestions except for any of the Backyardigans books, especially Mission to Mars and Pirate Treasure. WE HAVE THOSE COVERED OVER HERE, THANK YOU.
7. My second post about potty training is up. Can any of you relate to this biznass?
7. Could my son's haircut tomorrow afternoon arrive any sooner?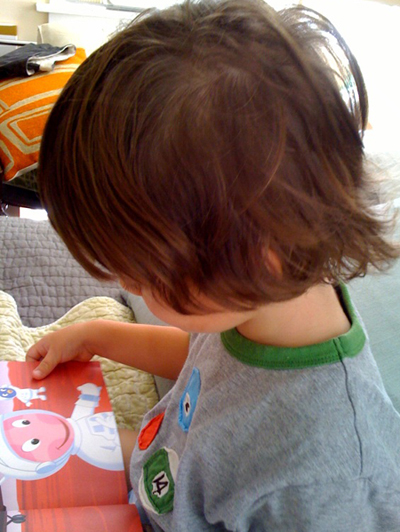 Well, would you look at that? Reading Mission to Mars AGAIN.
Please feel free to answer one, many or absolutely none of these questions.