Remember my desk?
I love that workspace dearly, but we had a small issue with the painting.
Not that we don't love that painting; in fact, it is my very favorite painting in the house by far. It's just that the painting used to hang above our bed, and even though we tried many other pieces of art, we really missed the painting in that spot.
Then I had the BRILLIANT idea of putting up some inspiration boards above my desk. Since I can't seem to get into Pinterest like I wish I could (too much visual stimulation for my delicate brain), I thought I would go old school. A trip to Ikea, three corkboards and some fabric later, I had myself some boards.
And our beloved painting went back to its home.
(After watching this week's episode, I now realize we share the same bed as Rachel Zoe. Bah-nanas.)
And now the real fun begins!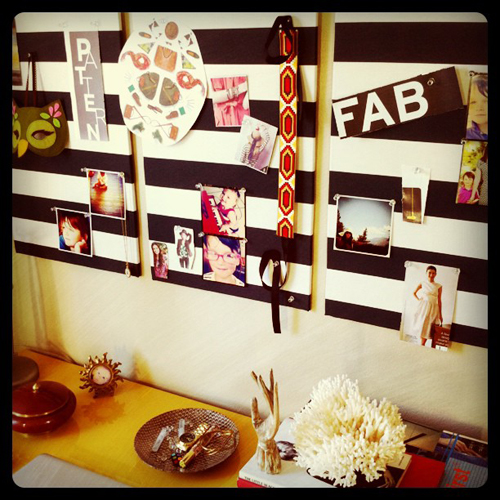 (Instagram lovers – you HAVE to get prints with PostalPix. I have several on my inspiration board, and the quality is amazing. Thanks to Elisabeth for the heads up!)