You can find my updated 2021 hair routine here!
Finding a natural hair care routine wasn't quite as easy as replacing my cosmetics and skincare with green alternatives. Being a slave to Oribe for years, I was pretty sure there wasn't a ghost of a chance I'd be able to get that same hold and shine from natural products. I mean, I all too well remember the days of searching the local natural store's personal care aisle, grabbing a random product and whispering a prayer to the hair gods. Make this one THE ONE…
I think we all know how 90% of those purchases turned out. Thumbs down, my friends.
However, after years of trial and error, I have found some incredible natural hair products that perform as well (if not even better) than conventional hair products and I'm here to share all of those with you today. And I'm not stopping there – I'm including my favorite styling tools, as well as a step-by-step video explanation of how I style my hair.
Let's get down to business!
THE BASICS
I wash my hair and style it every 3-4 days. One of the reasons I believe my hair stays so shiny is the fact I don't wash it or style it with heat tools daily. The way I curl my hair with my clipless curling wand allows the curl to slowly relax over the period of 3-4 days which I really like. I usually deep condition it every week or so, and use styling products minimally. If my bangs get greasy before washing time, I'll just wash them alone over the sink with shampoo and blow them dry.
People always ask if bangs are high maintenance. If you can't commit to having them professionally trimmed every 3-4 weeks, then yes, they are too high maintenance for you.
Let's take a look at my little arsenal of products.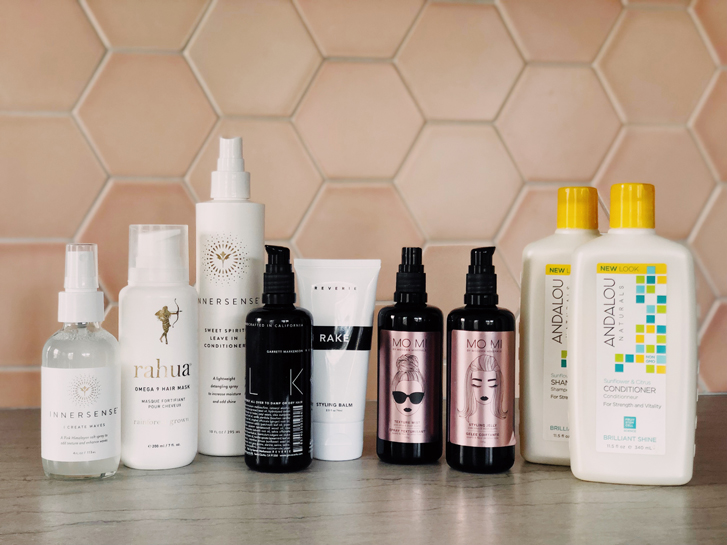 PRODUCT LIST
Andalou Naturals Citrus Shine Shampoo and Conditioner – This is the shampoo and conditioner I use almost all the time. It actually leaves my hair feeling fully clean for several days which is almost unheard of in the green beauty space. (None of that icky nape-of-the-neck greasy feeling on day 2 and 3 PRAISE BE) Now, if you've tried a few natural shampoos, you know that many of them just don't hack it. There have been some that actually made my hair feel greasier than before I washed it! How is that even possible, people?! You won't have that problem with this shampoo, mark my words. The conditioner is lightweight and gives my normal-type hair just the right amount of hydration. The best part about all of this, though? These products are SO affordable. 8 bucks a pop!
True Botanicals Shampoo and Conditioner ($20 off your first order of $40+ with code WHOORLTRUE20) – As I mentioned, my hair is normal type, but in the cooler, drier months when it gets a bit drier, I use the True Botanicals shampoo. This is what I would definitely recommend for those of you with dry, damaged hair. It's so lovely and manages to hydrate beautifully yet still leaving your hair fully clean-feeling.
psst – do you have a little one with super tangled hair? This shampoo and conditioner work wonders on fine hair that tends to tangle, whether young or old.
Innersense Sweet Spirit Leave-In Conditioner – If my hair is feeling particularly dry or stressed, I will spray this leave-in conditioner after I towel dry my hair. I don't do this every day – maybe a couple of times a week. Love Innersense products and the scents are too die for. So good!
Mo Mi Styling Jelly – Mo Mi is by far my favorite styling product line as a whole. The Styling Jelly is my most-used product for adding some flexible hold to my hair without making it seem heavy or crunchy and it's what keeps my waves looking good over the course of a few days. I love this product AND the Mo Mi brand because the products are created in collaboration with Lotus Wei and contain essences of crystals and flowers. The scents are amazing.
Mo Mi Texture Mist – This is my pick-me-up spray of choice. If I feel my hair needs a little something-something, I'll just mist this into my hair and tousle with my fingers.
Reverie Milk Anti-Frizz Leave-In Treatment – The Reverie line is lovely. I enjoy all aspects of this brand from their packaging to the beautiful blends of essential oils resulting in the best mild, herbal scents. This treatment is great for reducing frizz and smoothing.
Reverie RAKE Styling Balm – If I'm looking to add some texture post-drying and curling, I will run a small amount of this product through the ends of my hair.
Innersense I Create Waves – My hair is naturally wavy and although I rarely let it air-dry, when I do, I spritz this pink Himalayan sea salt spray to enhance my waves.
Rahua Omega 9 Hair Mask – Made completely from plant-derived Amazonian ingredients, this mask deeply penetrates the hair shaft and fortifies my hair. Love the scent of lavender and eucalyptus too – super relaxing.
STYLING TOOLS
L'ange Bijou Set – I purchased this particular set because it includes the hair dryer, flat iron, and the interchangeable clipless curling iron with the 25mm and the 32mm barrel. I've been using these tools for years and they are awesome.
L'ange Hairdryer
L'ange 25mm and 32mm Clipless Curling Wand – depending on how loose I want the wave
(BONUS – L'ange is offering my readers the above products for 50% off if you click the above links – discount will automatically be added at checkout. You can get the entire Bijou Set for $250!)
Ceramic Round Brush – I use this large round brush to smooth out my hair while blow-drying – it's fantastic!
Mixed Boar Styler Brush – This inexpensive brush is the best I've found for styling my bangs.
Aquis Hair Turban – I use this every time I get out of the shower with wet hair. It absorbs tons of moisture which makes my blow dry much easier!
VIDEO TUTORIAL
Here's a video tutorial of how I style my hair step-by-step using the 25mm clipless curling wand. As you will see, I mention some products I didn't mention above, as I've made a few changes. (Oh! I also detail the foolproof way to dry bangs perfectly, even with crazy cowlicks. #trustmeiknow )
25MM WAVES
32MM WAVES – CURRENT STYLE
This photo is of my current length – I recently had many inches chopped off and now prefer to use the 32mm barrel for a more loose, lived-in look.
wearing my favorite red lipstick – looking for your perfect red? I swatch tons here!
That about covers it all! As always, if you have any questions, be sure to leave 'em in the comments and I'll be more than happy to answer.
Maybe you haven't gotten your hair fill yet? Check out some other haircare routines here!