As far as I'm concerned, 2020 has become the year of eye makeup. How could it not? With constant mask-wearing in public, cheeks and lip products really aren't being seen as much. (You know I'm a lip color girl and this new way of life has me adapting in many ways, including makeup!) With peepers being the main focus lately, I want to share my best tips for eye makeup while wearing masks, as well as my very favorite clean eye makeup products – liners, shadows, and mascara!
The Best Clean Eye Makeup Products
I think the two most important products when it comes to eye enhancement (well, besides mascara because we all know how important that is…) are eyeliner and a good crease color. If you want your eyes to stand out, you simply must emphasize your lash line and make your eyes stand out, which means creating natural shadows on the lid to make your eyes pop.
All of this is explained in great detail in my Hooded Eye Tutorial. Even if you don't have hooded eyelids, the simple principles remain! Be sure to check it out for my tips in action.
Let's start with liners.
My Favorite Eye Pencils
from left: ere perez pencils in bronze, earth, agate, opal, black
Ere Perez Jojoba Eye Pencils
Listen, you simply can't convince me there is a better-wearing clean eye pencil than the Ere Perez Jojoba Eye Pencils. And the color selection? Totally impressive. These pencils look so beautiful on the eyelids and they don't transfer, which is great. However, they DO wash off easily when it's time to remove them. Nothing makes me crazier than eyeliner that won't budge when I need it to. I cannot stand having to pull and rub my eyes to remove my eye makeup. (Yes, I am overly passionate about this.)
The Best Crease Colors
from left: sappho beckitt, kjaer weis charmed, sappho jono
Friends, a natural crease color is EVERYTHING. It's a simple and easy way to make your eyes stand out by creating shadows on your lid. (Again, watch my video for details on crease placement.)
The trick is finding a shade that mimics your shadowed natural skin color – these three are major winners:
For light/medium skin (warm skin tone):
For light/medium skin (cool skin tone):
Kjaer Weis Eye Shadow in Charmed
For deeper skin (neutral skin tone):
My personal match is Kjaer Weis Charmed – the coolness of the shade matches my pinker skin – see above how it looks like my skin but darker? That's what you want to find in a crease shade. If you have light-to-medium skin but are warmer/golden, Sappho Beckitt is fantastic.
My Favorite Eye Shadows

Rituel de Fille Ash and Ember Eye Soots
These are such a cool cream-to-powder hybrid and are incredibly multi-dimensional on the eyes. My two favorite Eye Soot shades are Anima and Half Light.
Sappho Eye Shadows
Best powder shadows in clean beauty. I have tons of these shadows and for good reason – Sappho Eye Shadows have great pigment, blend beautifully, and are very easy to work with. My favorite shades are Minaz, Patricia, Laura, and Amanda (used as a navy liner).
Also, I love that the Sappho shadows come in individual pans that you can put into your Z Palette! I'm a Z Palette girl all the way.
Kjaer Weis Eye Shadows
Another beautiful powder formula. My favorite Kjaer Weis shadows are Charmed, Cloud Nine, Grace, and Magnetic. (Hot tip – you can buy these shadows as refills for much less and put them in your magnetic palette as well!)
My Most-Worn Eye Combinations
Here are the combos I love to wear the most in addition to my crease color (Charmed.) The colors pictured above are my liner + lid color (the area below my crease on my movable lid). However, you don't always have to wear a crease color – these combos work great on their own for a quick look! Top to bottom:
Ere Perez Eye Pencil in Opal + Sappho Minaz
(brown-eyed girls, this one's for you)
Ere Perez Eye Pencil in Bronze + Sappho Laura
(this would be simply amazing on blue eyes!)
Ere Perez Eye Pencil in Earth + Rituel de Fille Anima
Ere Perez Eye Pencil in Agate + Sappho Patricia
The Best Clean Mascara
Ilia Beauty Limitless Lash Mascara
You know, I could sit and write about several clean mascaras to give you some options, but frankly, nothing compares to Ilia Limitless Lash Mascara in terms of definition, length, and volume. It is hands down, the best mascara I've used, clean or not.
Yes, I've tried them all. Yes, I stand firm.
My Favorite Eye Shadow Palettes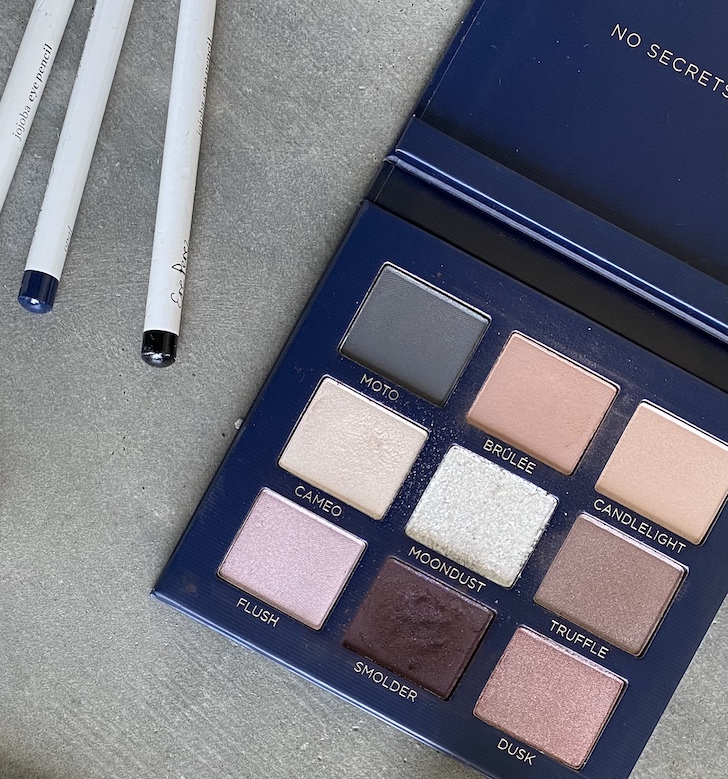 Beautycounter Palette in Romantic
How many times have I written about the Beautycounter Velvet Eye Shadow Palette in Romantic, y'all? My ramblings have to be fully annoying at this point, right? But it's just SO GOOD. FOR SO MANY SKIN TONES AND EYE COLORS. When I travel, I take this palette and it does everything for me. (The Smolder shade is so beautiful as a liner and the Brulee is a great crease color. Watch out for that Moondust shade, though. Fallout city.)
Aether Beauty Palette in Rose Gold
Another gorgeous palette is the Aether Beauty Palette in Rose Gold. I love all the different finishes – matte, satin, metallic, shimmer…so many options for looks!
You will be pleasantly surprised at what a little eyeliner and shadow will do to liven up your eyes, especially when wearing a mask. As always, hit me up with any questions you have in the comments!