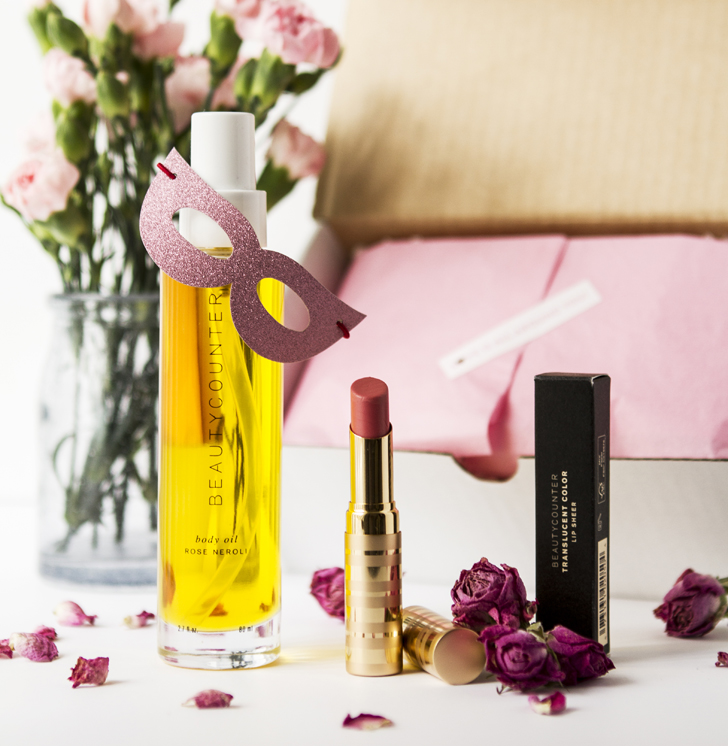 Fellow lovers of the green beauty movement, I have some fun news. Two of my favorite green beauty companies have partnered up for the month of February, and I can't wait to tell you all about it. So, I haven't dedicated an actual post to Beauty Heroes before, but those of you who follow my Odds and Ends on Fridays know that I have become obsessed with this company.  Beauty Heroes is a monthly green beauty subscription box sent to you with some seriously covet-worthy products. Every product included is chosen from a community of clean beauty brands that are leading the way with products formulated with the highest quality natural and organic ingredients that truly nourish and benefit your skin.
However, the one thing that sets Beauty Heroes apart from other subscription services (green or conventional) is that you receive one full-sized beauty product (usually with a great sidekick product as well) instead a slew of sample-sized products. Personally, those type of sample-sized subscription boxes never work for me because, frankly, I don't end up using any of the products. I might be jaded, but sometimes I feel like it's the crappy colors/unpopular items from companies that end up in the boxes. In a nutshell, I've subscribed and unsubscribed in a matter of months with every box I've tried.
Until Beauty Heroes, that is. The products sent out every month are amazing. They are carefully curated by Jeannie, the owner of Beauty Heroes, and they always come with tons of information about the product, the company, how the ingredients are sourced, etc. It is a green beauty maven's dream, for certain. (Some of the past products have been Vintner's Daughter Serum, Osmia Organics Black Clay Soap and Face Cream…I mean the creme de la creme of green beauty.) Best part? The monthly subscription rate is $39. Yes, for 39 bones, you basically receive $100+ of amazing product. Every month. Not to be over-dramatic, but I'm truly OBSESSED. No joke, you guys. I have adored everything I received.
So, guess who Beauty Heroes is featuring the month of February? Beautycounter. Yes, one of my favorites, and if you're new around these parts, just go ahead and search for Beautycounter in the sidebar. Needless to say, I'm a fan. In this month's Beauty Heroes box will be a full-sized Rose Neroli Body Oil and a full-sized Lip Sheer in Petal. (You can see all the shades on me here, if you are curious.) Friends, this is such a great value, and if you've wanted to try Beautycounter in the past, this is a great time.
If you are looking for a smart way to be introduced to truly responsible, ethical, high-performance green beauty brands, Beauty Heroes is your new best friend. Keep in mind, though, new Beauty Heroes members must join by February 20th to receive this particular box, and limited quantities are available. You can sign up for the service here. Hope you enjoy it as much as I do!