Yesterday, our Internet connection was out for approximately eight hours. And it was glorious.
After my 5-minute OH MY GAH WHAT SHALL I DO! NO INTERNET! period, I realized there are plenty of things to do away from the Internet. Like enjoying your life without crouching over a 15-inch screen looking for your cyber buddies.
Let's take a walk through Whoorl's Day Without Internet. (In list-form, of course!)
1. This is huge. Almost 2 YEARS LATER, I finished Harry Potter #5. Yes, the same Harry potter I wrote about in October of 2005. It seems I took your advice (your advice? Are my 2005 commenters even reading this blog anymore?) and took a break from Harry Potter. A very long break. Finally, I can move on to The Half-Blood Prince and put #5 on the shelf for good.
2. I took care of my new black eye, which I explained over here.
3. I shipped back the Wheely Bug that I was SO intensely excited about. Turns out, if your baby is taller than the average 2-year-old, he will end up looking like an old man with secondary osteoporosis pushing a walker. Seriously, his upper body was parallel to the floor. Not good. (BUT SO HILARIOUS TO WATCH!)
4. I sorted through a 24-pound Fed Ex delivery of Wito's birthday presents shipped from my mom in Oklahoma. Needless to say, Wito had a great day.
5. Dude! I did some crafty crafts! Look at these cute ponytail holders I made!
I even attempted a photo of the back of my head.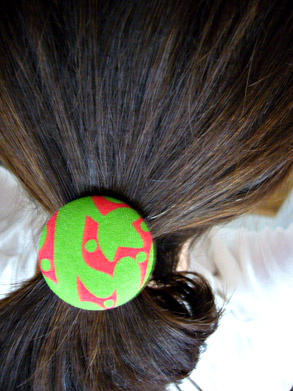 As you can see, back-of-the-head photography is not my forte.
I needed yesterday's breath of fresh air. Of course, the result of the outage has forced me to be shackled to the Internet for the remainder of the day, writing Parent Dish posts and working on Hair Thursday.
Oh well, it was worth it.