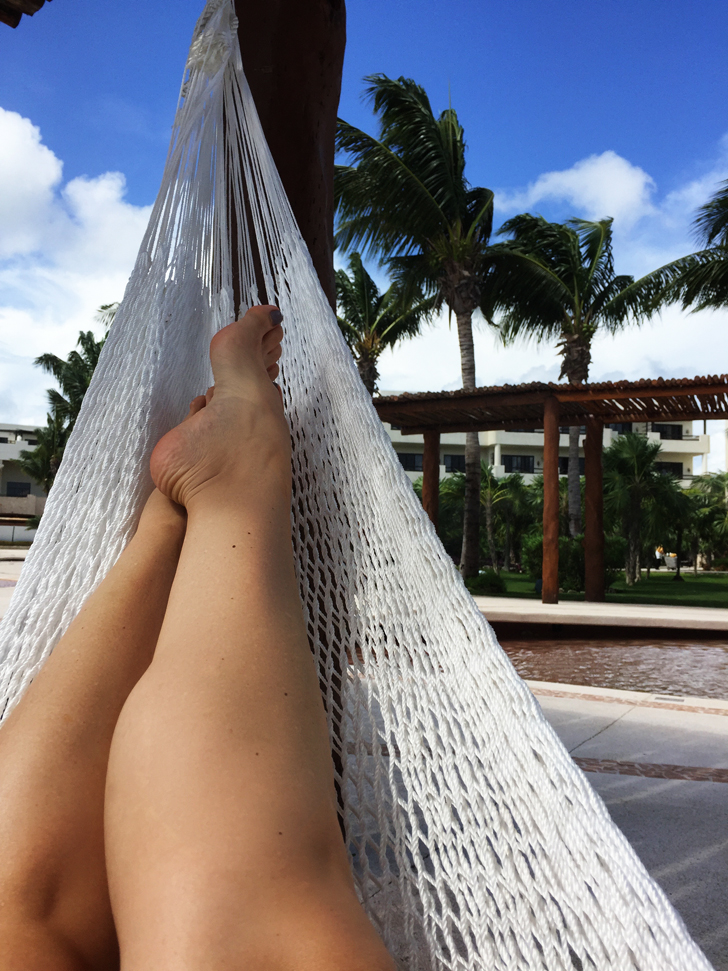 I've told you about my birthversary, right? November 5th is my wedding anniversary followed by my birthday on the 6th. (I have no clue why I thought this was such a good idea at the time.) Well, about a month or two ago, I was invited on a trip hosted by the Dreams Tulum Resort and Spa and The MOMS for a little mom escape. Happy birthday to me! (Although my husband wasn't exactly thrilled that I spent our 11th anniversary wining and dining in Mexico…sorry honey, it won't happen again, I promise.)
(Although, I secretly think this video I sent him from my arrival at the Cancun airport made him smirk.)
It was a rainy weekend, for sure, but the sun made an appearance a few times throughout my stay. See?
This is Dreams Tulum Resort and Spa. The resort boasts Unlimited-Luxury®, which includes superior amenities beginning with daily meals and snacks, and unlimited top-shelf beverages, all wristband-free. The location is superb – it's on one of the most unique beaches in the Riviera Maya surrounded by lush tropical acres, sugary white sand and magnificent colonial architecture. Quite lovely, if you ask me. Fantastic for families, and in the gorgeous town of Tulum. However, if I had to pick one aspect of the resort that I loved the most, it was the service. Case in point, the staff caught wind that it was my anniversary on the first night, and returning to my room after dinner, I walked into this scene.
Happy Anniversary to me. I guess the staff didn't realize that I wasn't WITH my husband, but yeah, lots of rose petals, people. And the bath was just lovely. Alone.
On the second day of the trip (my birthday!), we made the 45-minute drive to Secrets Maroma Beach Rivera Cancun. You guys, this AAA Five Diamond, adults-only resort was absolutely beautiful, and the view from the room was divine.
Within 5 minutes of the sun coming out, this girl was in the ocean.
Not a bad way to spend the inaugural day of 41.
Note to self: don't stand next to the 6-foot-tall blond Russian next time.
Once again, the service at this resort was fantastic. They made sure I enjoyed my birthday the entire stay.
Did I mention the spa?
image credit: Secrets Maroma
Kristen and I were all over it.
All in all, I would absolutely love to return to Secrets Maroma for a getaway with my husband or group of girlfriends.
Returning to Dreams, I spent the rest of my vacation eating, relaxing, and hanging with old and new friends. Despite the rain, it was a truly lovely stay.
skirt by lilly pulitzer
Oh, and a little more spa-ing.
Please witness the utter relaxation on my face after 90 minutes of heaven. I could barely stand upright.
The final night was spent with the entire Moms Escape group, and it was the perfect ending to a great trip.
If you haven't heard of Denise and Melissa from The MOMS, you must check out their Sirius FM radio show!
Such a memorable birthday weekend – thank you to the Dreams team and The Moms for making it happen! If you have any specific questions about the resorts, please feel free to ask me in the comments. They both were fantastic, and you can check out special offers for families here.