As many of you know, Google Reader is finito as of July 1, 2013. Sadness! You all know how much I adored the next button, right?
When presented with a conundrum like this, you can choose two different routes. Remain in complete denial until POOF, your RSS feeder has completely disappeared, taking with it all of those precious saved posts and general bloggy bits of goodness OR you can prepare yourself before you wreck yo self. I'm sure it's no surprise that I, Sarah, Queen of the List-Making and Type A-ness, chose the latter.
So! I asked around and the two RSS readers I heard about the most were Feedly and Bloglovin. I ultimately chose to use Feedly as my RSS reader because I really love the simple, clean interface, and frankly, the term "bloglovin" bugs me. Priorities, people.
Now that I feel relatively confident with how Feedly works, I'm here to get you all set straight, if need be.
First, let me start off by saying that my first visit to Feedly wasn't so great. After importing my feeds from Google Reader (to import your google reader feeds over to feedly, simply login to feedly using your google account), I do believe it looked a bit like this.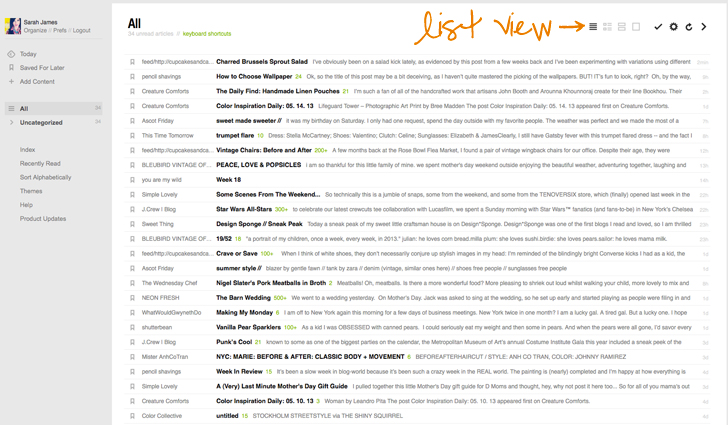 Yuck. Listen, I very much enjoy looking at images and graphics via my feed reeder, and this text-based list of my unread blog posts was sadder than sad. I suddenly felt like I was doing homework, not reading my favorite blogs.
So I started to play around and realized that I could view the unread blog posts in many different forms. The card view:
The full view:
Or my favorite way, the magazine view:
The above image is my Feedly home page. I love it because it isn't jumbled, the style is very clean and modern, and I enjoy seeing the blog post thumbnails.
Now, if I want to read the full post, I just click on the title, and the post populates on the page.
When I'm finished reading the post, I can share it, save it, and/or delete it from my unread list.
And speaking of saved posts, I love accessing my saved posts in Feedly.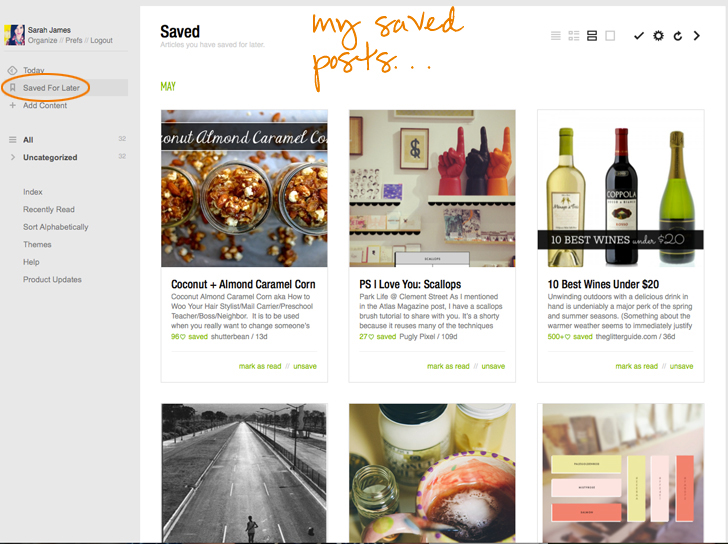 Such a pretty format, right?
Also, finding a blog via Feedly is super easy. Just click on "Add content" in the left sidebar, and a search bar will pop up on the right.
From there you can input specific blogs or search subjects like design, photography, DIY, or whatever floats your boat.
You can also change your viewing layout and your filters. Feel the need to 'mark all as read' once in while? You can do that too.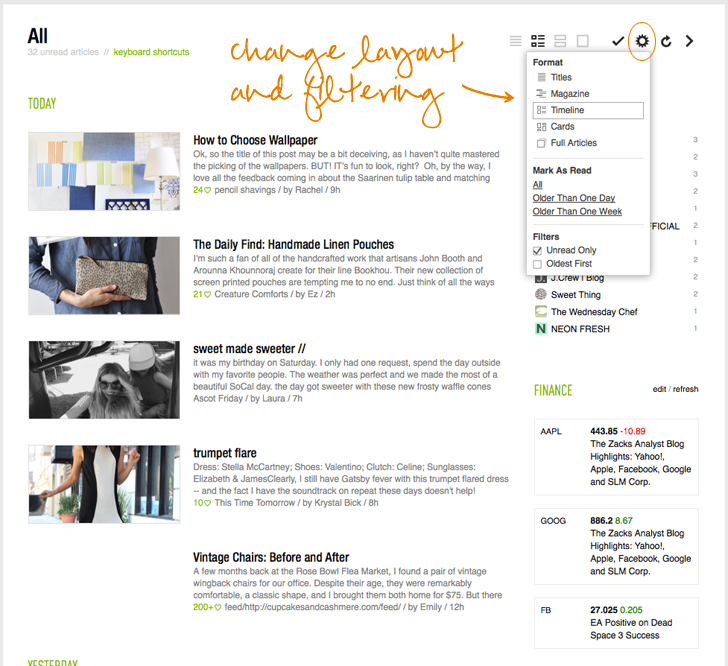 There are also some wicked keyboard shortcuts, but I'm not pretending to act like I know about those.
Want to customize? The preferences section is really robust.
Plus, you can organize all your feeds into categories. Type A alert, I repeat, TYPE A ALERT.
Now, Feedly does have one challenge that baffles me, so much so that I've searched message boards to make sure I'm not missing something. You can't view your posts in strict chronological order. It's the strangest thing! I will have a few posts listed from today, then a couple from a day before, then back to today. Please, Feedly, make that happen, mmmkay? Also, how about a 'next' button? That would be the Best Thing Evah.
I'm sure I'm only scratching the surface in regards to Feedly, but hopefully this will get you on the right track should you decided to use it. Let me know if you have any questions or any additional tips that I should know about in the comments. Or just feel free to share your Google Reader eulogy. RIP.