After months of holding back, I've gone a little clothes crazy this month. Let's chat about some items that I am currently coveting and/or buying.

Fan Fringe Necklace – I am so in love with this necklace – my three favorite colors? Together in perfect harmony? I will stalk this puppy until it's sale time.
Silk Day Dress – Tried this on at Madewell. Absolutely adorable, but couldn't justify the cost.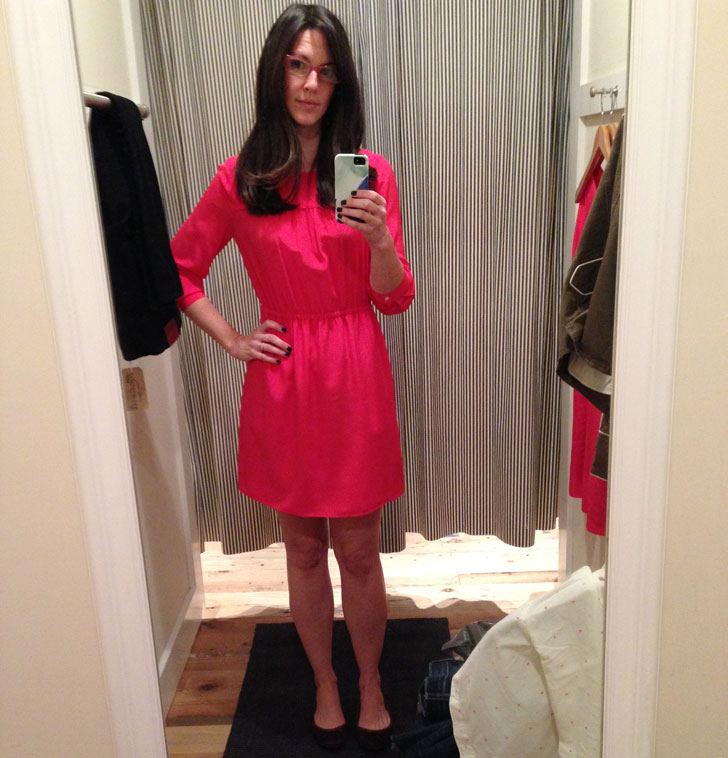 I will, however, keep an eye out for this one in the sale section.
Zac Posen Satin Dress – If I married a sheik, I would wear this to meet some important dignitaries or something.
Clare Vivier Fold Over Clutch – Well, this is just perfection. Golden, sparkly clutch? Yep.
Camouflage Skinny Jeans – So cute. I need some camo in my life. Maybe I could wear them while stalking my bearded Duck Dynasty boys?
ASOS Skater Dress – Perfect silhouette, although I have a feeling the waist would sit too high on us long-waisted gals.
Sweatshirt Sweater in Stripe – Has my name written all over it.
J. Crew Sera Top – Cute for spring, and I'm a fan of white with subtle patterns. Once again, please go on sale.
Gap Printed Pointy Flats – Bought these in the leopard print, and they are super comfortable. Perfect with skinnies, boyfriend jeans, dresses, skirts, the list goes on and on.
Skinny Skinny Ankle Jeans in Black Frost Wash – I stopped by Madewell to return this necklace (I was trying to find a less expensive replacement for the fan fringe necklace to no avail…) and saw these skinnies. Now, I haven't had much luck with Madewell jeans in the past, but I loved these black ones. The rise, length, and pocket placement are perfect.
MiH Marrakesh Kick Flare Jeans – Wow. Wow. Wow. I adore these jeans, which actually surprised me. Let me elaborate. Mid-rise, kick flare jeans are usually really flattering from the front view, but you have to be careful about the rear pockets. The rear pockets on these looked like they were sitting a bit too high. (Not too high, generally speaking, but a little too high for us ladies with perky rear ends. You know what I'm talking about, my fellow perksters…jean pockets too high + curve of butt below the pockets = serious butt curvature.) Anyway, yes, the pockets sit a little higher than what I usually wear, but the jeans are really fab. And! D loves them on me, so SOLD. I'll try to get some photos of them for a post.
Mix and Mingle Rings – I couldn't pass up this deal – 28 dollars! These rings are so. fun.
Mossimo Striped Dress – Ladies, let me tell you a little bit about this dress. On the same day I tried on the above Madewell dress and didn't buy because of the price, I had to pick up some stuff at Target. Lo and behold, this little coral striped number caught my eye and I decided to try it on, even though I never have good luck at Target. And! It fit!
(Please excuse my washed out, disheveled self.) $27.99, people. 27 DOLLARS AND 99 CENTS. And! The waist sits in the right place, even for the long-waisted set. Get thee to Target, and if coral isn't your thing, there are 5 different fabric choices. (Teal and navy stripe was way cute too.)
What about you? Anything caught your eye lately?