Let's dive into all things clean beauty and bronze! Pressed powder, creams, warm tones, and cool tones too…I've got you covered.
Clean Beauty Bronzers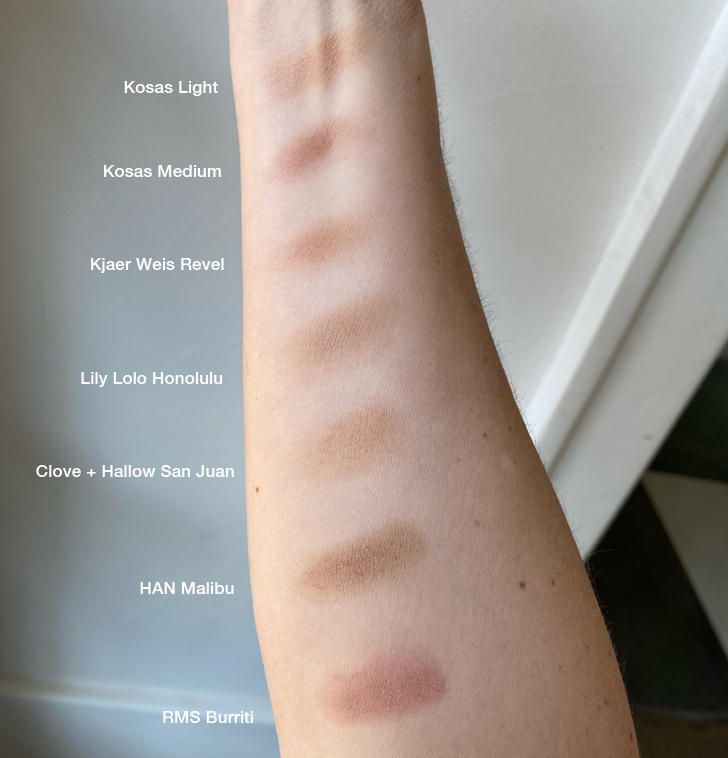 For those who want the Cliff Notes version, here you go.
MY TOP BRONZER PICKS
Best Warm-Toned Bronzer: Kosas Sun Show Bronzer
Best Cool-Toned Bronzer: HAN Bronzer in Malibu
Best Cream Bronzer: Kjaer Weis Flush and Go Duo in Sunlit Glow and RMS Buriti Bronzer
My Personal Fave: Lily Lolo Pressed Bronzer in Honolulu
For the rest of you, get comfortable, and let's do this thing.
A quick note about undertones. This is a short-and-sweet guide on how to determine your skin's undertones, but nothing is set in stone! If you have a cool undertone but love a really warm-toned bronzer, go for it. It's all about how cosmetics make you feel when wearing them. For this particular post, just think of warm-toned bronzers as ones that look more golden and warm when you swatch them (think fire!) and cool-toned bronzers look more gray-brown or pink. If you think most bronzers look orange on your skin, you might want to try some cool-toned ones.
WARM-TONED BRONZERS
I suppose the new launch by Kosas has some of you curious, and The Sun Show Bronzers absolutely do not disappoint.
These clean, moisturizing baked bronzers are made with Shea Butter to give you that glow your skin gets in really pretty sunset light. The talc-free powder has a creamy payoff and weightless feel on the cheeks.
These bronzers definitely are warm-toned, super pigmented, and have the prettiest sheen on the skin, as you can see below.
Wearing Kosas Sun Show Bronzer in Medium with Ilia Amberlight lipstick with Fitglow Lip Serum in Go on top.
They can produce a little bit of fallout from the pan and the powder is picked up very easily with a brush (I recently bought this bronzer brush and I LOVE IT) so a little goes a long way.
Another great warm-toned bronzer is Clove + Hallow Bronzing Powder in San Juan.
COOL-TONED BRONZERS
Finding the perfect cool-toned bronzer has become a bit of an ongoing quest for me. Although my skin tone can be described as neutral, I find I gravitate towards cool-toned shades because bronzers can look orange on me very quickly. (I know I'm not alone in this because you all ask me all the time!)
Cool-toned bronzers look great on those with fair-to-light complexions and/or neutral-to-cool skin tones. They tend to look a little grayer in the pan, but can create really lovely depth on the face without a hint of orange. My favorites in this category are HAN Bronzer in Malibu and Lily Lolo Honolulu Pressed Bronzer.
Wearing HAN Bronzer in Malibu with a pop of Kjaer Weis Cream Blush in Reverence on the apples of cheeks. Ilia Amberlight lipstick with Fitglow Lip Serum in Go on top.
If you think bronzer is a no-go due to a fair and/or cool complexion, I definitely suggest trying the HAN Bronzer in Malibu. The sheerest of the matte powder bronzers I swatched, this one gives you that perfect out-in-the-sun look without any orange at all. It's so pretty on and the price can't be beat!
Wearing Lily Lolo Bronzer in Honolulu with Ilia Amberlight lipstick with Fitglow Lip Serum in Go on top.
My favorite for years, the Lily Lolo Honolulu Pressed Powder is my absolute go-to when I want less of a golden hue. I find it's the perfect neutral bronze and it always looks natural on my skin tone. This is the only blush that I've had to repurchase due to using it all – this one has no shimmer and is matte.
CREAM BRONZERS
Two bronzers really stand out for me in the cream category, RMS Beauty Buriti Bronzer and Kjaer Weis Cream Bronzer in Dazzling.
Wearing the RMS Beauty Buriti Bronzer and Fitglow Lip Serum in Koi
The Buriti Bronzer is described as an "ultra sheer, glowing, cream bronzer without the orange, without the pink and without the grey giving just the right amount of warm, sun-kissed skin. If you look at the swatch photo, you will see that this one pulls more plum, but the greatest thing is that it's super sheer and so natural looking. You can build up to a dramatic look, or just a very subtle bronze. I like to wear this one as an eye shadow too!
Finally the gorgeous, brand new Flush and Glow Duos by Kjaer Weis. Have you seen these? I am so excited to show this duo to you! It's no secret that I adore Kjaer Weis Cream Blushes and theses duos include both a popular cream blush shade and a bronzer/highlighter. The one pictured, called Sunlit Glow, combines the Sun Touched cream blush with the Dazzling Bronzer and creates such a lovely glow.
wearing Kjaer Weis Flush and Glow Duo in Sunlit Glow with the Nude, Naturally lipstick in Genuine and Lip Pencil in Bare
The Dazzling bronzer is recommended for light to medium skin with cooler undertones – it's definitely one of my favorites and I've been wearing the Sun Touched blush for years. This combo is a win-win because you can wear together like I am above or use them separately. FYI – I also adore the Vibrant Ray duo as well.
Soooo…are you bronzer-ed out? As always, leave me any questions you might have in the comment section and I will try my best to answer them!
YOU MIGHT ALSO LIKE:
Showdown: Ilia Super Serum Skin Tint vs Kosas Tinted Face Oil