Ever wonder what products mentioned on this blog are the most popular? One of my favorite things about this website is doing a deep dive into my analytics at the end of each month to see what's resonating with you, and I thought I might share with you all going forward! (Maybe make this a monthly thing?)
I love to see what you all are buying and loving each month so I combed through this summer's hits and bestsellers and these are the products at the top of the heap.
Stick around this week because I'll also be featuring your favorite items from this summer in the hair, clothing, home, and fitness categories!
Your Favorite Things From Summer 2020: Beauty Edition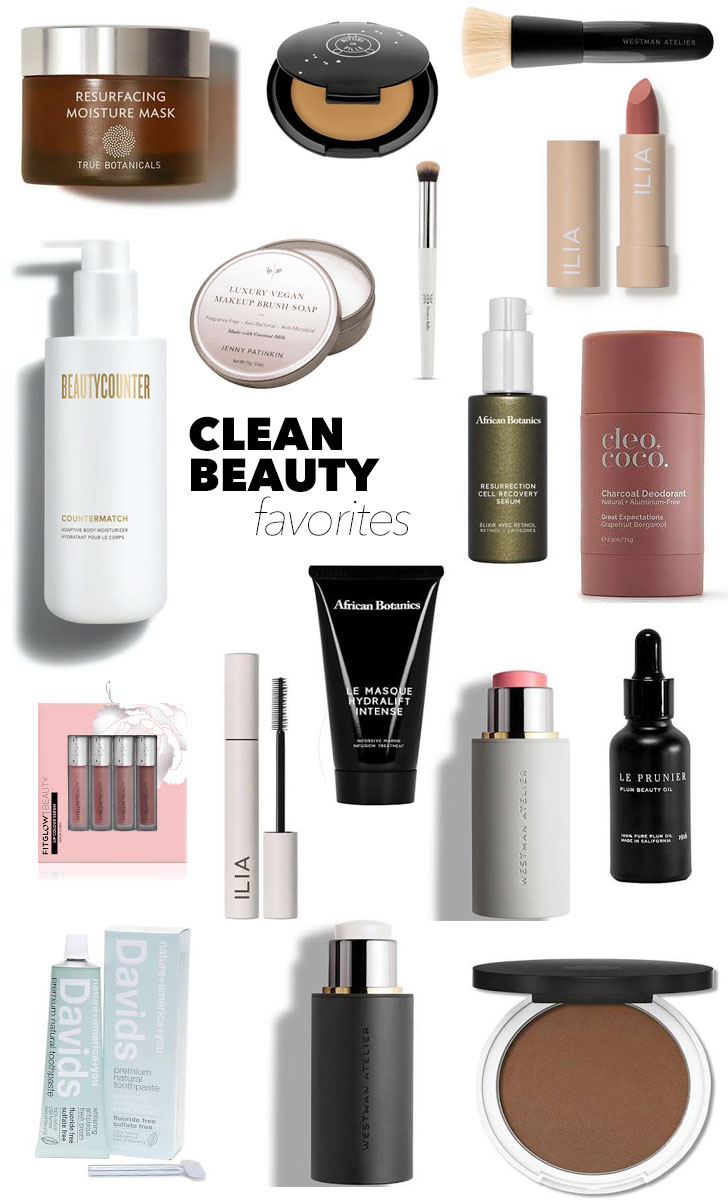 Summer's Top 5 Bestsellers
Westman Atelier Baby Cheeks
The Westman Atelier Baby Cheeks Stick was my most-used makeup product this summer and I don't see that changing anytime soon. This multi-purpose color for cheeks, lips, and eyelids is formulated with a triple botanical blend of ayurvedic oils and the creamy color completely melts into my skin. The color is so blendable and leaves the slightest glow on my cheeks. I love them! (And apparently mentioned this fact to you many, many times on Instagram this summer.)
I have three shades that I rotate according to my mood – Petal (dusty nude rose), Chouchette (nude peach), and Poppet (poppy pink fuchsia).
Fitglow Nude Lip Kit
We all know my love for Fitglow Lip Serums runs deep, but this limited edition kit has apparently stolen many of our hearts. I LOVE nude lip glosses and all of these are gorgeous! You can purchase the kit here.
Jenny Patinkin Brush Soap
The Jenny Patinkin Vegan Luxury Brush Soap has completely changed the way I wash my brushes. All of the details and a quick tutorial can be found here. (You all sold this one out a few weeks ago!)
Cleo + Coco Deodorant
I am so happy I found this new deodorant! Cleo + Coco Deodorant is the absolute best in clean beauty and I wrote about it here.
Lily Lolo Bronzer in Honolulu
I've tried them all and I keep on coming back to this one. Apparently you love it as well! See how it fared against others in my Clean Beauty Bronzer Showdown.
Other Bestsellers This Summer
African Botanics Le Masque Hydralift Discount Boxwalla Box  – This is more than 50% off and should sell out ASAP.
Beautycounter Eye Palette in Romantic – My favorite palette! See it in action in my hooded eye tutorial.
Ilia High Impact Lipstick in Amberlight  – The perfect nude for me (and you too!). You can see all my favorite nudes here! #soundsweird
Ilia Limitless Lash Mascara – Still the best. (Yes, even over Kosas.)
Beautycounter Body Moisturizer – Love this one for my body. Has plum seed oil in, which is tops in my book.
Westman Atelier Blender Brush – Perfect to use with the Baby Cheeks Sticks and the Lit Up Highlighter Stick.
True Botanicals Overnight Moisture Mask – Remember how it saved my hand?
Rituel de Fille Concealer in Metis – This has become my go-to concealer. I love the natural, satin-matte finish.
African Botanics Resurrection Cell Recovery Serum – I love it, you all love it. We ALL LOVE IT.
Le Prunier Plum Beauty Oil – My nightly moisturizer. Reviewed here.
Clove + Hallow Precision Buffer Brush – Best concealer brush!
Westman Atelier Lit Up Highlight Stick – Ohhhh, this leaves the most gorgeous glassy finish. Wearing it in the photo above.
David's Toothpaste – Finally switched completely to David's this summer. Mint in the morning, charcoal at night.
P.S. – Your summer favorites: clothing edition is coming tomorrow! (Psst…you all really like yoga leggings.)