This post is sponsored by Bridgestone. I can now officially say their DriveGuard tires are the bomb.
We made it through our 10-day road trip alive, folks. And we packed it in – Grand Canyon, Colorado hiking and river-rafting, Sedona energy vortexes and the best restaurant ever.
As you can imagine, while spending days on end in the car, you take a lot of landscape shots.
You also eat In-n-Out, greasy spoon breakfasts, and listen to old school Madonna tunes while your little ones cover their ears in protest.
To my children's dismay, I did a little interpretive hand dancing in the front seat. I mean, what else was I supposed to do? THE BOREDOM.
(Can you hear Wito at the very end singing along? Buhdadum badadaadaaa.)
We also stopped way too much.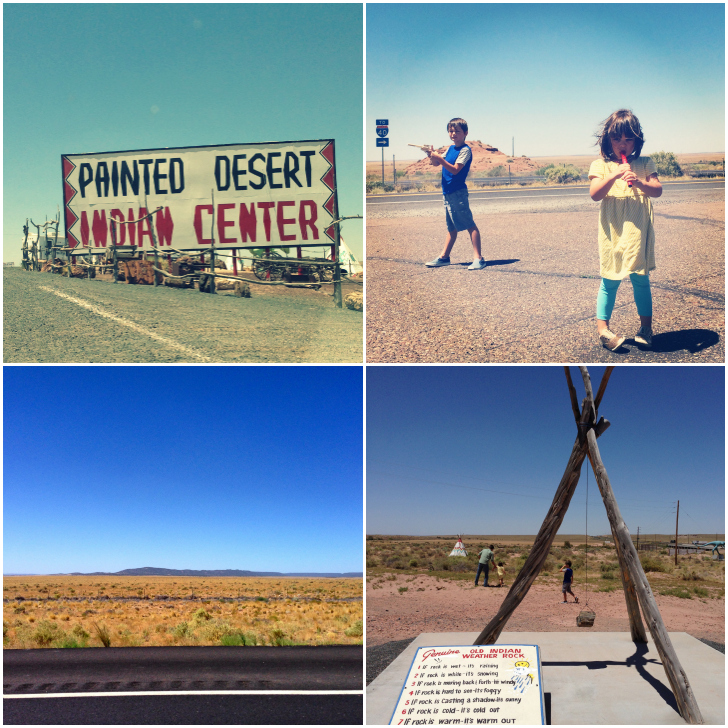 I can't believe I bought Wita a wooden recorder thingy. ROOKIE MISTAKE. It was "lost" within a few hours. I can't imagine who would have done that. D's trying to get a good Instagram shot on the bottom right. "Don't worry, Wita! It's just a rattlesnake. GO. Smile!"
Very, VERY rarely, I would look back and see this.
But most of the time, I listened to a lot of bickering. Bickering, bickering, bickering.
And the only thing that stopped the bickering was blaring a certain song. Listen, I'm not above playing "Wiggle" for my little kids if it will secure 5 minutes of non-whine.
"MOM, HE SAID BIG FAT BUTT!" Feel free to judge me.
We did lots of exploring – on foot and in the car. I am super thankful that Bridgestone provided us a wagon with DriveGuard tires because we managed to go off-roading, drive through a sandstorm in Phoenix, and multiple thunderstorms (flash flooding!) in multiple states without a blink. Trust me, there were a few times we, ahem, bottomed out and splayed gravel, and thanked our lucky stars our car wasn't taking the beating. Can you imagine if we would have gotten a flat in any of those situations? Not an Instagram moment, methinks. Not to worry since DriveGuard tires allow you to drive up to 50 miles at up to 50 mph after a puncture or complete loss of tire pressure.
All in all, it was an awesome road trip. We loved adventuring around the country and spending lots of time with my parents and Lala's family in Colorado. It was great.
So great, in fact, that we're doing it again in three weeks when we pack up our life and move to Oklahoma. (I KNOW. More on that later.) Until then, things might be a little spotty around here considering at some point I am going to need to start packing. Again.
(Didn't we just do this?)
((Did I mention that we are in escrow on the sale of our California house AND on the purchase of our Oklahoma one?))
(((And that it's another renovation? Are you ready for some more before/after photos?)))
((((Should I convey just how stressful things are right now?))))
(((((A LITTLE STRESSFUL.)))))
((((((wiggle wiggle wiggle))))))