Awww, will you look at these two lovebirds?
Meet Allison and Blake, my very first Hair Thursday: Couple Edition victims. The future of their healthy tresses is entirely in my hands. I'm drunk with power! MWAHAAHHHHAAAAAA.
Oh, don't worry. I'm a Pepper too, Blake.
Allison's hair:
Medium brown, natural highlights
Normal to dry
Usually washes every other day or two
Very straight
Preference for long hair. Her hair is her "security blankie", and will not chop it off.
Addicted to hot rollers
Lots of ponytails
Let's hear a little bit about Allison's hair issues.
I have become addicted to my hot rollers. Truth be told, I'm a wannabe curly top. I want wavy hair! Alas, it is stick straight, heck, straighter than most sticks. And the whole curling iron, blow out thing is tough to do daily with our 4 children here. Did I mention I homeschool? THERE IS SUCH LITTLE TIME FOR ME. I end up taking about 3 FULL showers per week, meaning my hair is dry enough that for several days I can spit bathe, and pull my hair up. Braids, pony tails, twists, whatever. There are only so many hours in a day to take care of our 4, eat, bathe, work out, clean house, work on a remodel project, etc.
I'm hella exhausted just reading that, but I think Allison is approaching her hair routine exactly how she should. Honestly, how else could she approach it? She wants long hair, she doesn't have time to style it every day, she needs low-maintenance options, etc.
Let's look at a photo of Allison using her hot rollers.
I think her hair looks nice when hot-rolled- very healthy and full of bounce. Don't you? So, what could we do to add a little spice to that head of hair?
I KNOW!
Well, two things. First, Allison needs to trim the ends and shape up the layers in the front.
Secondly, let's COLOR it. (Squee!)
Judging by the photos, I think Allison could go a wee bit darker. Think luscious chocolate…in fact, her hair color change could be similar to one of our past participants, Lori.
Remember Lori?
Remember how Lori's blue eyes just popped once she went a little darker? Well, if you take a look at Allison's peepers, I do believe they are beautiful and blue and BEGGING to be noticed.
Here are two shades that would look lovely on Allison. It's important for her not to go too dark, or she will risk looking a little garish. The first shade isn't too much darker, but has red undertones throughout. Option #2 is about as dark as I would recommend going, but would still look pretty with Allison's complexion.
Which shade do you prefer for Allison? Either way, her hair will look incredibly shiny and those blue eyes will shimmer.
Let's not forget Blake!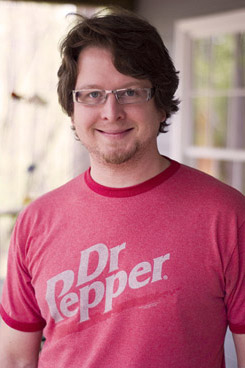 Blake's hair:
Very thick and wavy
Large cowlick in the front
Has worn all lengths
Needs a style that won't hang in his eyes while looking downwards
Uses products (Aveda styling stick)
Blake is a graphic designer and has super hair, but both he and Allison think his current style is a little too Kris Kristofferson 70's shaggy. (For the record, I am a huge fan of wavy, shaggy hair on boys. This may or may not be related to the fact that I live in a beach town with tan, shaggy-haired surfers everywhere. Yummy. Especially the ones with super dark hair and really white teeth…or the ones with the sun-bleached ends…yeah…definitely…wait, what was I talking about?)
Sorry.
Yes, the options.
Oh, I know what you're thinking. Patrick Dempsey? HOW OBVIOUS.
Trust me, I spent hours yesterday (literally, HOURS) trying to find two suitable haircuts not involving Patrick Dempsey, but y'all, Blake has Patrick Dempsey hair. (!!!) Thick, wavy, healthy…seriously, how could I NOT.
Taking some length off the top in Option #1 would really enhance Blake's thick waves. Right now, his hair is too weighed down to get much lift off his face. Plus, we need to get Blake's cowlick to work with him, not against him. American Crew has some great grooming creams and pomades that would help keep the hair up, up and away. I also like how the sides and back of this haircut are left a little longer, where you can see a little wave here and there.
Option #2 would still leave some length on the top, but would be a much tighter cut around the sides and back. This is when Blake's Aveda Style Stick would come in handy, just rub some between the palms and go crazy. Blake definitely has the volume to pull this off.
Now, go ahead. Tell Blake what you think!