This post is in partnership with Visit Laguna, whom I've worked with for years and completely adore. Be sure to check out their Pathway to Zen featuring yours truly! Photos by Greer Inez.
Laguna Beach is my home away from home, and I've spent years seeking out the best spots to experience everything Laguna has to offer. You can check out my very detailed and all-encompassing Guide to Laguna Beach here, but today I'm going to focus solely on all things wellness awaiting you in this gorgeous beach town.
If seven coastal miles of breathtaking bluffs and sandy beaches aren't enough to lure you to the hidden gem of Laguna Beach, the unique opportunity to experience a total rejuvenation of mind, body, and soul certainly beckons. Known as an artist's colony nestled on the Pacific, halfway between Los Angeles and San Diego, Laguna Beach has recently blossomed into a wellness mecca, boasting everything from world-class spas to adventurous hikes on 20,000 acres of protected wilderness to delicious farm-to-table culinary delights.
Shall we dive right in?
Ultimate Wellness Guide To Laguna Beach
Yoga in the Park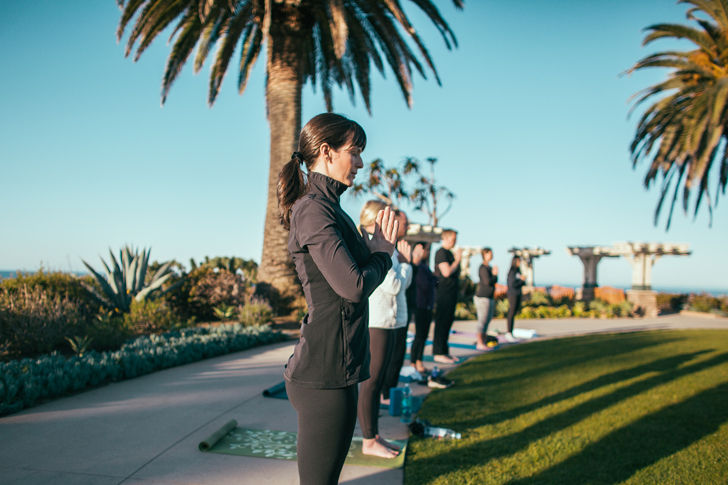 Looking for one of the most picturesque yoga classes on the West coast? Your search is over – Laguna Beach's Yoga in the Park is absolutely breathtaking, in more ways than one (hello 90 minutes of challenging postures). Located on gorgeous bluffs overlooking The Pacific on a lush green lawn, your savasana will be spent gazing up at swaying palm trees while feeling the cool ocean breeze.
Bonus? Carl Brown, a registered Yoga Alliance Instructor, provides free daily classes at 8am, 7 days a week, at the Treasure Island Park located in front of the Montage Resort. FREE CLASS. IN A BEAUTIFUL LOCALE. What's not to love?
Laughter Yoga
A completely different type of yoga, Laughter Yoga taps into your inner happy place. Laughter Yoga is a trip, my friends.
Led by Certified Laughter Yoga Master Trainer and club founder Jeffrey Briar, the session commences with easy stretching and breathing exercises, followed by many laughter exercises (think pretending you're walking a dog or throwing peace signs while laughing with others), and ends with a guided relaxation.
It's goofy, people. Not gonna lie. Look, I even brought friends with me the second time around.
Look at us, working those ab muscles! (Mine were actually sore after class from the constant laughter.) Think a little laughter is exactly what you need in terms of self-care? The group meets Sunday through Friday mornings, 8:00 a.m. and Saturday morning at 10:00 a.m at the northernmost end of Main Beach.
The Stand
The Stand Natural Foods Restaurant is a Laguna Beach institution, established over 40 years ago with a 100% vegan menu that both locals and tourists adore. The Stand's longtime owner believes that the healthiest food you can put in your body should consist of a plant-based, 100% cruelty-free vegan diet and I can't say I disagree.
Walking up the red standalone "shack," you'll first notice the incredibly robust menu handwritten on the walls. Freshly squeezed juices, nut milkshakes, smoothies, tostadas, burritos, salads, date shakes, and acai bowls are just some of the few delicious options for the wellness lover. A local favorite is the bean and rice tostada which is a steamed corn tortilla covered with organic pinto beans, organic brown rice, green leaf lettuce, alfalfa sprouts, topped with guacamole and mild salsa. Delicious.
Zinc Cafe and Market
My favorite eatery in Laguna Beach, hands-down. The iconic Zinc Cafe Laguna Beach has been a darling of locals and tourists alike for over 28 years. Located in the village, words cannot accurately express the delightful charm of this cafe that might as well be located in Paris. The dreamy patio, the delicious food, and the interesting people-watching are more than enough reasons to make this cafe a must-stop on your wellness tour.
Might I suggest the avocado toast, the scrambled egg plate, and a latte while you take in the Laguna vibe on the perfectly shaded patio?
Adjacent to the restaurant is the marketplace, which sells a myriad of specialty sundries to take with you and ZInc also has an online market as well. Zinc has branched out with several other locations, but the Laguna Beach cafe will always stand alone as the favorite. Make a stop at Zinc after a nice walk on the beach or an invigorating yoga class. You won't be disappointed.
p.s. – I have crushed on the above gentleman for years. Can you tell? ;)
Spa Sycamore at The Ranch at Laguna Beach
Oh, how I love The Ranch at Laguna Beach. Set in the Aliso & Wood Canyons, you feel completely nestled into the hills of Laguna, yet are a super quick walk to the beach. The best of both worlds, The Ranch is the newest member of the exclusive National Geographic Unique Lodges of the World, a collection of boutique hotels in extraordinary places around the world with a demonstrated commitment to sustainability, authenticity, and excellence.
Also at The Ranch is the most lovely Sycamore Spa.
Peaceful is the first word that comes to mind when describing Sycamore Spa. Surrounded by the hills of the canyon, it's just such a serene space with loads of natural light and a modern size that feels very private. Book a couples massage or indulge in one of the signature facials, you simply can't go wrong spending an afternoon here.
Also, I recently experienced the most grounding meditation experience on the grounds of The Ranch, led by Jessica of Root + Reach.
Oh, and did I mention plein air painting?
Seriously, how gorgeous are the grounds at The Ranch Laguna Beach? It's almost too much to bear. Almost.
p.s. – If you book a stay at The Ranch through this link or use the code WELLNESS, you will receive:
The best available room rate.
Waived resort fee.
A day pass to Sycamore Spa and/or a free extended 30 minutes to any treatment at Sycamore Spa.
A Laguna Beach swag bag with all locally-made wellness products curated by Visit Laguna.
Spa Montage
Arguably one of the most luxurious resorts in the nation, The Montage Resort houses Spa Montage, an expansive 20,000 square foot spa featuring Eucalyptus steam rooms, dry redwood saunas, ocean air whirlpools, fireplace lounges, a state of the art fitness center, movement studio and lap pool featuring stunning views of the Pacific. Whether you are seeking the ultimate in self-care or a relaxing escape, you will be utterly delighted at the services received here.
The therapies at Spa Montage embody European spa science and ancient wisdom traditions to bring you transformational wellness in the most serene, relaxing atmosphere. And don't forget to sip a delicious green juice while enjoying the oceanfront, adults-only spa lap pool after your treatment. It's a day you won't forget – you will feel fully recharged and rejuvenated upon departure.
I mean, guys. Do I look blissed out here or do I look blissed out? #pleaseletmeliveatthemontage
Roots Beauty
When mama needs to get her green beauty fix, she heads directly to Roots Laguna Beach.
Laura Linsenmayer, a Laguna Beach native, is the founder of Roots and a virtual aficionado when it comes to the highest-performing skincare, makeup, and bodycare with elite clean brands such as Clove & Hallow, Ilia, Indie Lee, Kjaer Weis, Laurel, Josh Rosebrook, Vapour, Tata Harper, Lily Lolo, and Kypris, to name a few.
I always adore when Laura zhuzhes me up a bit. She's the queen!
Thrive Vitamin Drips & Shots
Thrive Vitamin Drips and Shots is a relaxing wellness center that administers vitamins, minerals, amino acids, and hydration intravenously, as well as vitamin injections by licensed registered nurses.
There are over 10 drips to choose from – immunity, hangover relief, travelers, energy, and the slim drip are a few. For ultimate self-care lovers, the Beauty Drip is fantastic – it's a unique blend of Biotin, Copper, Zinc, Vitamin C, and B- Complex. These vitamins and minerals promote strong nails and healthy hair, as well as manufacturing elastin and collagen in the skin. Combine this treatment with a Glutathione push and you'll experience the ultimate in beauty.
IV drips take about 30 minutes, and Thrive's atmosphere is completely safe and hygienic. Not wanting to leave your hotel room? Let Thrive come to you! It was so incredible having a licensed, registered nurse administer my personal wellness concoction on my hotel room's balcony.
Chakra Shack
If exploring your spiritual side is part of your wellness game plan, a visit to Chakra Shack is a must. Unique books and greeting cards, gorgeous crystals, angel cards, and Tibetan singing bowls are just a few of the spell-binding items you'll find in this inspiring space.
Beyond the retail aspect, The Chakra Shack offers readings and an aura photography station. Looking to gain a little perspective in terms of your self-care? A spiritual reading is a great way to gain some perspective on your current life situation and the goal of the holistic wellness practitioner conducting your reading is to help restore balance and have you leave feeling balanced and with enhanced well-being.
I loved having my aura report explained to me. So many insights that I'm still percolating on months later. I'm also never one to turn down a little crystal shopping, and Chakra Shack has a huge offering.
Chakra Spa
Not to be confused with Chakra Shack, the Chakra Spa is another other-worldly experience for those seeking spiritual insight.
Have a Tarot card reading, your chakras balanced, or even a full life reading by Stacey. (She absolutely blew me away during my life reading…can you tell from the above photo? She brought up past experiences that have been held very close to my heart and known by me only. It was indescribable, you all.)
Chakra services are perfect for those wanting to realign with their highest self, breakthrough old patterns, and increase intuition. To lie peacefully while Stacey places crystals on your body and mists beautiful chakra balancing essential oils is such a transformative experience only heightened by the beautiful sound bath from Tibetan singing bowls.
Looking for guidance in an aspect (or two) of your life? Stacey's readings are spot on, leaving you bewildered at her potent intuition. Balance and clarity will come to you in droves after a reading and her solution-oriented mindset will get you going on the right path. All in all, self-care and wellness seekers should add this incredible experience to your itinerary.
Laguna Beach Farmer's Market
There's something truly unique and special about perusing the Laguna Beach Farmers Market on a Saturday morning. A literal feast for the senses, if you can take your eyes off the abundance of local sundries, you'll notice the lush green hills surrounding this delightful little spot right in the heart of the village.
Open every Saturday from 8am – 12pm, rain or shine, locals and tourists are welcome, including their furry friends, and this farmers market makes sure every single vendor actually grows/creates their commodity so it's fully certified.
Some of the farmers market must-haves are the Blessed Booch – an artisanal, hand-crafted, small-batch kombucha company based right in Laguna Beach (try the apple + beet + ginger), the Zukkee Kitchen – a gluten-free bakery that creates some of the most delicious baked goods, with paleo and vegan options, and the Laguna Coffee Company – creating some of the most incredible freshly-roasted blends you'll find anywhere.
Beyond culinary goodies, the market has a gorgeous selection of flowers and plants, and don't forget the local produce! The Laguna Beach Farmers Market is a highly health-conscious spot you'll want to visit again and again.
Top of The World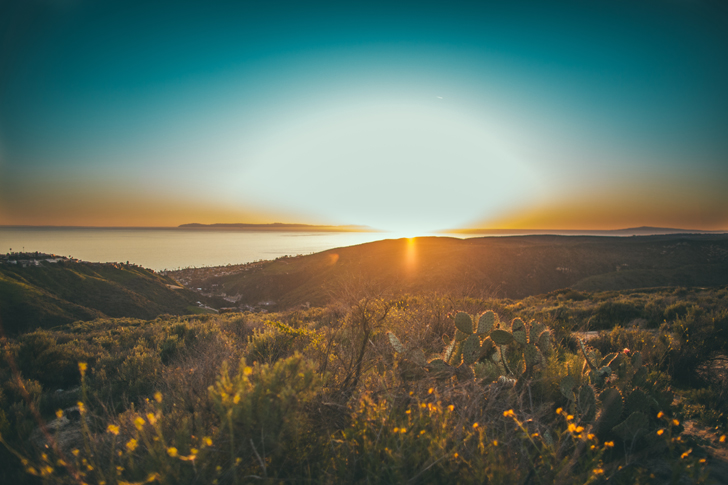 A sunset hike at the Top of the World is the perfect end to a full day of wellness. Watching the sunset on the horizon is self-care personified – the sheer beauty of the abundant greenery and expansive views of the Pacific are almost too much to bear.
It's also a great place to get moving with your favorite friends – your booty gets quite a workout on those trails!
The best views in Laguna Beach are found here. Alta Laguna Park is located here, as well as a trailhead for Aliso and Wood Canyons Wilderness Park. Most of the trails are fairly easy with moderate inclines, but you can find some more challenging trails if that's your thing.
Photos really don't do these views justice – the 360-degree views of the surrounding hills and the Pacific are ones you will remember for a lifetime. Make sure this stop is marked as a must-have on your wellness itinerary.
All in all, Laguna Beach is a must-visit for those of you on wellness journeys. There is something for everyone!
As always, if you have any questions, hit me up in the comments! I love giving recs for one of my favorite cities on the planet!