Another year has flown by which means it's about that time – my annual clean beauty faves post! These are the products that I used the most frequently and/or impressed me the most in 2021…some were launched this year while some oldies but goodies continued to be at the top of my list.
Let's get started!
2021 Skincare Picks
True Botanicals Chebula Active Serum
Where do I even begin with the True Botanicals Chebula Active Serum? This product has been a gamechanger for me in 2021.
This hypoallergenic, non-comedogenic, pregnancy-safe face serum is clinically proven to fight fine lines and wrinkles, is incredible for hydrating and anti-aging, all while supporting your skin barrier. Chebula, an ayurvedic fruit and one of the most bioactive and powerful antioxidants in nature, helps to target five signs of aging: minimize the appearance of fine lines and wrinkles, visibly even skin tone, smooth roughness, give the look of firmer and brighter skin. My skin always looks hydrated, glowy, and more youthful-looking when I use this.
My full video review on the Chebula Serum can be found here.
15% off with the code SARAHJ15
Tatcha Indigo Overnight Serum-in-Cream Treatment
Calling all dry, sensitive, and/or mature skin types! Look no further than the Tatcha Indigo Overnight Serum in Cream Treatment. This super cushiony, fragrance-free, soothing serum-in-moisturizer visibly calms my skin irritation, strengthens the barrier, and balances my microbiome.
Japanese indigo and red sage root visibly calm irritation (from redness to dry patches, due to pollution and environmental stress) and ceramides replenish lipids to keep moisture in and pollutants out, diminishing the look of dry, fine lines, and wrinkles, while hyaluronic acid hydrates.
This formula is very hydrating and you only need a pearl-sized amount to cover all of your face and neck. Love!
True Botanicals Resurrection Eye Cream
I am so picky about eye serums and creams because my eye area is so damn sensitive…I can barely use anything without waking up the next morning with an irritated eye area. Well, the True Botanicals Resurrection Eye Cream is a godsend!
This innovative, brightening eye cream features a bioactive moisture retention complex from the Resurrection Plant to help intensely moisturize and dramatically reduce the appearance of dark circles, fine lines, and wrinkles.
Let's just stop right there for a second. I'm obsessed with the effects of Resurrection Plant as it's one of the key ingredients in my favorite retinol formulation. Ladies, if you love the African Botanics Cell Resurrection Serum, you will love what this eye cream does for your eyes.
It's also infused with a unique Tree Bark Extract that directly addresses the root cause of dark circles, while antioxidant-rich Turmeric, Coffee, and Licorice Extracts help to depuff and brighten the 360° eye area to deliver youthful-looking, radiant eyes. Hypoallergenic and pregnancy-safe.
15% off with the code SARAHJ15
U Beauty The Super Hydrator
Earlier in the year, I repeatedly saw the U Beauty The Super Hydrator being used as a hydrating primer before makeup application and I knew I had to try it. Well, it BLEW ME AWAY.
Ladies, if you feel like you're applying makeup to a parched, super-dry canvas on the daily, this will change the way cosmetics look on your face. It's nothing short of a miracle, really.
And it's not even a "primer" per se…this intuitive moisturizer hydrates and resolves compromised barrier functionality where the skin is most parched. Powered by U Beauty's proprietary HYDRA-SIREN Capsule, this formula is able to effectively transport more water by weight to the deep layers of skin. (5 types of hyaluronic acid!)
Clean, Hypoallergenic, Cruelty-Free, Gluten-Free, Non-GMO, and tested for safe use on all skin types and skin tones, even around the eyes.
Josh Rosebrook C Bright Complex Serum
My love for Josh Rosebrook's gentle yet wildly effective serums knows no bounds and he hit it out of the park again with this year's launch of the Josh Rosebrook C Bright Complex Serum.
This lightweight, non-sticky, fast-absorbing formula is structured for potency with two fully stabilized and clinically proven biomimetic Vitamin C complexes. (Complex One features 3-O-Ethyl-L-Ascorbic Acid with Ferulic Acid and Vitamin E and Complex Two is a combo of pure L-Ascorbic with regenerative Colloidal Gold and Glutathione.)
This formula increases suppleness and noticeably smoothes my skin, forming an invisible shield against environmental oxidative stressors.
Many of you know I love love love the Vita C Booster by African Botanics (see below!), but I definitely have started a rotation between the two for my Vitamin C needs. While Vita C Booster has an oily texture, C Bright feels more like a creamy serum.
African Botanics Vita C Booster
I've been using African Botanics Vita C Booster for a few years and I love the results. This booster boasts 20% Tetrahexyldecyl Ascorbate and you guys, that's some legit Vitamin C action going on. I wasn't sure if my skin would be able to tolerate 20% Vitamin C, but it does beautifully. Once again, African Botanics' formulations FTW. They just can do no wrong in terms of my skin.
And if you are a Vitamin C nerd like me, you know that Tetrahexyldecyl Ascorbate is incredible. It's stable, it's lipophilic, it does everything that Ascorbic Acid does (photoprotective, boosts collagen, evens out pigmentation), but it's so much more stable.
I apply this to my skin after cleansing and the True Botanicals Chebula Serum. It's important to wait a few minutes to let this formula absorb before following up with your remaining skincare.
True Botanicals Ginger Turmeric Balm
The True Botanicals Ginger Turmeric Balm is a downright lovely cleansing balm that effectively removes my makeup, sunscreen, and any impurities while completely nourishing my skin. Every time I use this, my skin is so pillowy-soft afterward. A blend of natural-biocompatible ingredients like Yucca Extract, Turmeric, and Mango Butters power this multi-tasking cleanser that removes makeup, not moisture, while Lactic Acid and Azelaic Acid gently exfoliate to reveal a brighter glow.
Naturally scented with Ginger Root, Mandarin, and Neroli Oils, this cleanser smells absolutely dreamy. I could eat it. I use this as a first cleanse when double-cleansing.
15% off with the code SARAHJ15
Tata Harper Superkind Fortifying Moisturizer
The Tata Harper Superkind Moisturizer is my go-to daily moisturizer. Some of you all have witnessed my reactive skin moments via Instagram (call it an occupational hazard) and when my skin is angry, I go straight to this soothing moisturizer.
Let's list all the reasons my skin is in love with Superkind – it's hypo-allergenic, fragrance-free, essential oil-free, supports my skin barrier, plays well with my actives, and makes my skin glow with hydration.
This moisturizer penetrates skin deep down with moisture-retentive polysaccharides to help relieve dry, damaged skin and is formulated with hyaluronic acid to improve suppleness, a lipid complex to support a healthy skin barrier, and antioxidants to help fortify and nurture stressed skin.
Tower 28 SOS Spray
Speaking of stressed-out, reactive skin, what is the sorcery that makes up Tower 28 SOS Spray? This soothing, redness-taming spray boggles my mind. It is SO GOOD. When I recently had a horrid reaction to Sodium Lauryl Sulfate, this spray helped bring down the heat and redness so much.
Not sure about it? Read these reviews. It's truly an incredible product.
LILFOX Chill Wands
Meet the Chill Cryo + Thermo Wands by LILFOX. These are game-changers…again for those of you in the back, G-A-M-E-C-H-A-N-G-E-R-S. Designed to calm, depuff, and awaken skin, these wands make it happen. And they're cold, y'all. Shockingly cold. Once chilled, the extreme cold temperature drastically reduces inflammation, firms, and tightens skin's appearance while stimulating cellular turnover and lymphatic function. I'm addicted.
I use these upon wakening and they visibly reduce my eyelid puffiness in about 3 minutes. You can see for yourself here.
One Love Organics Botanical D Neck and Decollete Cream
Let me tell you, my neck and chest give me away in terms of my age. (Thanks, decades of sunbathing!) I fell in love with the One Love Organics Botanical Neck and Decollete Cream this year due to its firming action.
Your neck and chest are two of the most sensitive and exposed parts of your skin, and this formula is made for your chest to chin. Ultra-lush and certified organic, this cream features active plant cell technology from vitamin e-rich barbary figs, premium-grade hyaluronic acid, and anti-blue light actives to address early signs of aging like skin firmness, texture, and tone for the neck and décolleté.
2021 Makeup Picks
Saie The Sun Melt Duo
Looking to add some lovely, natural-looking warmth to your face? The Saie Sun Melt Duo will be your new best friend. I wear the Light Bronze shade and I can't stop. So good. Also, I must point out that the brush is crucial…it was specifically made to use with this cream bronzer and it makes for fool-proof application. No streaks or heavy patches. Just lovely.
You can watch how I apply it here.
Rare Beauty Soft Pinch Liquid Blush
Not gonna lie…when I saw news of Selena Gomez's new beauty launch, I thought "well isn't that precious." I mean, I'm 47 years old and didn't think it would be much of a fit.
OH, HOW I WAS SO WRONG.
I'm obsessed with many products from her new launch, but am going to keep it simple and share my top two today. First off, the Rare Beauty Soft Pinch Liquid Blush. Where do I even begin? Weightless, so easy to apply, super long-wearing…this blush is unlike any formula I've ever used. And the shades are to die for. I personally have Hope, Encourage, and Bliss.
Honestly, I'm not reaching for much else in terms of blush right now. Run, don't walk.
Rare Beauty Lip Souffle Matte Lip Cream
Another completely unique formula, the Rare Beauty Lip Souffle Matte Lip Cream has the softest, most cushiony feel on the lips…almost like it's whipped! And not drying at all. I have fallen hard for the shade called Transform – it's just the most beautiful deep wine.
(FWIW, I own and wear a ridiculous amount of lipsticks and my husband actually complimented me on this particular shade so winner winner chicken dinner.)
Kjaer Weis Soulful Palette
The limited edition Soulful Palette by Kjaer Weis is so incredibly versatile. The two brown/taupe eyeshadow shades are perfect for a neutral eye look, plus you can use them as a contour as well. Extra bonus – the lipgloss doubles as a gorgeous blush. If you are looking for one and done, this palette is for you.
20% off with code WHOORL20
Victoria Beckham Signature Smoky Eye Brick
If I had to pick one eye shadow palette to use for the rest of my life, it would be the Victoria Beckham Signature Smoky Eye Brick. These matte (yet never chalky!) shadows can be used for minimal or smoky looks. Super adaptable.
Victoria Beckham Satin Kajal Liner
Have you tried the Victoria Beckham Satin Kajal Liners? Quite pigmented and you can blend/smoke them out very easily. My favorite shades are Bronze, Cocoa, and Bordeaux.
KJH x Spectrum 11-Brush Set
If you've watched my Reels this year, the brushes from the KJH x Spectrum 11-Brush Set have been in almost every single one. I love them!
Rituel de Fille Rare Light Creme Luminizer
I've tried a billion highlighters, but I always come back to the Rituel de Fille Rare Light Creme Luminizers because the shades are so unique yet wearable. Solar Flare was a new lovely addition for me in 2021, but I still love Phosphene something fierce. (Also? Icebow? Sublime on the high points of the face.)
Westman Atelier Squeaky Clean Liquid Lip Balm
I held out on the Westman Atelier Squeaky Clean Liquid Lip Balms for many months. Did I really need yet another lip gloss? Well, one particular shade called Nana finally caught my eye and I adore it. Described as a cool beige, it gives my lips a lovely milky appearance on its own or makes lipsticks look so diffused and pretty.
19/99 Beauty Precision Colour Pencil in Lustro
This might be my most-used pencil of 2021. Dabbed on the inner corners of my eyes, across the movable lid for extra shimmer, or the cupid's bow, the 19/99 Beauty Precision Colour Pencil in Lustro is a lovely champagne shade that can be used in a flash and brightens everything up.
15% off with code SARAHJ15
Ilia Necessary Eyeshadow Palette in Cool Nude
I staunchly believe that everyone needs a cool-toned eyeshadow palette for lovely, feminine looks. The Ilia Necessary Eyeshadow Palette in Cool Nude is perfection. I love every single shade.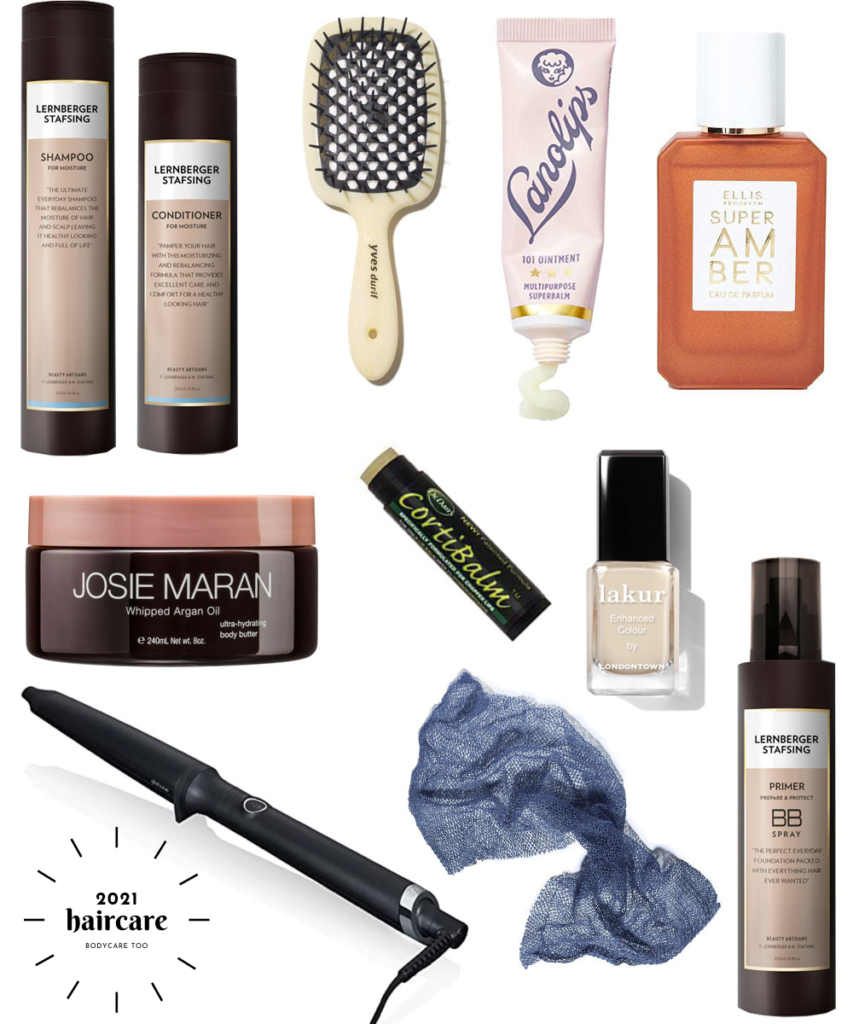 2021 Hair and Bodycare Picks (Lipcare too!)
LUV Scrub Mesh Body Exfoliator
OMG why did it take me 47 years to find the LUV Scrub Mesh Body Exfoliator?! This mesh has changed my bodycare game completely – I use it during every shower with the Alo Mega C Body Wash (smells like Trix cereal – the best) and my skin has never been smoother. It makes your body wash mega foamy and gently exfoliates my entire body. Plus, it lasts 18 months – no weird mustiness or anything. I am obsessed.
Lernberger Stafsing Shampoo for Moisture
Great clean shampoo and conditioners are hard to find. I am so pumped that I was introduced to this Swedish brand a few years ago. Lernberger Stafsing Shampoo for Moisture keeps my hair healthy and shiny and I love the scent…like subtle fruity bergamot. Just lovely. Sulfate, paraben, and silicone-free.
15% off with the code WHOORL15
Lernberger Stafsing Conditioner for Moisture
Lernberger Stafsing Conditioner for Moisture gives my hair the perfect amount of hydration without weighing it down. (I have lots of hair, but the individual strands are very fine.)
15% off with the code WHOORL15
Lernberger Primer BB Spray
My new go-to after towel-drying my hair. The Lernberger Primer BB Spray has a unique blend of proteins, ceramides, and amino acids that strengthen and moisturize the hair shaft while grape seed extract adds heat protection and sunflower seed extract protects color from fading. White truffle extract and allantoin work as protectants and soothe your scalp. It enhances the performance of styling products and improves the quality of blowdrying and delivers weightless lustrous shine.
15% off with the code WHOORL15
GHD Creative Curl Iron
Does the shape of a curling iron barrel matter? Absolutely. The oval-shaped barrel of the GHD Creative Curl Iron makes my waves and curls look very natural and casual.
Yves Durif Brush
I will use no other brush on my damp or wet hair. The Yves Durif Brush is the perfect detangler.
Ellis Brooklyn Perfumes
Some of the recent launches from Ellis Brooklyn Perfumes have become fast favorites of mine.
Lanolips 101 Ointment
Here me out – earlier this month, I suddenly had the worst chapped lips ever. I tried everything. I bought $100+ of lip products and through tons of trial and error, found the perfect pairing for keeping lips hydrated and happy.
The Lanolips 101 Ointment is now my everyday lip balm to keep my lips moisturized. It's fantastic as a preventative lip therapy. However, if you have hit the point of no return (like the one morning I woke up and my top lip looked like Lisa Rinna) and need to take it next level, you simply must purchase…
Dr. Dan's Cortibalm
Dr. Dan's Cortibalm! The most miraculous lip balm ever, thanks to 1% hydrocortisone. Now, this balm shouldn't be used as a preventative everyday balm because of the steroid component, but it will completely heal your chapped lips in a matter of days. I will never be without this balm ever again. It's THAT good. Once my lips were healed (it took 2 days), I went back to the Lanolips.
Josie Maran Whipped Argan Oil Body Butter
When body lotion is hacking it, the Josie Maran Whipped Argan Oil Body Butter makes my skin buttery soft. Also, the vanilla bean scent is addictive. (Not too sweet!)
Londontown Nail Polishes
If my nails are painted, there is a 97.99% percent chance the color I'm wearing is Cheerio by Londontown Nail Polishes. It is the perfect nude and I adore it. Also a huge fan of their Illuminating Nail Concealer.
There you have it! My favorite 2021 picks. I'm exhausted. ;)
What products stood out for you this year?
Other posts you might like: