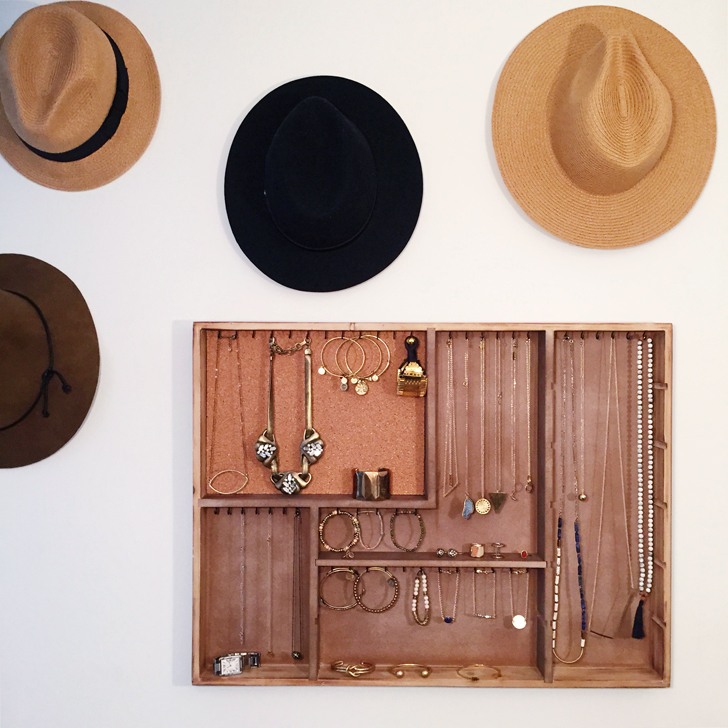 Up until a week ago, my jewelry routine went a little something like this.
1. Choose a necklace from a grouping of necklaces hanging from a nail in my closet wall.
2. Try to coax said necklace from the nail without pulling off at least 2 other necklaces in the process.
3. Fail miserably. At least one necklace drops behind a chest of drawers. CURSE THE GODS.
4. Spend a moderate amount of time searching for rogue necklace underneath the chest with my iPhone flashlight.
5. CURSE THE GODS.
6. Look for a pair of simple studs atop chest of drawers.
7. Only locate one earring of the pair.
8. CURSE THE GODS.
Enter the best $50 spent in my life. This wooden jewelry armoire. You guys, I want to cry tears of joy. Every necklace gets its own hook! No tangling! You can stick earring posts into the corkboard! It's amazing! Unbelievable! My jewelry has never been so happy and freeeeeee! I'M SO EXCITED ABOUT THIS, CAN YOU TELL?
And! It looks pretty hanging on my closet wall, as you can see. Simple, unfussy, perfect. Do you need this? You might just need this…unless you have a fabulous jewelry storage method already, which I'm forcing you to share with us in the comments.