To say I've been on quite a search for a new pair of ankle boots (aka "booties") this season would be an understatement. (Although the word "booties" makes me snicker. I AM SO IMMATURE.)
Even though we are in the midst of house renovation crazy right now, I've taken on a good deal of new work lately, so I decided I would treat myself to a new pair with some birthday cash from relatives. Now, we all know that boots aren't the most inexpensive shoes in the world, and this is no time for me to be frivolous, so I've been picky about finding the right ones. (Extra super duper neurotically picky, as you will soon see, but I'm determined to find a pair I truly love.)
Would you like to go on this extra super duper neurotically picky journey with me? Oh, you know you want to.
2012 Boot Criteria:
Flat or low heel
Taupe or grey suede
Ankle height
First, I started with the DV Juju boot.
These were okay, but the heel was a little higher than I originally wanted. However, the real deal breaker was the "weathering" effect on the toe and heel. It wasn't my favorite.
Next pair? Sam Edelman Petty.
I tried both on, posted this shot asking for opinions on my Facebook page, and 94 comments later, I still wasn't sold.
(You can really see the weathering effect on the Juju boots in the full-length mirror shot on the right. Looks like I dipped my toes in a pond.)
((p.s. – I don't usually wear ankle boots with my workout clothes. So hot.))
I can't put my finger on why I didn't keep the Sam Edelman boots. I really liked them. Great color and great construction.
Next pair on the hunt? Isabel Marant Jenny Boots.
You guys, these boots were perfection. So unique, so comfortable, so in looooove. However, the price point? SO NOT IN LOVE.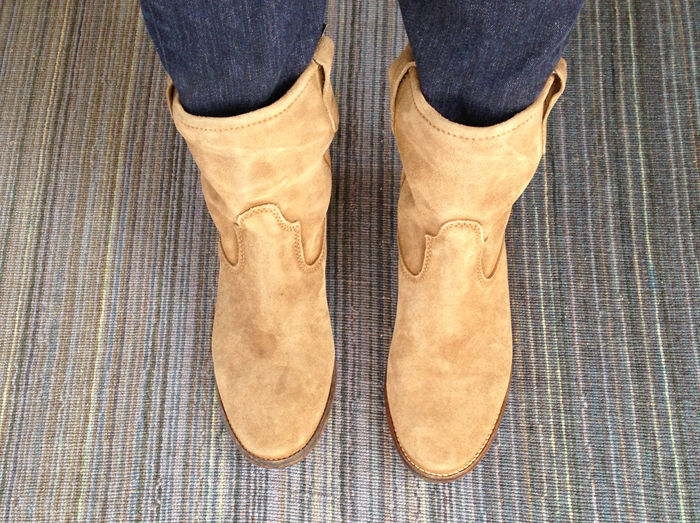 Ohhhh, they were really good, and I'd love to say that I returned them because I simply refused to pay such a large amount for a pair of boots that could have been procured from a dumpster dive, but that would be a lie. I returned them because they were a bit too small, and the size I need is impossible to find anywhere. (Size 38, friends! Any leads? I mean, not that I would buy them or anything…)
Next up? The J. Crew Aggie Suede Boot.
Refined style, good color, but once again, the heel height was borderline too high for my criteria. Also, I found that the sole seemed a bit hard. (I had thin socks on at the time, so there's that.)
You guys, I was about to give up until I saw the Madewell Barnwood boots.
Love the color, love the heel. Could these be the one? I'm not sure if they go a little too Western, though. Will I feel an inclination to dosey doe? I purchased them with a 25% off promotion code, so the price is right. They are currently on the way, so we'll see…
What boots are you loving this season? As always, I'm open to suggestions. (Many, many more boots for your enjoyment on my Pinterest board too. What did we do without Pinterest, people? Oh right, we actually accomplished things.)