As if you haven't seen enough of my mug lately, here I am times eight. Freaky, huh? All in the name of cosmetic research, though!
Let's talk about lip color. I love me some lip color, ladies, and here are my very favorite nude and soft pink lip colors. (We're going for subtle, daytime shades today.)
I learned a lot of things while making this post, notably:
1. I own many pinkish nude, subtle, daytime lip colors.
2. They pretty much all look the exact same.
3. I obviously have a problem, and need to stop buying pinkish nude, subtle, daytime lip colors.
Of course, because I'm a lip color junkie, I will wax poetic on why I can't live without each and every one of these lip colors. Let's get started.
Dior Addict Lip Polish in Fresh Expert (002)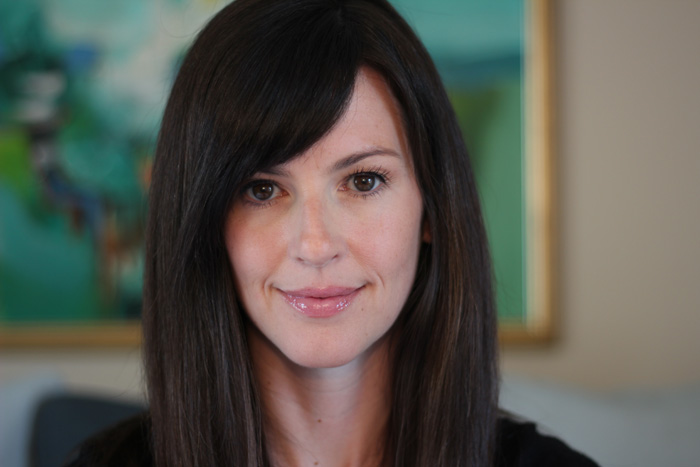 I've written about this color before, and I love it because it makes my lips super shiny, the rotating applicator rocks, and it tastes good.
Estee Lauder Pure Color Gloss Stick in Rose Dusk
I guess Rose Dusk has been discontinued (wahhhhh), but Honey Pink is similar. This is one of the most moisturizing lipsticks I've ever used. It creates shine like a gloss, but has the staying power of a lipstick. I also love the applicator – if you click on the link above, you can see that it's not the traditional lipstick shape. For me, it goes on easier, and the shape doesn't get all wonky when you've used half the tube.
Kiehl's Lip Gloss in French Rose
This gloss has almost no color at all, and I usually wear this around the house or while working out. It keeps my lips really moisturized and shiny without looking like I'm wearing much of anything. I'm also a big fan of the tube applicator.
Another great lipstick. The shimmering, pinkish nude color has a tiny touch of brown in it, and the lipstick tastes like yummy sugar. Sometimes I think about eating it for a mid-afternoon snack.
Lip Fusion Micro-Injected Collagen Lip Plump in Sugar
I really love the sheen and rosy shade of this gloss, but I'm not sure if it truly plumps your lips. Do my lips look any plumper in the photo?
MAC Sheen Supreme Lipstick in Can't Get Enough
I was just turned onto this lipstick by a friend, and I love it. It is definitely the least pinkish of the nudes I own – it's a true shimmering nude. This shade looks great on its own, but is also fantastic when applied over darker lipsticks. Love this one.
Josie Maran Natural Volume Lip Gloss in Brilliance
I love Josie Maran's products, but I have to say, this applicator brush splays like no other. Now, I've had this gloss for over a year, so maybe the company has addressed this issue by now, but the brush drives me crazy. Too bad because the color is lovely, and contains Argan oil.
This is a smooth, sheer, coral pink that looks great in the spring and summer. Unfortunately, I think it's been discontinued, but Sally Hansen makes a sheer coral lip gloss called Flawless that is very similar. (And waaaaay less expensive.)
What are some of your favorite subtle lip colors? Drugstore brands didn't get much representation here, and that's because I don't like buying lip color without trying it on first. Bummer. If you have any specific questions about the above colors, feel free to leave them in the comments.
Coming soon – my favorite bright/dark lip colors!