You all, I don't even know how to begin this post. Really truly, SO MUCH TO SAY.
Let's talk about my quick trip to New York last week. It was utterly fantastic. I was invited as a guest of Nutrilite to attend a two-day meeting about health, fitness, and supplements. To be honest, I probably would have attended this meeting if it was in a Motel 6 in Tucumcari because the above-mentioned subjects are tops in my book. Supplements have always intrigued me, and after much research, I started taking a few on a daily basis earlier this year. (I talk about the specific supplements I take in the latest Mama Said video, if you are interested.) Combine that interest with my current half-marathon training, and I was giddy at the thought of getting one-on-one time with fitness experts and doctors.
Little did I know that it was only the tip of the iceberg. So, after missing my flight from LAX (405, you are dead to me) and finally arriving in New York Monday evening, I got a few hours of sleep before our meeting on Tuesday. When we arrived at our meeting place, we were whisked up an old elevator to the David Bouley test kitchen. Ohhhhh, this kitchen was really special, you guys. Music playing, a library full of books, copper pots gleaming, and many chefs expertly preparing meals.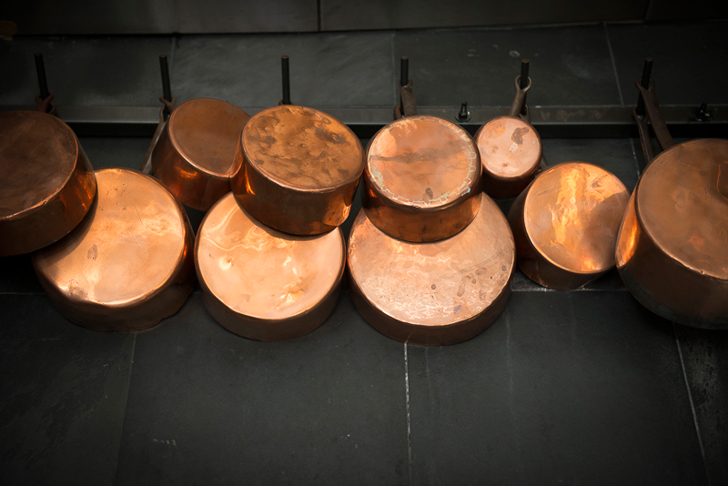 The guests all marveled at the surroundings while getting to know each other, and in my case, catch up with some old blogging buddies. (That's an entirely different post. In our free time, Angella, Ali and I managed to shop in Soho, visit the Freedom Tower, see the Christmas tree in Rockefeller Center, and do the prerequisite Times Square tourist shuffle.)
This photo is one of my favorites because everyone seems to be all "yes, this is a lovely meeting and we would enjoy learning more about supplements," and then there's, uh, me.
SUPPLEMENTS? I LIKE SUPPLEMENTS! AND TEST KITCHENS! AND FOOD! LET'S CHAT.
Shortly thereafter, we donned aprons and hit the kitchen for a few hours of cooking classes – how to truss a chicken, filet a fish, and make a perfect chocolate souffle.
(Again with the happy. Test kitchen! Food! Bearded chef!)
Friends, I would be remiss if I didn't briefly call attention to the abundance of facial hair going on in this particular kitchen. In fact, when walking into the room for the first time, I whispered to Angella, "um, there are a lot of beards in here right now." Namely, Ryan and Evan.
Many of you know that I have a Pinterest board entitled Beard Porn, and I felt it was my civic duty to capture a photo for my board. In between classes, I grabbed the two chefs, explained my Pinterest board, and asked them to give me their beard-porniest look. They complied.
What great sports they were. We need to make that photo the most pinned beard photo ever.
After they gave me a dose of Blue Steel, the team treated us to the most delicious 7-course meal ever. (For lunch, people. 3 desserts! Insanity.)
During lunch, I sat with Tom Sturgeon from Nutrilite and pretty much drilled him about the brand and their line of supplements. I'm a little embarrassed to say that I hadn't heard of Nutrilite before the meeting, so I was super surprised to hear that they are the world's #1 selling vitamin and dietary supplement brand. (Their top 4 sellers are the Daily Multivitamin, Concentrated Fruits and Vegetables, DOUBLE X® , and Balanced Health Omega-3.) Additionally, Nutrilite is fully committed to total quality control of its plant concentrates from seed to tablet: it offers the only global vitamin and mineral brand to grow, harvest, and process plants on its own certified organic farms in California, Washington, Mexico, and Brazil. Like that. A lot.
Later on that evening, we had the chance to talk to some health and fitness experts. Dr. Kip Johnson, Sean Foy, and Dr. Micheline Vargas. I still can't get over how fully engaged these three were in regards to my health. I've unfortunately been dealing with some lower back pain from running, and I swear Sean was going to fix the problem right then and there. He spent so much time getting to know my exercise routine and nutrition, and had SO many tips to help eradicate my back issues. I left that evening with a whole new arsenal. Again, another post.
The next morning was a big one for me. Chef Rick Bayless was going to give us a private cooking lesson. RICK BAYLESS, PEOPLE. Not only am I a huge fan of Top Chef Master, but Chef Bayless was born and raised in Oklahoma City (like yours truly), and moved on to Chicago (like yours truly). D and I loved eating at Frontera while we lived there, and he's always seemed like such a great person. Imagine me sipping on my tea early in the morning, only to see Chef Bayless about three feet from me. (I think something to the effect of "ohmygodrickbaylessisrighttere…there isrickbaylesswhatishedoingiaminaweahmygahhhhhhh came out of my mouth.) Now, it was kind of funny because a few of the guests didn't know who Rick Bayless was (CRIMINY!), so I was sure to tell everyone about my borderline obsession with his cooking. After a few of the ladies gave me the proverbial kick in the pants, I walked right over to introduce myself. He was really lovely – we chatted about Oklahoma and Chicago, all while trying to soak up some of his cooking genius.
During the cooking presentation, Chef Bayless really stressed the importance of cooking with color – the top 5 reasons why good health begins with a daily dose of color are phytonutrient protection, energy, weight control, mental health, and variety. It's so important to get multiple servings of fruits and vegetables every day (actually between 9 and 13, whoah), and cooking with fresh produce is huge. However (and a BIG however), I just can't get that many servings via food every day and hence the supplements.
What's your take on supplements? Are you getting all you need from food alone? You know I'd love to hear your thoughts, as well as what exact supplements you're taking, if you are. (p.s. – If you are interested in nutritional supplements, but don't know where to start, this 13-question assessment can point you in the right direction.)
Lastly, I'm leaving you with Chef Bayless's recipe that he prepared for us that morning. Super delicious and super easy. Thanks to Nutrilite for such a fun and enlightening trip to New York!
Swiss Chard (or Spinach) Tacos with Caramelized Onion, Fresh Cheese and Red Chile (serves 4)
12-ounce bunch of Swiss chard (or collared, mustard, or beet greens), thick lower stems cut off
1 1/2 tablespoons vegetable oil, olive oil, fresh rendered lard or bacon drippings
1 large white or red onion, sliced 1/4 inch thick
3 garlic cloves, peeled and finely chopped or crushed through a garlic press
About 1 teaspoon chile flakes
1/2 cup chicken broth, vegetable broth or water
Salt
12 warm corn tortillas
About 3/4 cup Smoky Chipotle Salsa or Guajillo Chile Salsa—or bottled salsa or hot sauce, for serving
1 cup crumbled Mexican queso fresco or other fresh cheese like feta or goat cheese, for serving
Directions:
Cut the chard crosswise in 1/2-inch slices. In a large skillet, heat the oil over medium-high. Add the onion and cook, stirring frequently, until browned but still crunchy, about 4 to 5 minutes. Add the garlic and chile flakes, stir for a few seconds until aromatic, then add the broth or water, 1/2 teaspoon salt and the greens. Reduce the heat to medium-low, cover the pan and cook until the greens are almost tender, anywhere from 2 minutes for tender spinach to 7 or 8 minutes for thick collard greens—Swiss chard needs about 5 minutes.
Uncover the pan, raise the temperature to medium-high and cook, stirring occasionally, until the mixture is nearly dry. Taste and season with additional salt if you think necessary.
Serve with warm tortillas, salsa and crumbled cheese for making soft tacos.