While strolling through Downtown Disney last week after tackling Space Mountain, Wito noticed a huge Cars 2 banner hanging from the local theater. As the world's biggest Cars 2 fan, the child was beside himself.  Disneyland Excitement Level: 2. Random Cars 2 Banner Excitement Level: 150. (I'll never get it.) He just stood there, transfixed, while I impatiently tapped my foot because I desperately wanted to get home after a full day at Disney.
Like many children, Wito is not a fan of getting his photo taken. He squirms or looks down or makes a crazy Jack-Nicholson-in-The-Shining-face or basically anything he can to ruin a photo opp. So excuse my bewilderment when he looked at me earnestly and asked if I would take his photo in front of the banner.  Sure, kid.
Wito and the random Cars 2 banner.
We're exactly one week out from the premiere of the movie, and Wito's mental status has moved from Total Excitement to Absolute Loss of Daily Focus.
You guys. Little does he know, but earlier this week, he was invited to an advanced screening of the movie. A screening that is happening TOMORROW. TOMORROW WITO WILL SEE CARS 2. He is going to completely lose his mind when he finds out, which I've decided will be on the way to the theater. (Squeeeeeeeeee!)
Do you know what it's been like keeping this secret for the past few days? It's killing me! I feel like I've got some Cars 2 Tourette Syndrome ready to manifest itself at any moment. "Wito, would you like some more OHMYGODMEYOUCARS2MOVIETHISWEEKEND milk?" It's just very exciting around here right now. In my head, at least. (Thank you, Disney, for the opportunity!)
My (BEST) friends at Disney are also offering a giveaway for your little Cars 2 fans!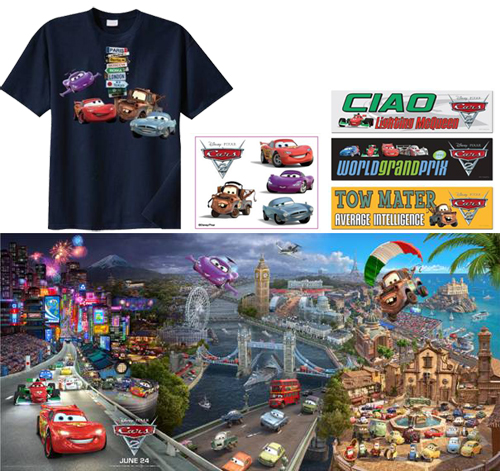 A CARS 2 t-shirt (in youth sizes of S, M, L, XL), a CARS 2 set of 3 bumper stickers, a CARS 2 temporary tattoo sheet (2 per winner), and a CARS 2 puzzle. Just leave a comment on this post before June 23rd at 6pm PST and you'll be entered to win!
I'll be back to report on the big surprise next week. (Of course, little miss Wita just came down with a 102 fever, so I'm praying Wito stays healthy for the big day.) Have a great weekend, everyone!