If you are (un)lucky enough to follow my Facebook page, you probably noticed me bitching about discussing my never-ending search for a safe, non-chemical sunscreen that doesn't melt my family's faces off.
Sunscreen is a huge issue during the warmer months, given a hefty dose of Irish running through 3/4ths of us. A few weeks ago, I had my third basal cell carcinoma removed from my body, so it's important that I protect as much of my skin from the sun as possible. You know, besides cloaking myself in a full-body muumuu. (Is that how you spell "muumuu?" Quick aside…writing the word "muumuu" triggered this mental cascade: Muumuu -> Hawaii -> The incredibly hot Hawaiian actor who played Khal Drogo on the Game of Thrones. I love him and his scary eye makeup and the ponytail thingy and his beard. The end.)
p.s. – I just recently started watching Game of Thrones, and seriously, what is up with the gruesome violence? How do you people watch that without wincing/dry heaving/sobbing? I think I witnessed 1,267 beheadings in the first 10 minutes of the the first episode. Oh, I know, I know, THE WRITING IS SOOO GOOD.
p.p.s. – Please, no spoilers. I'm only on Season 2.
p.p.p.s. – Wait. Was this post about sunscreen?
Sunscreen. Here's the gist. I can't wear chemical sunscreens – they absolutely torch my skin. Some common chemical sunscreens are Avobenzone, Homosalate, Octisalate, Octocrylene, and Oxybenzone. Look at the sunscreens lying around your house; chances are they contain one or all of the above.
Let me take a step back and explain the difference between chemical and physical sunscreens. Chemical sunscreens contain special ingredients that act as filters and reduce ultraviolet radiation penetration to the skin. These sunscreens often are colorless and maintain a thin visible film on the skin, but can also penetrate. These sunscreens usually contain UVB absorbing chemicals and more recently contain UVA absorbers as well.
Physical Sunscreens, most often referred to as sunblocks, are products containing ingredients such a Titanium Dioxide and Zinc Oxide which physically block ultraviolet radiation (UVR). Sunblocks provide broad protection against both UVB and UVA light, and they don't readily absorb into the skin like their chemical counterparts. They can be thicker to apply, but it is an easy trade-off for my family, personally.
A few weeks ago, I was forced asked to send my kids to camp with a spray sunscreen. (Please, if you are using aerosol spray sunscreens, stop right now. They are horrible for many reasons.) Being the rule follower I am, I obeyed and began an extremely robust search for a spray sunscreen that was relatively less harmful for my kiddos. I chose a spray due to its decent rating on the EWG's Sunscreen Report, and, well, sprayed and prayed, basically.
This was the result.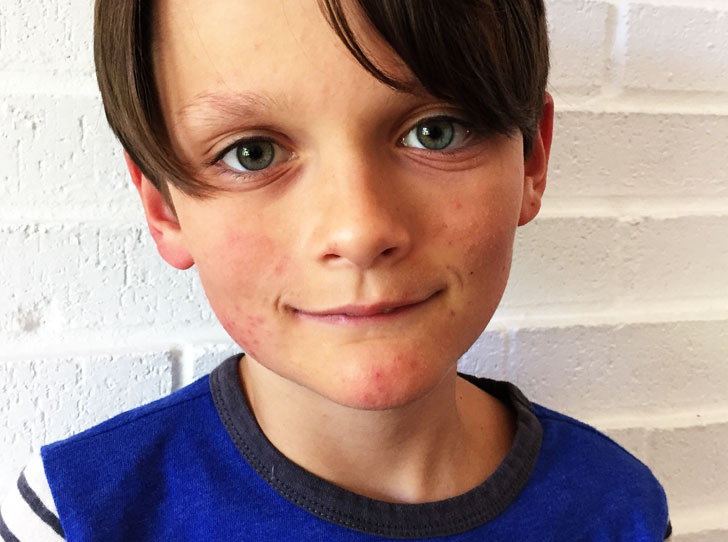 This was Day 3 of The Great Spray Sunscreen Rash of 2015, and it stuck around for almost a week, despite a strong prescription antihistamine. Poor guy, right? His eyes were practically swollen shut on a few of those days.
Turns out the spray had a few chemical sunscreens in it, and my son's face did not approve of that juncture. At all.
Back to the drawing board. Knowing that my skin has always responded well to Zinc Oxide and Titanium Dioxide (physical sunblocks), I cut out any option that included chemical sunscreens.
I think this is a good time to point out that chemical sunscreens work well for many people. If you wear a chemical sunscreen and it doesn't produce an allergic reaction, by all means, continue to wear it. There are reports that chemical sunscreens can cause harm, but I'll let you make that decision. However, this post is really meant for those of us who can't tolerate the chemicals on our skin.
I have used a few physical blocks in the past with decent success, but have found the holy grail and wanted to tell you all about it. Countersun Mineral Sunscreen Lotion SPF 30. It is fantastic – the active ingredient is 19% Zinc Oxide, and the lightweight, water-resistant formula blends into skin without leaving white streaks or a weird smell. I also love the Mineral Sunscreen Stick (for the face!) AND the Mineral Sunscreen Mist, as it's not an aerosol spray – it's air-powered. #fistbump
Additionally, I used to wonder if SPF 30 was enough for my children, but now that it's been proven that super high SPFs are a marketing ploy, I feel extremely comfortable using SPF 30 on my entire family's skin.
Love these sunscreens from Beautycounter, and while we're talking Beautycounter, here's my a no-fail, daily Beautycounter face.
Skin: Tint Skin in Linen. (Although I use Sand in the summer.) A light dusting of Radiant Bronzer in Cabana on my temples, forehead, and bridge of nose.
Cheeks: Satin Powder Blusher in Guava or Cream Blusher in Hibiscus.
Eyes: Velvet Eyeshadow Palette in Romantic
Lips: Lip Sheer in Lily topped with Lip Gloss in Peony. (You can see most of the color swatches on me here.)
*And if I want to add a little sumthin' sumthin' for a night out, I will line the inner rims of my eyes with the black pencil and switch to the Color Intense Lipstick in Twilight.
So, there you go. A sunscreen post that morphed into an everyday look tutorial with a side of Game of Thrones. Multi-tasking FTW.
Love,
Your Faithful (and Sun-Protected!) Beauty Enabler