3
This post is in partnership with Visit Laguna, whom I've worked with for years and completely adore. Be sure to check out their Pathway to Zen featuring yours truly! Photos by Greer Inez.
Laguna Beach is my home away from home, and I've spent years seeking out the best spots to experience everything Laguna has to offer. You can check out my very detailed and all-encompassing Guide to Laguna Beach here, but today I'm going to focus solely on all things wellness awaiting you in this gorgeous beach town.
If seven coastal miles of breathtaking bluffs and sandy beaches aren't enough to lure you to the hidden gem of Laguna Beach, the unique opportunity to experience a total rejuvenation of mind, body, and soul certainly beckons. Known as an artist's colony nestled on the Pacific, halfway between Los Angeles and San Diego, Laguna Beach has recently blossomed into a wellness mecca, boasting everything from world-class spas to adventurous hikes on 20,000 acres of protected wilderness to delicious farm-to-table culinary delights.
Shall we dive right in?
Yoga in the Park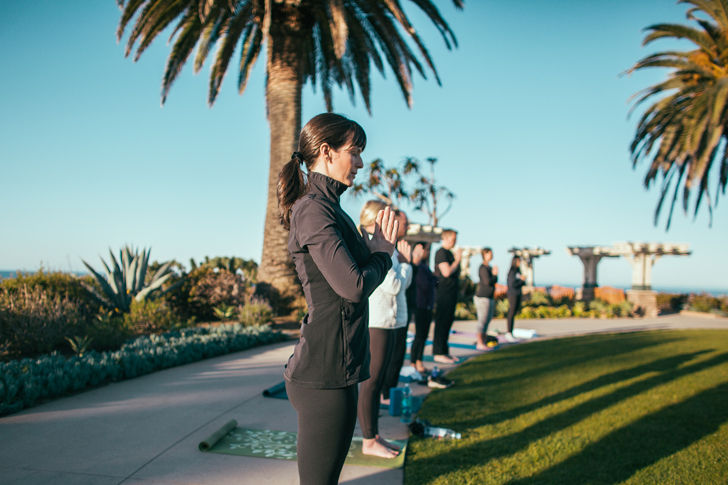 Looking for one of the most picturesque yoga classes on the West coast? Your search is over – Laguna Beach's Yoga in the Park is absolutely breathtaking, in more ways than one (hello 90 minutes of challenging postures). Located on gorgeous bluffs overlooking The Pacific on a lush green lawn, your savasana will be spent gazing up at swaying palm trees while feeling the cool ocean breeze.
Bonus? Carl Brown, a registered Yoga Alliance Instructor, provides free daily classes at 8am, 7 days a week, at the Treasure Island Park located in front of the Montage Resort. FREE CLASS. IN A BEAUTIFUL LOCALE. What's not to love?