1. This morning I ran 1.56 miles without stopping to walk. I have never in my life run 1.56 miles without stopping. I need to share this with you because, well, who else am I going to share it with, my mom? Here's a little preview of that conversation.
Whoorl: Mom! I'm halfway to my goal of running 3 miles! I ran a mile and a half this morning with the jogging stroller!
Mom: That's good! (click, click, click, click)
Whoorl: My new shoes are really helping out. My ankle feels much better.
Mom: Uh-huh. (click, click, click, click)
Whoorl: Although, yesterday it was giving me trouble…
Mom: Uh-huh. (click, click, click)
Whoorl: Um, I broke my back yesterday.
Mom: Uh-huh. (click, click, clickety click click)
Whoorl: And sold Wito into slavery.
Mom: Uh-huh. (click, click, click, click)
Whoorl: GODDAMN IT MOM, ARE YOU EVEN LISTENING?! ARE YOU PLAYING ONLINE CANASTA AGAIN?!
Mom: Uh-huh. (click, click, click, click)
2. I'm pretty sure when you put glasses in the dishwasher, they are not supposed to come out looking like this:
How about a side-by-side comparison?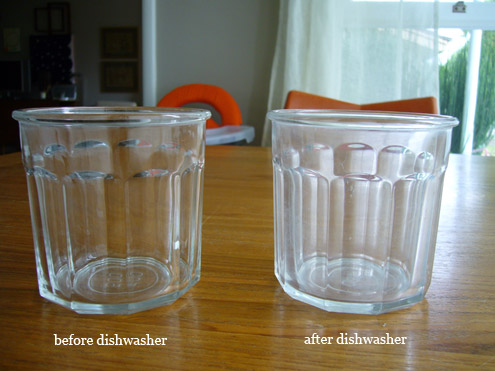 Something's wrong with my dishwasher, yes?
3. I apologize to all the Anya lovers out there, but I couldn't be more thrilled about her departure from last night's So You Think You Can Dance episode. It's just that, I don't know, the outfits and the ballroom thing and dear Lord, the OUTFITS. The leopard-print and electric blue fringe and booby tassels!
Plus, when she "dances for her life", I feel like she is just shaking her ass and moving across the stage with teensy-weensy staccato steps. I am aware she is at a disadvantage by not having a partner to dance with in her dance-offs, and I KNOW that I am completely clueless about ballroom and need to SHUT UP, but man! With everyone else performing giant leaps and pirouettes across the stage, it's hard to be impressed by ballroom during the solos.
To make my point with D last night, I threw on some heels with my running shorts and performed my own Anya-type "Big Wheels Keep On Turning, Proud Mary Keeps On Burning" dance. I paused and re-played her performance and everything. I thought I did a fine job, but D didn't seem to be very impressed. He just looked up at me and said, "You're going to hurt yourself."
Point well taken.