I have some new loves to share with you on this lovely Monday. (Oh, and psst, I'm giving away one of each of the above items, care of Joy Provisions, which I will tell you about in a bit!)
Ilia Beauty has been one of my favorite green beauty brands since I started this whole transition to natural thing, and the brand recently came out with a line of SPF products, including the Radiant Beauty Balm SPF 20 and some great tinted lip conditioners with SPF 15, just in time for summer.
I decided to put together an easy, approachable look using a few of these products, as well as my favorite Lily Lolo Bare Eye Palette.
First off, let's talk about the Radiant Beauty Balm in All Your Gold. Loving this! It's like a primer with very subtle pearl pigments to make the skin look luminous while evening out the skin. Ilia says you can combine this with foundation, but I really liked wearing it on its own. I'm wearing it in all the photos below. For those of you who want a tiny bit of coverage with a luminous finish, you would love this.
Next up. the Lily Lolo Bare Eye palette.
Ooh, this is fave because the shadows give a nice sheen, but do not have any glittery specs of mica, which I detest. (Just to be clear…there is mica in the shadows, but it is very finely milled, so the overall effect is a sheen, not glittery.) There are also a few matte shades as well, which is a nice mix. Looking at the palette from left to right, my favorite shadows (and the ones I'm wearing in the photos) are #2, #4, and #5.
Onto the lips!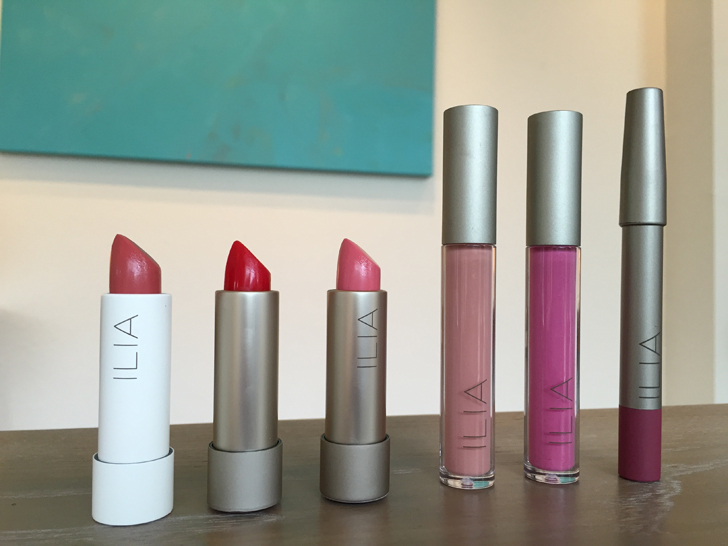 left to right: Bombora, Crimson and Clover, Blossom Lady, Peek-a-Boo, Love Buzz, Dress You Up
You guys, I'm such a sucker for lip color. I just can't stop! But I wanted to make sure to show you some lighter, neutral colors since my go-to lip is usually bright.
First off, the Ilia lip glosses. I'm wearing Peek-a-Boo on the left photo and Love Buzz on the right.
Peek-a-Boo is a must-have for all complexions. It's a subtle nude that adds elegance to any look. So versatile. Love Buzz is a cool-toned pink that is so, so lovely. Since it's a gloss, it doesn't translate as too cool, as it blends with your natural lip pigment. I can't really see anyone not loving these two versatile shades.
Next up, a new Tinted Lip Conditioner SPF 15 in Bombora and Tinted Lip Conditioner in Blossom Lady.
Bombora is a super sheer, warm red (looks coral on my lips) and I love the added bonus of SPF. This will be a staple for the pool and outdoor activities because it's a sheer wash of color without being overpowering. If sheer red isn't your thing, Ilia makes another SPF Tinted Lip Conditioner called Kokomo, which is a muted mauve. In the photo on the right, I'm wearing Blossom Lady, a muted pink that feels great on the lips.
Now, of course, it just wouldn't be right if I didn't show you a couple of brighter shades…
I'm wearing the Ilia Lip Crayon in Dress You Up on the left. I LOVE THIS COLOR, and the fact that it's in crayon form is the bomb diggity. Ladies, if you are hesitant to try a punched-up color, this is your gateway shade. It brightens the face and looks lovely on the lips, but isn't too much. At all. I'm thinking you would like it….I mean, have I ever steered you wrong? (Maybe don't answer that? Ha.) Lastly, the Tinted Lip Conditioner in Crimson and Clover. So good. Vibrant strawberry red. Can't get enough of it. You know I love my reds.
So! The very lovely Mimi at Joy Provisions is providing the following items for today's giveaway. Isn't she lovely?
Ilia Beauty Balm in All Your Gold
Lily Lolo Bare Eye Palette
Ilia Tinted Lip Conditioners in Bombora, Crimson and Clover, Blossom Lady
Ilia Lip Crayon in Dress You Up
Ilia Lip Glosses in Peek-a-Boo and Love Buzz
Not only that, but Mimi is also providing a great discount for Whoorl readers until Friday, May 27th. 10% off orders over $50 with the code WHOORL10 and 20% off orders over $150 with the code WHOORL20. Thank you, Mimi!
Details on the giveaway are below. Good luck, ladies!