This post is sponsored by Rivet + Sway eyewear. Thanks, Rivet + Sway!
Glasses! Can we talk about glasses, folks? Now, you know I love my pink glasses...I've had them for a decade now, but a girl needs to change things up once in awhile, ya know?
Thanks be to Rivet + Sway and their super easy home try-on system, I found some GLAAAASSSSES. (That was my Oprah voice.)
Here's the deal. I've got some requirements when it comes to frames:
Fun
Slightly quirky
Unique
Fits well on my narrow face (hello, can be problematic…)
I've done different home try-ons in the past (three times, I think?), but nothing has ever worked. Until now. Kinda sorta pumped.
But before I tell you…let's see how well you know me. Which pair do you think I picked? The Punchline in Morning Mist, the Poetic License in Black or the Je Ne Sais Quoi in Water Lily? Think on it.
In the meantime, you really should do two things. First, check out all of Rivet + Sway's great frames, and if you're in the market for a new pair of glasses, use the discount code SUPER-MOM to receive $25 off a single pair of frames (which includes single-vision lenses, coatings and free shipping). Valid through June 30, 2013. The coolest.
Secondly, Rivet + Sway just announced their Super Mom contest running though May 12th.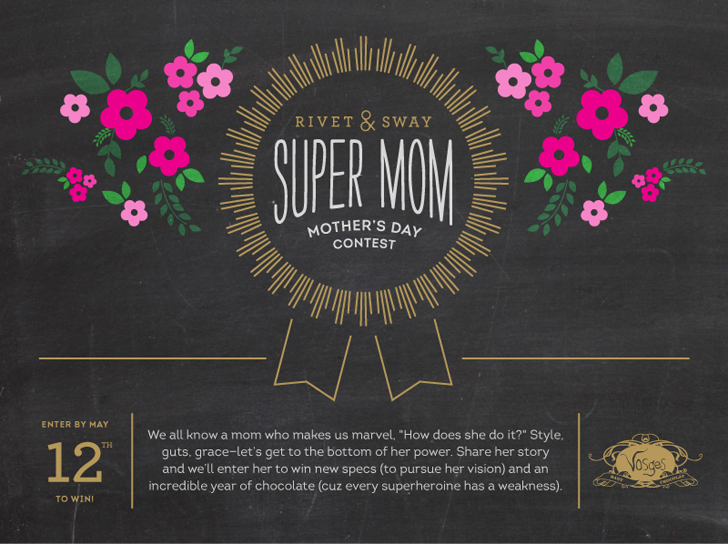 Go ahead, nominate the woman in your life you feel is fitting of the title, Super Mom. Share a short story why you think she is deserving, and she could win 2 pairs of Rivet & Sway frames, and a monthly delivery of Vosges Haut-Chocolat for a year. Also, two runner-up winners will each receive a pair of frames and the exotic truffle collection from Vosges. Entries will be accepted until May 12, 2013, and the winner will be announced on Facebook and notified via email on May 15, 2013. I'm totally down with that.
So which glasses did I pick? Drumroll, please….
THIS PAIR! Did you guess the right ones? I love them with all my heart, and bonus, they still look good with my newfound bangs. Happy happy joy joy.