Last week, I briefly mentioned my love for neutral shoes, and thought I might elaborate a little bit.
Why I adore neutral shoes:
1. They go with any outfit. Brights! Whites! Patterns! Denim! Skirts! I especially love wearing neutral/tan shoes with a black ensemble.
2. They elongate legs. Even though I'm on the tall side of average (5'7″), my legs are not long, (no) thanks to my freakishly long torso. Skin-colored shoes give the illusion of added length to your legs by continuing the same shade all the way down to your toes. Super dark shoes such as black cut that line off, visually shortening the legs. Here, let me show you. Both the nude and black pumps are pointy-toed and the same heel height.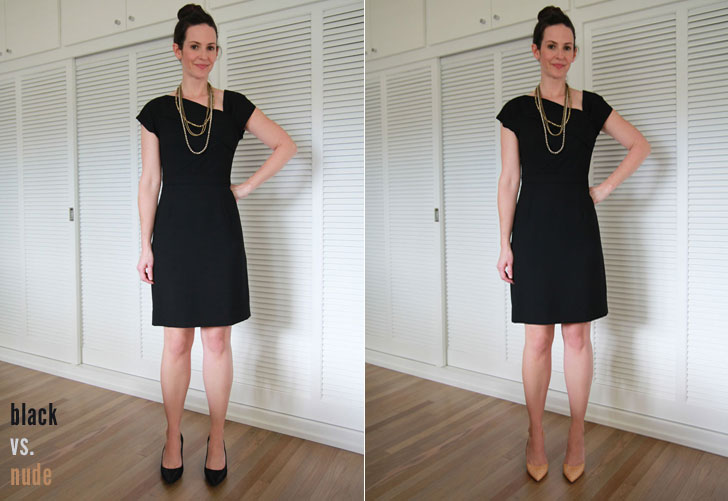 3. Many styles, especially those with ankle-straps, look more flattering. Once again, if you don't have mile-long legs, a strap right across the front of your ankle cuts the leg in a not-so-flattering way. If you love the look of shoes with ankle straps, but don't want that visual separation, stick with skin-colored shades.
4. Summer + neutral sandals + tanned feet + coral pedicure = Perfection (I'm on a personal mission to tan these ridiculously pale feet of mine this summer. Look out.)
5. Overall, neutral shades are fresh and unexpected. Although I still love black (and bright!) shoes, wearing a neutral color with an ensemble keeps things sophisticated, yet different.
Here are some of my favorite neutral/tan shoes right now.