7
MUN Daily Essentials
MUN Skincare has been a long-time favorite of mine (my thoughts here and here), and I'm excited that they've added a new product to the lineup!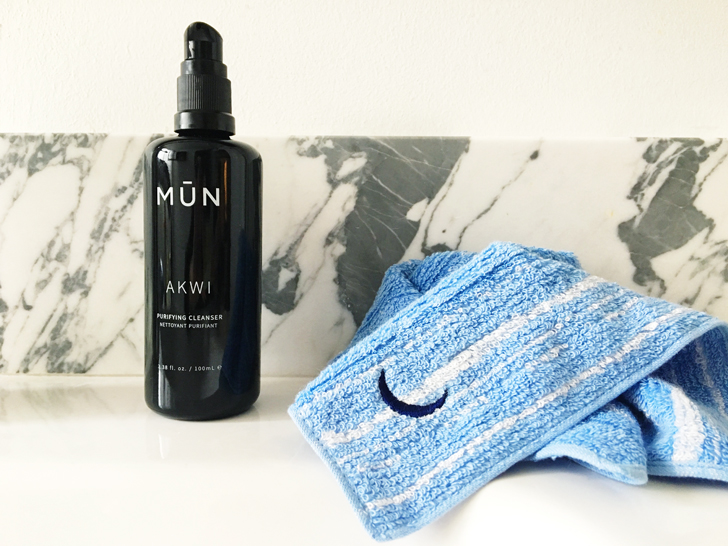 I've been waiting for MUN to introduce a cleanser, and I am really pleased with it. With this addition, they now have a 3-step daily essentials routine that is quick and effective…just the way I like it.
This gentle, oil-based cleanser sweeps away impurities and unclogs pores without stripping the skin. It also removes the most stubborn waterproof makeup. The pH-balanced formula is based on synergistic natural ingredients, including Castor Oil, a soothing cleanser and powerful detoxifier, nutrient-dense Argan Oil and antioxidant Camellia Seed Oil. It leaves your skin cleansed, soft and moisturized. Effective for all skin types.
I promised the Mun team that I would use the 3-step daily essentials for an entire month before posting, so here are my thoughts!
Now, I am not usually an oil cleanser kind of gal. I love oils as serums and moisturizers, but I'm more of a foaming cleanser fan. However, this cleanser really set itself apart for a few reasons. First off, it's not just an oil, it's creamy and opaque in texture. The smell is light and refreshing, and it rinses off with water, which is nice. Now, you can also use a washcloth with it if, say, you have waterproof mascara or something on, but I've found I can get everything off with a few rinses of water. (I don't wear waterproof makeup.)
But the best part (that surprised me) was how much I enjoyed massaging the cleanser into my skin. The more I read about facial massage and facial yoga, I am learning that it is so important to stimulate blood flow to the face to combat aging and stagnation. You apply the cleanser to a dry face, and I've found myself spending 2-3 minutes massaging the cleanser into my face just for the benefits of stimulation.
Here's a look at the cleanser on the left, and the Aknari Serum (the 3rd step) on the right.
Really lovely.
So, after you cleanse the skin, you apply the Anarose Toner.
This calming toner is essential for balancing the skin's pH after it has been cleansed. Bulgarian Rosewater instantly soothes even the most sensitive skin. Hyaluronic acid firms the skin and provides long-lasting hydration. Willow Bark Extract contains natural salicylic acid, which removes dead cells for a healthy glow and prepares the skin to receive nutrients. Goji Berry Extract helps reduce free radical damage and provides anti-aging benefits. A combination of Rose, Jasmine and Daisy Extracts recreates the velvety sensation of petals on your skin. Effective for all skin types.
I've been using the Anarose toner for years, and I adore it. (In fact, I spray it on my face all the time.) Now, for the purpose of the daily essentials routine, it is suggested that you spray the toner (6-8 sprays) on a cotton pad and apply to the skin for the full experience. However, I just spray it directly on my face because 1) I'm too lazy to find a cotton pad, and 2) I like to break the rules, apparently. ;)
Finally, the Aknari Youth Serum which I have loved since day one. (Thoughts are in the links at the start of the post.) Love this serum so much, as my skin is very fond of Prickly Pear Seed Oil, apparently.
The stunning results of this lightweight age-defying serum are due to the potency of Prickly Pear Seed Oil. Extremely rich in Linoleic Acid and super antioxidant Vitamin E, Prickly Pear Seed Oil combined with Argan Oil works wonders to smooth wrinkles, repair sun damage and lighten dark spots. The protective serum also soothes inflammation, brightens under eye circles and stimulates collagen production. Bulgarian Rose Essential Oil aids absorption and provides a heavenly scent. In tandem, these three oils leave your skin feeling soft and looking radiant. Effective for all skin types as a day, night and under-eye treatment.
Overall, my skin is happy. Like happy happy. It's glowing, and I've had no issues with congestion or strange angry redness, which sometimes happens with other regimens.
Here's a quick 2-minute video review I did on the products as well.
MUN has been my ride-or-die this past month, and definitely in my top 3 skincare brands. And! They are offering you all 15% off all products on their website with the code WHOORL. (Heads up – if you plan on buying all three, this set gives you a great discount, plus more if you use my code!)
As always, if you have specific questions, please leave them in the comments!