I've been involved in quite a love affair with Laguna Beach for some time, as many of you have witnessed on my Instagram account and blog over the past decade. It all started 14 years ago, when my boyfriend (now husband) and I were living, working, and freezing our tushes off in Chicago. I recall, on one particularly frigid evening in our drafty kitchen, I looked at him and said (through chattering teeth), "maybe we should move to Southern California." Two weeks later, we signed a lease on a tiny apartment in Laguna Beach.
We lived in Laguna Beach for a couple of years, moving on to Corona del Mar and finally Newport Beach, but Laguna has always held a very special place in my heart. However, my love for this town has grown leaps and bounds over the past two years since we relocated to Oklahoma. Due to work commitments (thank you, career!) and family trips, I've been back to visit Laguna six times, which has been so lovely.
Any coastal Southern Californian will agree that living and visiting the area are two very different beasts, so the past couple of years have given me the opportunity to experience the town again as a tourist, despite my experience as a local from years past. This month, I collaborated with Visit Laguna to create a guide of my favorite Laguna haunts coupled with some unfamiliar, suggested stops. So, sit back (no really, sit down…it's long), relax, and enjoy my guide to Laguna Beach.
The Montage – If you are looking for luxury, this is the hotel for you. I could spend the rest of my life in the spa or aimlessly wandering around the grounds. A must-see, even if you just stop to have a drink or eat at one of the distinctive restaurants.
The Inn at Laguna Beach – Simply one of my very favorite hotels in Laguna. The fabulous location, the lovely decor, the always-friendly employees…I just adore this hotel. You will not be disappointed, I promise. Some of my fondest memories are when I stayed at The Inn.
The Ranch at Laguna Beach – Another favorite of mine, The Ranch is set in the Aliso & Wood Canyons, which is just breathtaking. You feel completely nestled into the hills of Laguna, yet are a quick walk to the beach. The best of both worlds, The Ranch is the newest member of the exclusive National Geographic Unique Lodges of the World, a collection of boutique hotels in extraordinary places around the world with a demonstrated commitment to sustainability, authenticity and excellence.
Laguna Beach House is a newly renovated property that totally encompasses Southern California surf culture. It feels open, airy, and modern. Within walking distance to Main beach…a fun little property.
Pacific Edge Hotel – Stayed at this hotel a few years back and posted my thoughts here. This place has the absolute coolest bungalows right on the beach. Even if you are a local, you should look into renting one for the day. So much fun!
Ritz Carlton Laguna Niguel – Technically not in Laguna Beach, but I had to mention it because it's just such a gorgeous and luxurious property, and have enjoyed my stays there very much.
Urth Caffé wasn't around when I lived in Laguna, which is probably a good thing, considering I would have set up a cot in the back room. I adore this open-air, delicious spot for coffee, breakfast, brunch, or lunch. The menu is so expansive, yet super tasty. Lots of gluten-free options, and it sits just perched up from Heisler Park, one of the best parts of town to stroll and take in the ocean views from the bluffs.
Active Culture – Another spot I frequent regularly, specifically for the Wholesome Bowl. (My husband worked right around the corner, and he had quite a thing for the Whole Bowl as well.) The food is unique, tasty, and totally healthy, but not in an "ohhhhh, yes, this is healthy" kind of way. Besides the yummy menu, Active Culture is very serious about our environment, minimizing the carbon footprint as much as possible.
Zinc Cafe – Oh, I love Zinc. The ambiance, the food, the adjoining market. It's just the perfect place to sip a latte and read a book or join friends after a morning stroll. I love the scrambled eggs with leeks plate that comes with fresh fruit and an everything bagel.
The Stand Natural Foods – Vegans, you must visit The Stand. Non-Vegans, you must visit The Stand. I could spend 45 minutes drooling over the menu at this 100% vegan restaurant. (But seriously, don't let the vegan thing deter you…the food is downright delicious and satisfying.) In fact, this bean tostada weighed, like, 6 pounds. You'll get more than you bargained for at this delicious little stand.
AhbA – My new favorite in Laguna for brunch or dinner. This always-bustling spot in South Laguna always has incredible food and cocktails. Be sure to check out the speakeasy next door after dinner!
Zeytoon Cafe – What a little gem tucked into a retail strip in North Laguna. If you love Mediterranean food, get thee to Zeytoon. The Mezza sampler is a must, and they have a nice little wine selection to go along with it. If it's temperate outside (and when is it not in Laguna?), sit out on the upstairs deck while sipping a Rosé. Not too shabby. Not too shabby at all.
La Sirena Grill – Outstanding Mexican food. The tacos, the carnitas, the Sirena plate…you can't go wrong. They also have fresh-squeezed fruit and vegetable juices. Oh, and breakfast too! Two locations. Village location has counter service and a small area outside for dining. South location has indoor dining as well.
Wahoo's Fish Taco – Wahoo's is not original to Laguna nor California as a whole, but I have to mention this place because my kids LIVE for Wahoo's. My son pretty much talks about it every week, and we've been living without a nearby Wahoo's for over two years now. My husband and I enjoy it too – you can't go wrong with the fish tacos, black beans, and the cilantro-lime rice. Good stop for families, for sure, although you will see all types at the Laguna location.
Nick's Laguna Beach – A great restaurant in the heart of the village to have a meal. Open for all three meals, although I enjoy a glass of wine and some appetizers during happy hour. I also love South of Nicks for upscale Mexican fare just down the street.
Jan's Health Bar – I became addicted to Jan's protein bowls (they use a spice blend called Spike on everything and I am OBSESSED) and fresh juices while living in Newport Beach, so I was thrilled to see that a brand new location recently opened in Laguna. It's just a great place to drop into for some quick, healthy eats.
Coyote Grill – My love for this Baja-inspired restaurant runs deep. Located in South Laguna, this super casual restaurant serves up great enchiladas and margaritas. Super laid-back atmosphere – a mix of locals and tourists, and just really easy for all ages.
Splashes – Located in the gorgeous Surf and Sand Resort (another amazing hotel!), this is a dining experience. This is definitely the place for a romantic dinner or celebration, and the views are otherworldly. The restaurant is open for all three meals, though, although I've only had dinner.
Thai Brothers – Fantastic Thai food. If you've been going hard all day and want to take a break, just order some take-out from Thai Brothers. Tom Kha Gai soup is some of the best I've tried.
242 Fusion Sushi – If you love sushi, get to 242 Fusion Sushi STAT. Consistently the best sushi I've had anywhere. Miki Izumisawa, the owner and chef, is a true visionary. Her ability to meld textures and flavors is uncanny, and it is quite an experience. The place it teeny tiny (only about 5-6 tables), so be prepared to wait. It's so worth it, though.
Check out my full Laguna Beach wellness guide here!
The Hydration Room – Whether you're suffering from a cold, battling a migraine, experiencing jet lag, seeking relief from sore muscles, waking up from a long night of over-indulgence (ahem), or just low in energy, IV fluid hydration and injection therapy is the quickest way to improve your symptoms and get you back to feeling your best. The hydrating therapies are quick, often under thirty minutes depending on your hydration status and needs. I love this place. Since I've done IV therapy with my naturopath in the past, they worked with me to create my perfect IV cocktail, if you will.
Yoga in the Park at Treasure Island Park – Carl Brown, a registered Yoga Alliance Instructor provides free yoga classes at 8 am, 5 days a week (M,T,W,TH,SA) at Treasure Island Park in Laguna Beach. It's a gorgeous location in front of the Montage Resort, and all donations go to the Tara Abbey in Nepal for the education of women.
Spa Eiko – The folks at Visit Laguna introduced me to Spa Eiko. I had never had a traditional Thai massage before, and I must say that Keiko, the owner and masseuse, is truly wonderful. Not only does she have gifted hands, but is one of the kindest people you'll ever meet.
Heisler Park – A walk though Heisler Park is a must. Located in North Laguna, the winding sidewalks overlook the Pacific with some of the most gorgeous bluffs. If you have a little time, download the free Laguna Beach Walks self-guided tour. It's pretty cool, and you can go at your own pace.
Bluebird Park – If you have little ones, this hidden gem tucked into a charming neighborhood is hands-down my favorite park in America. (Yes. All of America.) Tons of space, artful playground equipment, huge slides, even a 3-story rocket ship for your kids to climb. I took my kids to this park all of the time when we lived in the area. A really special place. We all miss it so much.
Victoria Beach – Now, I could write an entire post just on the beaches alone in Laguna. Let me just say this. There are a lot of amazing beaches in Laguna. So many coves to discover, and there's a little bit of everything to please all types of beachgoers. However, our family's favorite beach is Victoria Beach. It's a great mix of locals and visitors, and beach access is tucked away in a neighborhood, so it's not widely known by tourists. (2021 update – it's pretty much packed now, but we still love it the most.) On most days the tide is gentle enough for the kids, and it's a manageable size. Also, you should check out the tower and the cool manmade pool that rests on the north side of the beach. Our favorite.
Roots the Beauty Underground – Being a green beauty enthusiast, Roots is always my first stop in Laguna. Laura, the owner, is such a cool cat…she knows everything there is to know about natural beauty, and the lines she carries are top notch. I could (and do) spend hours and hours in this fabulous shop.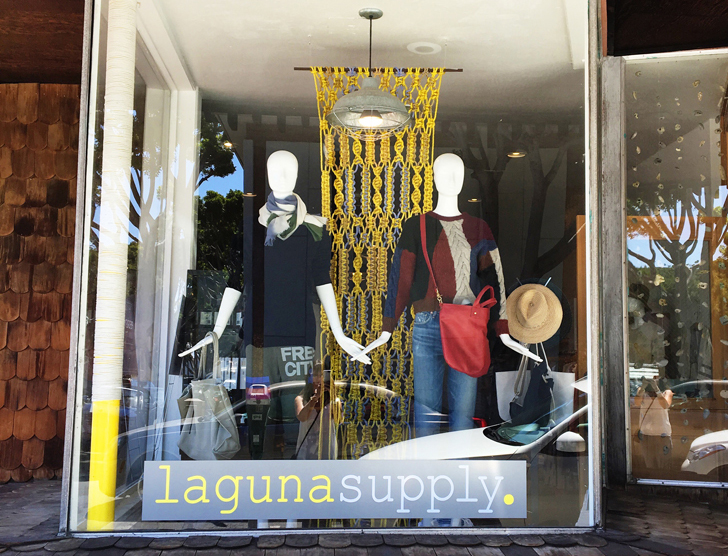 Laguna Supply – As Roots is my favorite for beauty, Laguna Supply is my favorite for women's fashion. The boutique carries some of my favorite labels, and I can always find something covet-worthy when visiting.
Yolk – Toys, homewares, kids fashion, and jewelry. Adorable little shop. Great place to pick a gift for a birthday party or shower.
The Soul Project – Created by a team of visionary entrepreneurs, designers and artists, The Soul Project is an innovative apparel company that holds "socially conscious capitalism" as a core cultural value. Much more than apparel, though. Housewares, kids items and cookbooks abound.
Pearl Street General Store – Pearl Street is definitely a general store – carrying groceries, locally-sourced products, craft beers, handmade jewelry, stationery, and even a small, yet burgeoning, vintage goods section. The locals love this place for a quick grocery or wine run, but it should not be missed by visitors to Laguna. A great shop.
Twig – Love this super charming and quirky boutique. Clothing, accessories, jewelry…it's all so fun, plus they carry one of my favorite local brands, Krochet Kids. Really had my eye on these two items during my last visit, #pizzaslut
The Shop – Where "it's summer all year round," this boutique definitely gives off the vibe of sun-kissed style. Beachy and bohemian, the clothing give a nod to salt and sand. Adorable baby clothing too.
The Chakra Shack – I get my crystal fix here. Full of all things metaphysical and spiritual, the Chakra Shack is indeed a chakra shack. The store also offers aura readings and all sorts of workshops.
Rum Social – A great restaurant, but the true jewel is the bar upstairs – it's like you are tucked into a treehouse and I adore it.
Helen's – A speakeasy located next door to my fave spot, AhbA. Super fun, tons of little winding rooms, and you'll be mesmerized by the light and wallpaper in the bathroom. ;)
Rooftop Lounge – Located at the top of the Casa del Camino hotel, this is a lovely place to sit with friends and have a cocktail. The views are ridiculous.
The Deck – Another spot with amazing ocean views, The Deck has great drinks, as well as fresh seafood. Love their Silver Surfer cocktail.
The Marine Room – Lots of live music, and nestled right in the village. (So, you know, you can walk back to your hotel in the rare case that you've been overserved.)
Sandpiper – Otherwise known as "The Dirty Bird," don't plan on visiting until the wee hours. It's dark, it's loud, and you should be prepared to dance. Oh, you'll dance. I always pop into the Dirty Bird at least once while visiting…you never know what might happen while you're there.