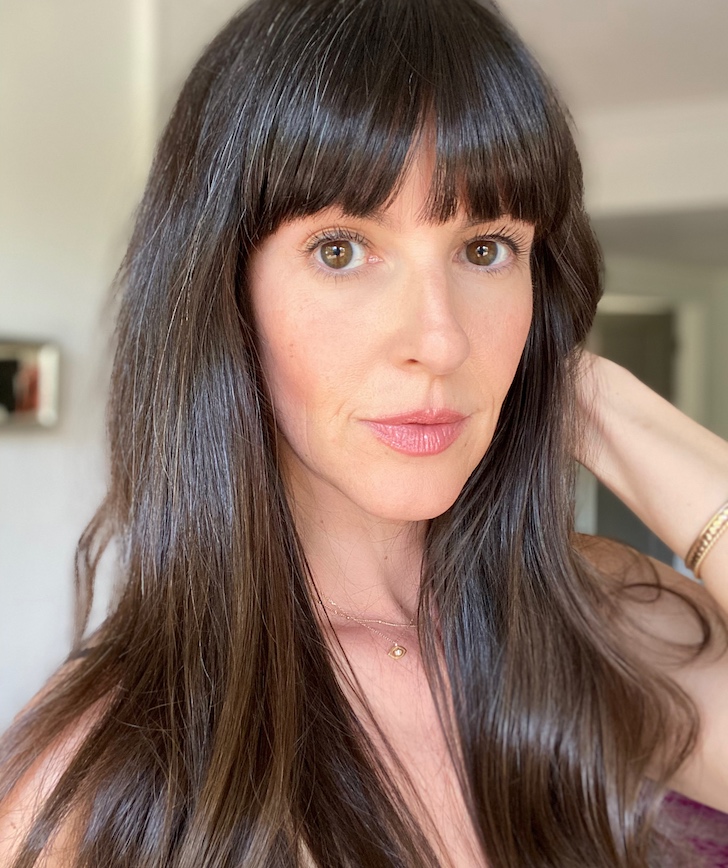 wearing Kosas Tinted Face Oil in Tone 04 and Revealer Concealer in Tone 03
Kosas Tinted Face Oil and Revealer Concealer Review
Your skin but better – that's the way I always describe my beloved combination of Kosas Tinted Face Oil and Revealer Concealer. These two products were made to complement each other, so much so that they've recently been dubbed The Dream Team. Today, I want to take a deep dive into these two formulations that are my most reached for combination in terms of foundation and concealer.
If you've been around here for a bit, you know that I have been a HUGE fan of Kosas since its inception. (Remember when Kosas only had lipsticks?) This brand was one of the first clean beauty brands to make my Best of the Best list. In fact, I really need to update this post because while it does have all of the Kosas lipstick swatches, there are now so many other products that I adore. (Did you see my post on the Kosas Sun Show bronzers?)
Kosas Tinted Face Oil 
I recently posted a head-to-head comparison of the Kosas Tinted Face Oil and the Ilia Super Serum Skin Tint SPF 40 and while the Ilia Skin Tint is fantastic for some, I find that I reach for the Kosas Tinted Face Oil much more often.
So what is this Kosas Tinted Face Oil sorcery that has seduced me?
Versatility
This Kosas formulation balances active botanicals with strategic, clean synthetics for perfect wearability with every application. They are clean, they are wearable, they are versatile, and the shades really adapt to your skin. There are 16 shades total, meaning almost everyone will find a shade that works, plus they adapt so well to different skin tones. For example, I can wear 3, 3.5, 4, and 5 on my face depending on the season. So don't sweat the shade selection – chances are you will be able to pull off a few due to the multiple mineral pigments suspended in each shade.
The two shades I personally reach for the most are 3.5 and 04. 3.5 is a bit more neutral and 04 has more warmth, but I can easily wear both. I wear 5 at my tannest.
COMFORT
Called "the sweatpants of foundation," this tinted face oil is super comfortable to wear. It goes on like a serum – thin and weightless, but gives you the light-to-medium coverage that so many of us want. Made with 6 nourishing botanical oils to moisturize and even tone, it applies so easily and you don't even need a brush…finger application works so well with this formulation. Goes on super easy like a serum, giving you a natural velvety finish that still looks like your skin.
FINISH
This is the kicker for me. A velvety finish that still lets my skin come through. In my mid-forties, I have realized that products with all-over dewy finishes tend to accentuate EVERYTHING on my face. Dewy cream blush? My favorite! A dewy highlighter placed strategically? Sign me up. A shiny finish all over my face? OH HELL NO. (However, I'm not knocking ultra dewy finishes for the younger set! The Ilia Serum Skin Tint looks fantastic on many people, just not me.) I apply my regular morning skincare and sunscreen, wait a few minutes, and then apply the Tinted Face Oil. Super quick and easy, but be sure to shake before applying!
Ingredients: Water, Caprylic/Capric, Triglyceride, Mica, Octyldodecanol, Polyglyceryl-2, Dipolyhydroxystearate, Ethylhexyl, Olivate, Undecane, Glycerin, Polyhydroxystearic Acid, Polyglyceryl-3, Diisostreate, Galactoarabinan, Tridecane, Squalane, Panthenol, Sodium Hyaluronate, Palmitol, Tripeptide-5, Caffeine, Helianthus Annus (Sunflower) Seed Wax, Glyceryl Oleate, Lecithin, Dunaliella Salina, (Algae) Extract, Tocopherol, Acetate, Maltodextrin, Arnica Montana Flower Extract, Helianthus Annuus (Sunflower) Seed Oil, Rosmarinus Officinalisn (Rosemary) Leaf Oil, Foeniculum Vulgare (Fennel) Fruit Oil, Sodium Benzoate, Potassium Sorbate. [+/-: Titanium Dioxide (C177891), Iron Oxides (C177492, C177491, C177499)]
I filmed a video review in which I cover all the bases on the Tinted Face Oil, including application.
Note: This was filmed a few years ago when there were only 10 shades, now several more shades have been added.
Who's ready to talk concealer?
Kosas Revealer Concealer
Oh, how I LIVE for the Revealer Concealer. I've stopped wearing all others, and that's quite a statement coming from a beauty blogger with access to almost everything out there.
This medium-to-full coverage, packed-with-botanicals, clean concealer covers and treats dark circles and blemishes but still fully looks like your skin. What is this witchcraft, I ask of you? It's super-duper creamy and brightening and has the most unique base that leaves your skin with a luminous, dewy finish that's never tacky.
Now, here's the full truth – many days I just wear the concealer. As I age, I've found I like the look of spot concealing areas on my face as opposed to an all-over foundation. However, there are some days when I need that extra bit of coverage that the Tinted Face Oil provides.
This concealer is creeeeeaaamy and truly improves the appearance of my complexion. I love it!  Apply anywhere you want to brighten. Swipe or dab the doe-foot applicator over the skin, then blend using your fingers, a brush or sponge. Perfect for spot covering or layering over foundation.
SHADE RANGE
Here's the dish on shades – there are 16 in total and they correspond with the number of the Tinted Face Oil. How easy is that?
However, for my light-to-medium friends, while Tone 04 in both products is almost a perfect match, I do find that the Concealer in 3.5 runs more olive/warm than the Tinted Face Oil in 3.5. If you aren't very warm, I would suggest Tone 03 in the concealer paired with the 3.5 in the Tinted Face Oil. (Hey guys, I told you this would be a deep dive.)
No matter what, they really do adjust to the undertones of your skin, but I do personally prefer Tone 03 in the concealer lately.
Ingredients: Coco-Caprylate/Caprate, Simmondsia Chinensis (Jojoba) Seed Oil, Octyldodecanol, Persea Gratissima (Avocado) Oil, Silica, Kaolin, Mica, Oryza Sativa (Rice) Bran Extract, Rosmarinus Officinalis (Rosemary) Leaf Extract, Helianthus Annuus (Sunflower) Extract, Tocopherol, Limnanthen Alba (Meadowfoam) Seed Oil, Camellia Oleifera (Tea) Oil, Rosa Canina Fruit Oil, Rubus Idaeus (Raspberry) Seed Oil, May Contain [+/-] Titanium Dioxide (CI 77891), Iron Oxides (CI 77491, 77499, 77491, 77492)
Here's my full video review.
What else is there to say? I absolutely love the Dream Team. (Purchase them together and get a discount of $12!) As always, hit me up with any questions in the comments section!