My day-to-day jewelry vibe usually involves tiny gold and diamond studs in my ears, my wedding band on my left hand, at least 2-3 gold bracelets and my fave chunky gold watch on my right arm (lefties unite!), and a necklace of some sort. That's the look. Almost EVERY DAY. It's relatively simple and straight-forward and me, but sometimes I dream of spicing it up a bit.
Enter JewelMint. When I was offered the opportunity to choose some pieces from the line, I jumped on it. I told myself I wasn't allowed to choose any stud earrings or gold bracelets- this time I would mix it up with some dangly earrings and statement rings.
Here are the pieces I found.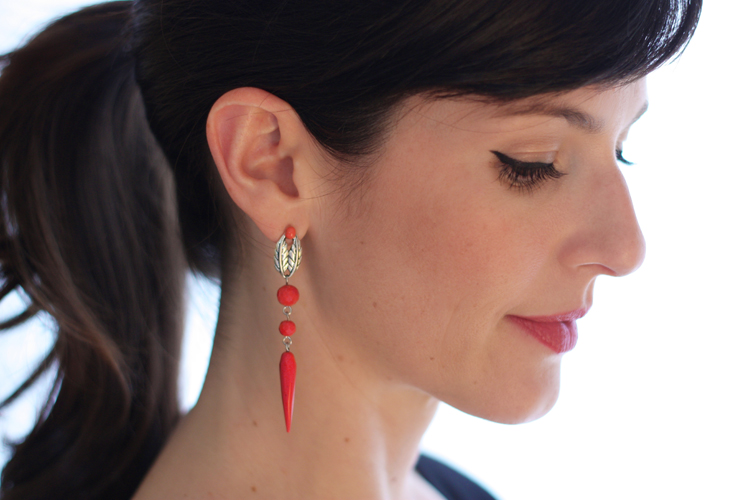 Thunderbird Earrings

Midnight Soiree Ring

Dahlia Blossom Ring
Friendship Bracelets – Wita loved her very first bracelet from mommy

I adore all of these pieces, truly. The earrings are gorgeous (and lightweight!), the rings have both made appearances this week, and Wita has pretty much called dibs on the friendship bracelets. (It's starting early, folks. I might have to put a lock on my closet, like Real Housewife Mary Schmidt. Help.)
What I can't get over is the price. You all, the pieces are $29.99. I thought for sure when I opened up the JewelMint box, I would be dealing with jewelry that looked and felt like, well, $29.99 jewelry. Not the case at all! The pieces are super well-made, the rings are sturdy and have a nice weight to them, and I was really pleasantly surprised.
You should see for yourself! The lovely folks at JewelMint are giving away one piece of jewelry of the winner's choice, and there is so much to choose from. Just leave a comment on this post before Sunday, February 26th at 6pm PST and you'll be entered to win.
Also, if you see something you just must have right away, please use the code WHOORL50 – good for 50% off your first piece, valid until 2/29/12. (First time buyers only.)
Now, go forth and find some jewelry!