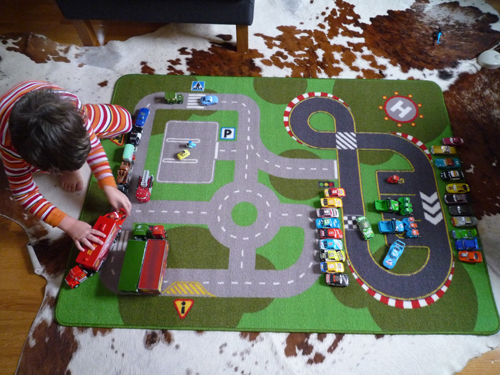 Wito loves the movie Cars. Yes, we all know this…I sound like a broken record over here in regards to that movie, but the boy is obsessed. (And the obsession has lasted for over two years. At least he's consistent!)
We've been collecting the Cars diecast cars for a couple of years now, and not a day goes by that Wito doesn't choose to reenact some scene from the movie with the appropriate vehicles. The problem? He reenacts the scenes on our living room sofa.
Lately, he's been creating a scene on each side of the sofa, which leaves us absolutely no place to sit. I've tried squeezing into the space between scenes, but am immediately reprimanded. "MOM, YOU ARE SITTING ON RADIATOR SPRINGS!!!" and "MOM, YOU ARE NOT ONE OF THE PISTON CUP RACE CARS. PLEASE MOVE!" are phrases I hear way too often around these parts.
We had to do something to regain rightful ownership of the sofa immediately. Thank God for Ikea. We found this Lillabo Play Mat at our local store ($9.99, folks! Cheap!) and he is completely enamored with it. Radiator Springs on the left, Piston Cup raceway on the right, and since it sits on the floor, we have won our sofa back. My arse is victorious.