House renovation #3 drinking game. Take a swig every time you read the word "drywall" or "floors."
Okay, so I'm a little late on this one. Sorry about that, but you see, I have good reason! If I would have posted on Friday, the photos would have looked eerily similar to last week's update.
But wait, you guys! Guess what happened on Friday and Saturday. Just guess.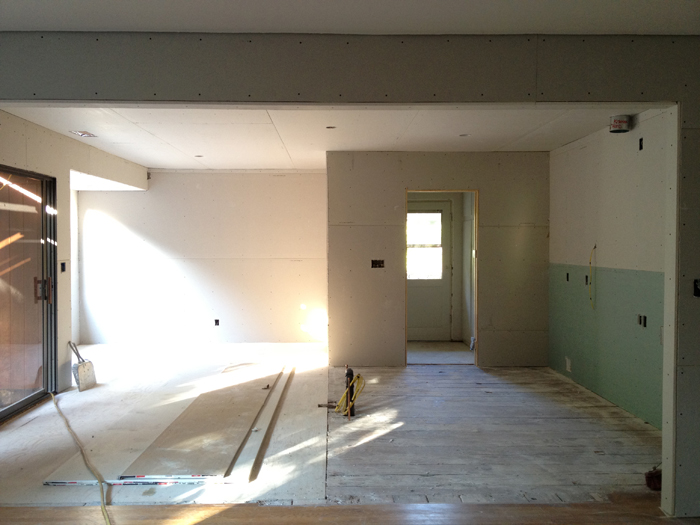 Drywall happened, that's what! What a difference drywall makes, am I right? WE HAVE DRYYYYYWALLLLLL. I'm totally Oprah right now….AND YOU GET DRYWALL! AND YOUUUU GET DRYWALL! And the audience goes wild! Sobbing and fainting commence! DRYWALLLLL
(My apologies to those of you who follow me on Twitter, Facebook or Instagram for busting the Oprah reference again, but hey, I bet 11% of you never heard my weekend Oprah singsong Drywall bit. I can't deny the awesome old school Whoorl readers, can I?)
Back to drywall. God, I love drywall. When looking at this photo, here's what comes to mind.
1. Spiders
2. Electrical fires
3. Burglars
But drywall!
Hang a little drywall, and I'm all,
1. Look at that light.
2. Ain't no burglars in there.
3. Do I hear heavenly angels singing? (I wrote "heavenly angels signing" first, and couldn't get the image of Rachel Coleman in an angel outfit demonstrating how to sign the word "heaven" out of my head. p.s. – I've also been playing the drinking game.)
So, yay for drywall. DRYWALL. Drink.
In other news, D finally decided on a stain for the wood floors. I say D decided because the man took his insane finicky behavior to a whole new level this week. You guys, hours, DAYS, were spent trying to perfect the stain to put on the oak floors. On Thursday morning, after dropping Wito at school, I stopped at the house, walked into one of the bedrooms and saw two things.
Number one.
Number two. My husband sitting on the floor talking to Crow, our floor guy. Poor, poor Crow. I looked at him and saw something in his eyes that could only be described as pure, unadulterated desperation. The kind of look you might give after, say, finding out that your flight home has been delayed by 18 hours. I know this look, you all. Because I've been shooting this look on a regular basis for about 10 years now. Let's just say Crow was beyond thrilled to see me, especially when I told D to wrap it up and pick a damn color already. (Crow had a great sense of humor, and made me laugh when he grabbed my hands and said, "thank you so much for coming. No really, THANK YOU FOR COMING AND SAVING THE REST OF MY WEEK.")
You're welcome, Crow. Trust me, I feel your pain, buddy.
Now that the finish has been decided, the bedroom floors should be completed within the next few days, the base and case is going in soon, and our kitchen cabinets are being made as I type this. Oh, and did I show you what we found for our kitchen backsplash?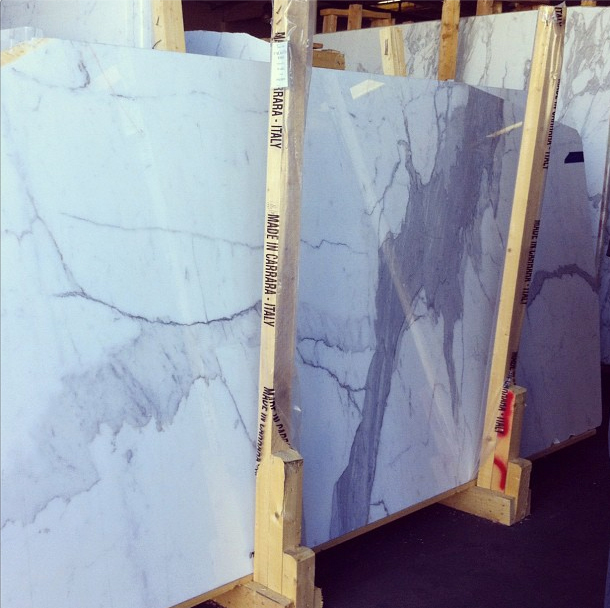 Come to mama.
Until next time!