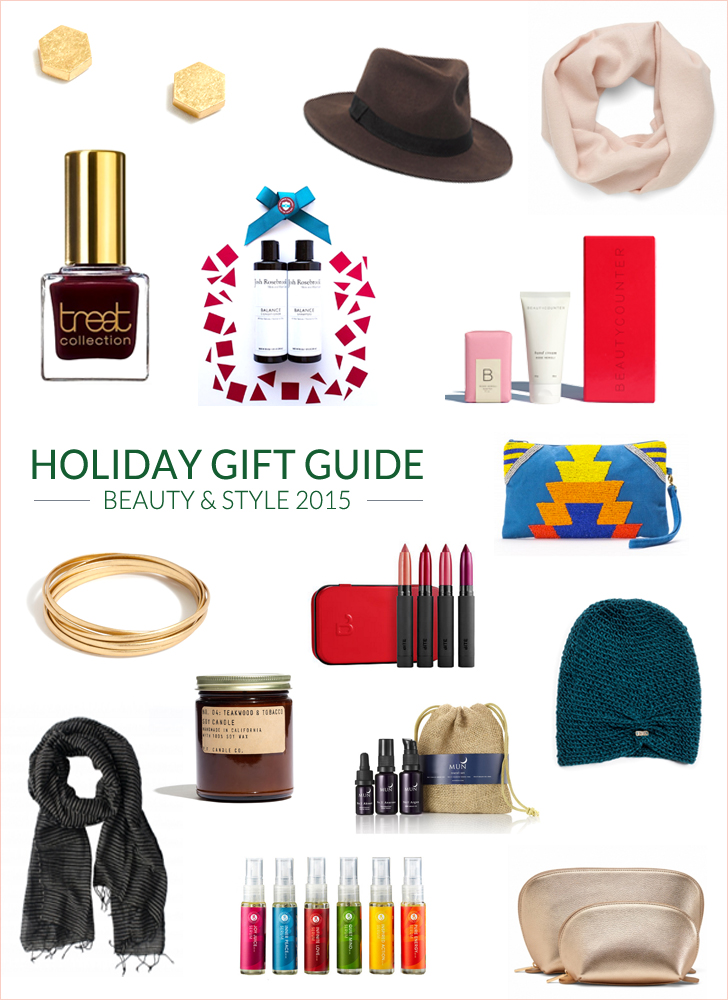 Ho ho ho, happy holidays, and all those wintry sentiments coming your way, my friends. If you are looking for gift ideas for friends and loved ones, please look no further! (Unless, you know, you despise all of my suggestions. In that case, peace be with you.)
1. Gold "Shape Study" Stud Earrings – I only wear studs, and these are fun and unique.
2. Straight Brim Felt Fedora – The perfect size (not too big, not too small), and it comes in 3 colors.
3. Baby Alpaca Infinity Scarf – I'm pretty much obsessed with this pale blush color, and if you haven't heard about Cuyana's holiday hinting effort, you must check it out. I'm on board, as you can see.
4. Treat Nail Polish – I do not use ANY other nail polish, for reals. Treat is "5-free," and comes in the most gorgeous colors. (I swear, this polish is the best. Doesn't streak and lasts forever. I'm partial to Art House, Good Thing, and The Everyday Girl.)
5. Beauty Heroes Monthly Subscription – If you saw my Odds and Ends post on Friday, you read about this green beauty subscription box that has got me over the moon. It's the most perfectly curated range of products (one full-sized product per month), and for $39/month, it's a killer deal. (December's product is the highly-coveted Vintner's Daughter serum. Retails for $185, people. BUT YOU GET IT FOR 39 BONES. If you don't give this as a gift, at least get it for yourself!)
6. Beautycounter Holiday Hand Collection – You know I love this hand lotion, and the pink and red combo makes for the most lovely gift.
7. Tribal Beaded Clutch – One of my favorite online retailers, To The Market showcases handmade goods made exclusively by proud and passionate artisans who have overcome the perils of abuse, conflict, and disease. Such a wonderful organization to support.
8. Intertwine Bangle Bracelet – This would look wonderful on just about anyone's wrist, and the $25 price point is fantastic.
9. Bite Beauty Best Bite Rewind – The perfect mix of matte lip shades from Bite Beauty, and the red case is lovely for gift-giving.
10. The Lilly Hat by Krochet Kids – Besides being another fantastic organization to support (remember my Peru trip?), KK int'l.'s accessories and clothing are casual and carefree. I personally have the Lilly in dark grey and wear it all the time.
11. Sisay Striped Scarf – Let me break it down for you – supporting Live Fashionable means you are investing in women, and it doesn't get much better than that. And they aren't solely about scarves anymore. Seriously, check out their totes and tea towels – a gift-giver's paradise.
12. P.F. Candle Co. Candle – Who doesn't love adding a damn good-smelling candle to their stash? I'm partial to the Teakwood and Tobacco.
13. Mun Travel Kit – I've sung the praises of this skincare line, and this set is the perfect way to introduce yourself (or your gift recipient) to the brand. Use the code whoorlmun before December 31, 2015 to receive 15% off your order.
14. Lotus Wei Flower Remedies – Oh, goodness. I love Lotus Wei so much. I regularly use Infinite Love when I'm needing a self-love boost, Quiet Mind when I need to stop the hamster wheel in my head, and Inner Peace before bed. This collection of mini mists is a great way to try out all the remedies, and would make the best gift. Use the code WHOORL15 to get 15% off your order before December 31, 2015!
15. Leather Travel Case Set – Another Cuyana gem, this travel set is so durable and chic. (I've been using my teal blue set for a a year or two, and it still looks brand new. Be sure to add the monogram!) I can't imagine anyone not loving this gift, and the color selection is robust.
Happy Holidays!