When I received a Hair Thursday request from my internet soul sister, I must admit to dramatically rolling my eyes alllllll the way to the very back of my eye sockets. C'mon. That hair needs help? The same hair that finally pushed me over the edge into bang territory?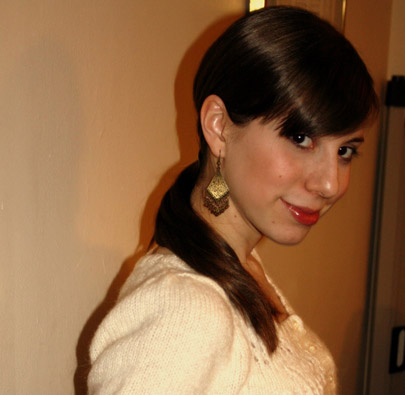 Please.
However, I took a step back and reminded myself that even the luckiest bitches (with the SHINIEST HAIR EVER) get tired of their style once in awhile. So, in one of our 26 daily email conversations about lip gloss, I asked Metalia what she was looking for in a hairstyle, to which she replied, "I'm ready for a big change".
That puts me in a pickle.
Did I mention that Metalia's pregnant? That she's getting ready to embark on baby #2 with a toddler thrown in for good measure?
Metalia, I adore you more than Haribo gummi bears, but I just CAN'T advocate a big change right now. First off, you need length for the all-important ponytails! Remember the nights of no sleep? SWEET JEBUS, YOU NEED THE PONYTAIL. (Plus, you possess the best ponytail bangs around. See above.) But most importantly, what about the hormones? I won't be able to live with myself if you pull a Britney in the wee hours of the morning. Blood on my hands, man.
My official position is that Metalia needs to trim her hair a couple of inches, enjoy the hair vitality that comes with being preggers and we'll revisit her big change when her precious baby is sleeping through the night.
In the meantime, here are some "big changes" to tide her over.
(Might I say that she ROCKS the Hillary Clinton style.)
Okay, okay. All kidding aside, this would be a great look.
Photo courtesy of people.com/Evan Agostini.