Before we get to the updates, I've started to make some photo gallery posts over at Parent Dish for my product reviews and cool holiday finds. If you are interested in reading about a certain product category (i.e. top plush toys, top puzzles, top organic onesies, etc.), leave a comment over there and I'll do my best to search far and wide for the best.
Now, the updates.
First, we have lovely Emily's before photo.
The majority of you wanted to see Option #1, a Katie Holmes bob.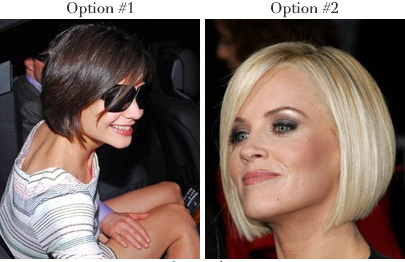 Check out the fabulous results.
She's a looker, that one.
What about Ellie? Remember Ellie of "I Spend 3 Minutes On My Hair" fame?
Most of you voted for Option #2, wanting long layers in the front to add some dimension. I personally wanted Ellie to spend more than her usual 3 minutes when styling her hair, and to use a round brush when drying.

Well, looky here, my friends! Long layers, AND I do believe a round brush was involved! My eyes are wet with tears of joy! You look fantastic, Ellie.
Enjoy your weekend, y'all!