Take a look around your room. Peek in your closet. Does a certain color rule the roost? Green has long been my favorite color, but I've definitely noticed a trend over the past decade. Most of my big ticket, beads-of-sweat-forming-on-the-brow-as-I-pull-out-my-wallet purchases have been in the bright grassy green shade that I love so much. Color trends may come and go, but I know many of these items will be with me for the long haul. Nothing makes me happier than a pop of bright green to liven up an outfit or a living space.
Eames Aluminum Chair in Apple. This was my wedding gift to D, but somehow became MY desk chair. Happy marriage, honey!
J. Crew Silk-Cashmere Wrap
Clare Vivier Bando Bucket Bag in Moss
Earrings from a million years ago
Kenneth Jay Lane ring found on Gilt
Kate Spade Continental Wallet in Vine
Painting D found in a Santa Fe flea market long ago

Vintage green and navy fabric used on a bedroom chair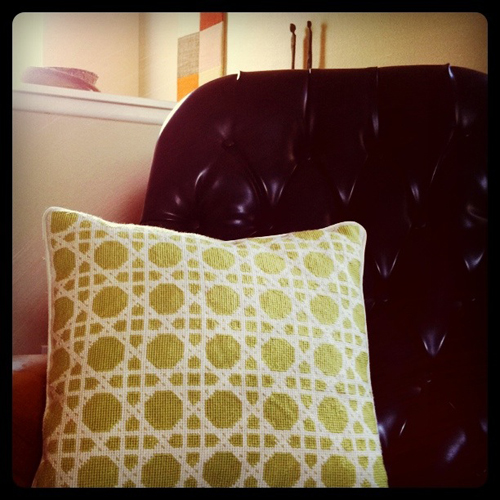 Jonathan Adler pillow
Room and Board Madrid Chair (with the infamous Cheerios)

Do you have a favorite color when it comes to your home, clothing, and/or accessories? Is it the same color across the board or do you like different colors for different facets of your lifestyle? I love orange, bright yellow, and green for home accents and accessories, but find myself gravitating towards rosy pink, navy, and muted neutrals for clothing. What say you? I neeeeeed to know!