Oh my goodness, I am so excited to finally announce what I've been up to over the past few months with Fitglow Beauty. Whoorl-Approved Skincare and Makeup Kits! If you've been around here for any length of time, you know that I am one of Fitglow's biggest fans and supporters – they are total pioneers in the clean beauty space and consistently introduce great products to the market.
Over the past few years, a handful (maybe even two handfuls, if we want to get technical) of products have landed in the coveted Best of Best spot at Whoorl and remained there ever since. Well, we thought it was time to share my very favorites with you all in two limited edition kits that showcase my tried-and-true, shout-from-the-rooftop products at an incredible discount!
Fitglow Beauty x Whoorl Collaboration
Introducing Whoorl Skincare Favorites and Whoorl Makeup Favorites!
Let's start with the Skincare kit.
In this limited edition kit are my top three Fitglow skincare faves:
Vita Shield Broad Spectrum SPF 30, the Cloud Collagen Oil, and the Eye C Firm Eye Cream.
What a trio of skincare goodness, you all. Cloud Collagen Oil is so incredibly nourishing and plumping for my skin and I love how well it layers with the Vita Shield SPF 30.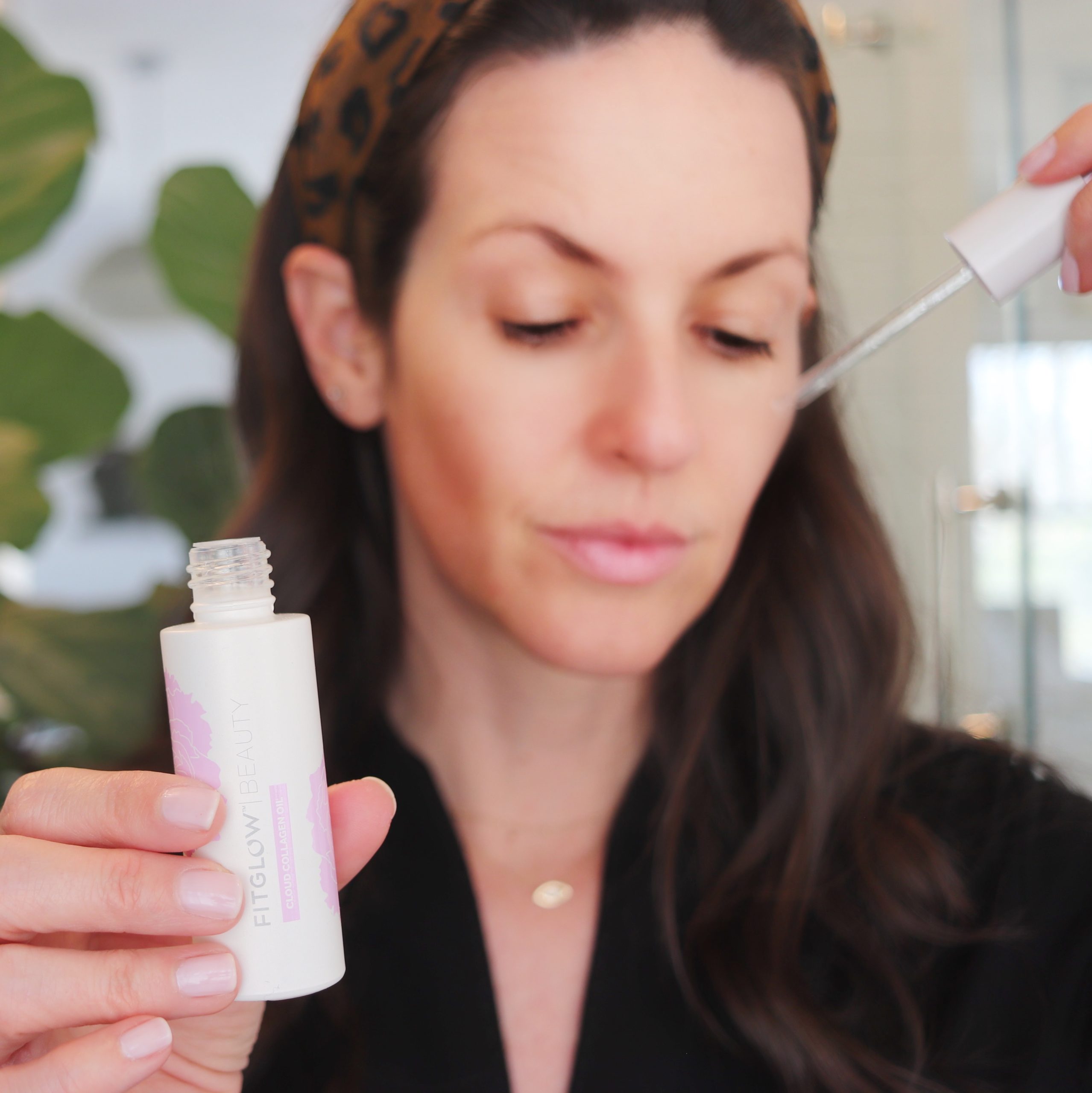 This oil is one of the newest offerings by Fitglow, and it does not disappoint. It deeply nourishes, transforms, and elevates skin softness with bioavailable plant extracts and antioxidant-rich oils. Cloudberry Oil and Green Tea Extract provide antioxidant support, safeguarding the skin against environmental stress, Carrot Seed Oil gives skin a natural dose of Vitamin A which promotes a more vibrant, even-looking complexion, and Lupin Seed and Apple Extract promote an increase in collagen production to reduce the appearance of fine lines and wrinkles. These nutrient-rich oils and extracts are joined with hydrating elements to help moisturize and nourish the skin, improving the feel of skin elasticity and giving the appearance of a more plump, smooth, and vibrant complexion. The scent is fruity and uplifting, thanks to the Cloudberry Oil and Apple Extract.
Best yet, the Cloud Collagen Oil layers beautifully with the Vita Shield Broad Spectrum SPF 30 in the mornings. No pilling, no congestion, just gorgeous, glowing, sun-protected skin.
If you haven't heard, the Vita Shield Broad Spectrum SPF 30 has been my daily, go-to facial sunscreen for a couple of years now. I have yet to find anything that compares to this SPF – lightweight, great sun protection, doesn't feel greasy or leave a whitish cast on my face, AND doesn't clog my pores.
It is the best, period.
As for the formula itself, skin-soothing Zinc Oxide offers broad-spectrum sun protection to prevent sunburn, dark spots, and fine lines, and antioxidant-rich Sunflower Oil boosts skin's defense against free radical damage while improving moisture retention and elasticity. Daily use leaves skin protected, hydrated, and balanced.
Interested in how the two aforementioned products layer together? Here's a tutorial.
Last, but certainly not least, Eye C Firm is what made me a believer in eye creams. It has been a staple on my skincare shelf for years – no other eye cream firms and de-puffs my under eye area better! This plant-based cream is loaded with synergistic antioxidants, peptides, and active extracts, absorbs quickly, and keeps the eyes bright and firm…well, just take a look at this quick video from a few years back when I had recently started using the product.
Yes, it's that good.
THE DEAL
All three of these products together retail for $252, but Fitglow is offering this kit for $179. Even better, if you use the code WHOORL15, you will get an additional 15% off. ($152, my friends. That's 100 hundred dollars off.) Get it while the getting's good!
Onto the Makeup Kit! (I'm soooooo excited about this one!)
In this limited edition kit are my ultimate in Fitglow Beauty cosmetics:
The Night Makeup Palette, a full-sized Lip Serum in Nudie, a full-sized Lip Serum in Cherry, the Lumi Firm Highlighter, and a travel-sized Night Lip Serum! What the whaaaaaaaat? Yeah, this is legit.
Versatility is the key to this collection. The Night palette can be both so subtle for the day and amped up for the evening. The Lip Serums in Nudie and Cherry give you a nice range of intensity for whatever mood strikes, and the Lumi Firm Highlighter is the perfect sheen to illuminate the face in a classic way – no sparkles or glittery particles to be found. Top it off with a travel-sized Night Lip Serum to help soften and plump your lips overnight…I mean, what else do you need?
Forget the name of this gorgeous palette as it's not just for night by any means. Sure, you can build it up for a dramatic look, but I use this during the day the majority of the time. Take a look for yourself!
wearing the Night Palette with Nudie Lip Serum
Of course, you can always vamp it up if you like!
wearing the Night Palette with Cherry Lip Serum
Night is my favorite of the Fitglow palettes and the most versatile, in my opinion.
Moving right along…can we all just agree that the Fitglow Lip Serums are the best in clean beauty?! Wait, some of you DON'T HAVE A FITGLOW LIP SERUM?! Oh, we must remedy that immediately. I poured my heart out regarding these lip serums in this post, and I chose Nudie and Cherry for a few reasons. First off, Nudie is the most-requested lip product in my photos by a landslide. Whenever I have it on, I am guaranteed tons of questions about it. It is the ONE lip shade that I would literally cry if it was discontinued.
I chose Cherry for the other lip serum because it is the perfect creamy, buildable red that anyone can wear. Always wanted to rock a red lip? Well, this shade is the perfect gateway product. One swipe and you have a beautiful pinky-red to wear on any occasion.
Now, I have strong feelings about highlighter usage, especially in women over 40. (You can find my highlighting tips and techniques here.) Lumi Firm adds the perfect sheen to light up your face without any shimmer particles that can work their way into the fine lines on your face. Natural plant peptides firm skin while plant collagen fights signs of aging by strengthening skin structure. I apply to the inner corners of my eyes, bridge of the nose, cupids bow, and the high points of my cheekbones for a naturally lifted and lit-from-within-look.
Lastly, everyone needs soft, kissable lips and the Night Lip Serum delivers. (How cute is the travel size?) I use this a night, but also as the very first step before applying my makeup. I like to get those lips primed and ready to go for lip products! Listen, I'm telling you…if you purchase this kit, your lips will be like buttah in no time. #praisebe
THE DEAL
These five products retail for $205, but Fitlgow is offering this kit for $119. And again, use the code WHOORL15 for an extra 15% off. That's 100 dollars for all five of these products. Hell of a deal!
There are a limited number of these kits and when they are gone, they're gone. Obviously, both of these kits are 1000% Whoorl-approved and I hope you can take advantage of this fantastic discount. As always, leave me questions in the comments and I'll get back to you!
YOU MIGHT ALSO LIKE:
My #1 Makeup Tip for a Youthful Look