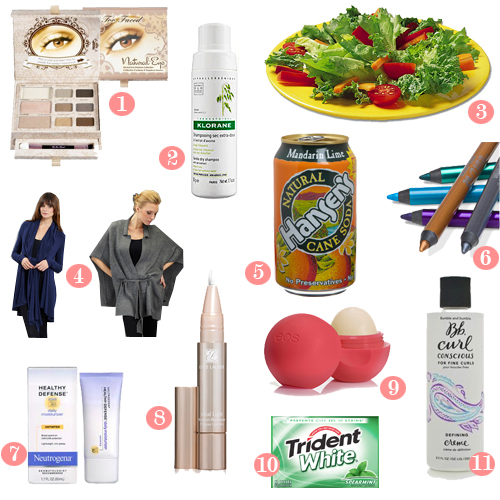 Hello! Quite a lengthy break I took there, but trust me, you wouldn't have wanted to hear the ample amounts of complaining coming out of my pie hole. I'm in the 11th week of of a much queasier pregnancy, although this comes as no surprise to those who follow my Twitter updates. (The benefits of Twitter – I can announce to 3,000 followers that I'm pregnant in 160 characters or less! That's not weird at all, I swear.)
(We're so excited for another whoorlito/a! Hoooooray!)
Although I am beginning to see a light at the end of the tunnel, my energy levels have been next to nothing for the past two months. Here are some favorites that helped me feel halfway decent and attractive throughout the barfdom.
1. Too Faced Natural Eye Neutral Eye Shadow Collection – This is the greatest eye shadow palette ever. EVER. If you don't believe me, read the 517 5-star reviews on Sephora. I love the middle row (I think it's the "classic" one), and it has helped to make me look presentable, even in the midst of feeling like complete dog shit.
2. Klorane Gentle Dry Shampoo With Oat Extract – Non-Aerosol Pump – There were actually a couple of weeks when DRYING MY BANGS made me winded. This dry shampoo is the best! It doesn't leave a residue or smell funky – just makes my bangs look freshly washed.
3. Salads – Trust me, nothing would make me happier than to say that cravings for doughnuts/snickers/pizza were on my agenda. (It's the baby! I can't help it!) Alas, NO. Those things sound AWFUL. Give me some cold baby carrots and celery. In fact, watch me take down a head of iceberg lettuce right here and now.
4. Slouchy cardigan wraps – I'm currently in the not-quite-showing-but-horrifically-bloated stage and slouchy cardigans have been my saving grace. Both of these were bought at Ideeli, which has had a massive hold over my wallet for the past few months. (Can't Stop Buying Things at Ideeli Help.) Click here for an invite if you are interested in making your wallet cry as well.
5. Hansen's Natural Cane Soda – The carbonation makes my tummy feel better, and these sodas contain no high fructose corn syrup.
6. Urban Decay 24/7 Glide-On Eye Pencil in Rockstar – Oh, you guys. Pair this with the above-mentioned eye palette and you'll be looking good. The Rockstar shade is a deep eggplant purple. Looks great with brown eyes. (By the way, if you are interested in any of these Sephora items, they are having free shipping today for Cyber Monday. Enter code SHIP4FREE at checkout.)
7. Neutrogena Healthy Defense SPF 30 Daily Moisturizer – I live by the beach. I don't want to deal with melasma. End of story.
8. Estee Lauder Ideal Light Brush-On Illuminator – Totally covers my dark circles resulting from random middle-of-the-night wakings.
9. EOS Lip Balm in Summer Fruit – This balm smells GOOD. And how could you not love the round design?
10. Trident White Gum – My least favorite pregnancy symptom so far? No matter how many times I brush and floss my teeth during the day, I can't STAND the taste in my mouth. THIS SUCKS BEYOND BELIEF. Enter constant gum chewing.
11. Bumble & bumble Curl Conscious Defining Creme – Screw drying my hair straight. This creme really enhances my waves and saves me about 30 minutes in drying time. Hallelujah!