Quite a massive posting lull last week, yes? My mom came to visit the kiddos for three days! Besides enjoying some mother/daughter time, do you know how thrilling it is to run errands with another adult in the car? Not only will your conversations include phrases other than "please don't throw those raisins on the seat," and "no really, LET'S PLAY THE QUIET GAME FOR REAL THIS TIME, " but you can actually LEAVE the kids in the car with said adult while darting in and out of stores. No stroller folding/unfolding, waking up the baby, keeping the toddler in line, etc. GENIUS, I TELL YOU.  Anyone interested in hanging out with me in my car while I run errands during the day?
**********
I'm completely obsessed with these damn Groupon-type websites as of late. $20 off of $40! Salon treatments for half off! Look, I'm saving so much money!
Except that I'm NOT because I wouldn't be spending in the first place had I not known about these sites. Gah.
(However, $20 off of $40 at The Body Shop! Today only!)
(And $25 for $50 of kids' merchandise at Shop Zoolu! PEER PRESSURE.)
**********
Wita has been sleeping super long stretches at night since 6 weeks old. I can now tell you this without fearing the jinx because, well, she isn't anymore. She enjoys going to sleep at 7pm (good!) and waking up at 4am (BAD). What we assumed was a growth spurt starting two weeks ago has either turned into the Longest Growth Spurt Known To Man, or most likely, her newfound ability to shimmy her way out of the swaddle. Our pediatrician recommended de-swaddling Wito around 4 months old (remember the crazed bird arm-flapping?) and wouldn't you know? Wita will be four months old this week. Damn you, de-swaddling! Damn you for these horrendous circles under my eyes!
**********
I can't believe I forgot to tell you the details of our trip to Disneyland on the the hottest day in Orange County history. It was a little bit like hell on earth, and we all know how my body reacts to heat. Wita was reminiscent of a hot potato all jammed up in her stroller and Wito was dripping sweat the entire visit. However, believe it or not, the heat was not the star of the story. It turns out while I was nursing Wita at the Baby Center (a visit to the Baby Center is a MUST while visiting Disneyland with small children), Wito pulled out Dangler #2 from last year's run-in with a steel baker's rack. It went a little something like this.
leisurely walking through Fantasyland en route to 'It's a Small World' ride

Wito: (nonchalantly) Here, daddy. Hold this.
Wito drops a bloody tooth into D's palm
D: Uhhhhhhhhhh.
End scene.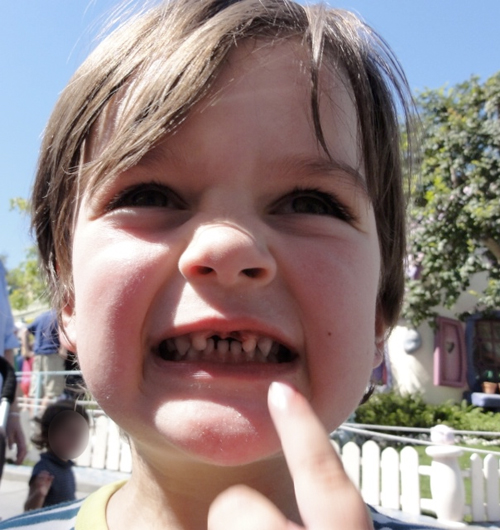 Please to enjoy my bloody tooth hole!
Front teeth are really overrated.
**********
I started a month-long bootcamp this morning. Two words. Running Drills.
OMG.