Best of the Best is a series showcasing my favorite, tried-and-true, go-back-again-and-again green beauty brands. Being a beauty blogger, I'm in a constant state of flux with skincare and cosmetics, as I'm always trying new products. However, these brands are always in my rotation and are worthy of my highest recommendation.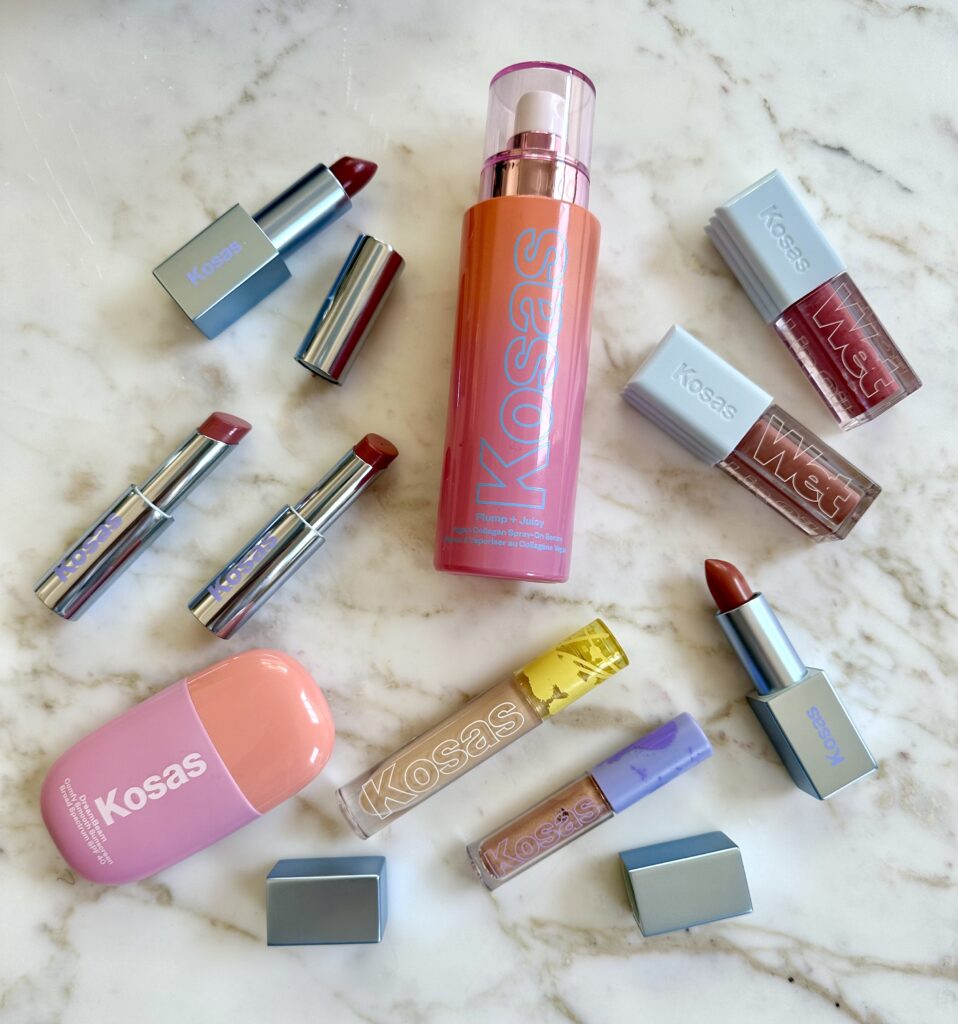 Since the inception of the brand in 2015, I have been borderline obsessed with Kosas Cosmetics. First came the lipsticks – fast forward 8 years and it's a full-fledged line of cosmetics boasting fantastic skincare ingredients. As Kosas says, it's a line for "skincare freaks."
Here are my favorites!
My Favorite Kosas Products
Dreambeam SPF 40 Mineral Sunscreen
My favorite mineral sunscreen is DreamBeam, hands-down. This formula is so hydrating and the perfect primer before makeup. Sometimes I think it can't actually be a mineral sunscreen because it's THAT good.
Wet Sticks
These new balmy lip care sticks are packed with squalane + ceramides that create the most lovely, sheer wash of color. My two faves are Hot Beach and Malibu.
10-Second Eye Gel Watercolor Eyeshadow
Simmer is my favorite of these eyeshadows because it's the most subtle but gorgeous champagne shade for the movable lid. I love how it catches the light when I blink.
The Revealer Concealer
The Revealer Concealer is a medium coverage, super creamy concealer, eye cream, and spot treatment in one that visibly brightens and helps reveal better skin over time. I love how it blends seamlessly on my mature skin and doesn't get patchy or crease under my eyes. I wear shade 3 in winter and 3.5 in summer.
Plump + Juicy Vegan Collagen Spray-On Serum
Ohhhh, my newest love from the brand. This vegan collagen spray-on serum hydrates, soothes, and visibly firms my skin without any sort of reaction – it's totally safe for sensitive skin, hypoallergenic, and fragrance-free.
I spray during my skincare routine, but also before makeup or when my skin needs a little hydration boost (which is all the time in the winter).
Kosas Weightless Lip Color
Not gonna lie – I was slightly devastated when I heard the original Kosas lineup of shades was discontinued (Stardust was my faaaaaaave), but I really do enjoy some of the new lip colors, especially High Cut and Turned On.
Wet Oil Lip Gloss
Oh, these glosses are so juicy and cushiony, which is my fave. Jellyfish and Unhooked are must-haves!
As always, let me know if you have any questions about the line. Love to help!
Other Best of Best posts: