From top to bottom: Kjaer Weis KW Red, RMS Rebound, Clove + Hallow Damsel, Fitglow Love, RMS Jezebel, Rituel de Fille Devil's Claw, Vapour Courage, Kosas Thrillest
Ladies, can we have a chat? I want to know…what's it going to take to persuade you to try red lipstick? A vibrant, beautiful red lipstick can absolutely transform a face. Yes, it's an attention-grabber. Yes, it takes confidence. But I know you can do it, and I'm going to share the best natural red lipsticks in green beauty with you.
Believe it or not, I didn't start wearing bold lipsticks until about 10 years ago in my late thirties. For years and years, I pined over images of women wearing a bold red, but I didn't dare! I mean, I didn't want that much attention focused on my lips. What would people think?! (That I'm a confident, vivacious woman who enjoys a bold lipstick? QUELLE HORREUR.) I even remember being at a black-tie gala with my good friend who rocks a red lip like no other when I was in my late twenties. She persuaded me to try hers (it was MAC Ruby Woo, I remember it like yesterday), and I applied it in the bathroom. I loved loved loved the way it looked on me, but wiped it off before returning to the party. What is up with that, my friends? Pure ridiculousness, that's what.
I was scared to wear an assertive color on my face. I didn't want to seem like I was attention-seeking. "A nice muted pink gloss should suit a lady like me just fine," I thought. (Rolling my eyes.) When I look back, it really was a larger issue than just wearing red lipstick. I was afraid to be seen. Afraid to abandon a more conservative look. Afraid to stand out.
Well, if you know me at all, you know that is no longer a problem. I love me a bold lipstick.
But let's put a red lipstick's confidence-boosting ability aside. What are some other positives of wearing red lipstick?
1. It's a classic look that's been around for decades. Think Marilyn Monroe, Elizabeth Taylor, Coco Chanel.
2. It makes you look younger. Oh, I know some of you are going to balk at that statement, but it has been scientifically proven that what people find youthful in a face is the contrast of features. (Dark lashes/eyebrows, deep lips.) As we age, those features become noticeably paler and we begin to look more washed out. When you wear a red/bold lipstick, you create that contrast again.
3. It lifts your mood. A bright lipstick makes you feel more chipper and even more powerful. Coco Chanel was right when she said, "if you're sad, add more lipstick and attack."
4. It increases feelings of self-worth. Vain? Maybe, but when you take the time to care for yourself, it makes a lasting impact psychologically.
5. IT LOOKS GOOD.
So, ladies. Heed my word and get some red lipstick in your queue. And you don't have to go full-bore like yours truly and apply straight out of the bullet. Gently pat your finger on the lipstick and then dab on your lips for a much subtler effect. Baby steps, but I promise you'll be rocking those red lips in no time.
Here are the 8 best red lipsticks in my book!
Shade: Lisa Eldridge True Velvet Lipstick in Ribbon
Tone: Universal, classic neutral blue red
Finish: Matte
Shade: Kjaer Weis Lipstick in KW Red
Tone: Classic neutral red
Finish: Satin matte (If you are looking for a natural matte, KW also makes this shade in the Matte, Naturally formula.)
Shade: Gen See Pick Me Up Matte Lipstick in Irene (can't stop wearing the Gen See lipsticks this year)
Tone: True Red
Finish: Matte
Shade: Gen See Pick Me Up Matte Lipstick in Selma
Tone: Orange Red
Finish: Matte
Shade: RMS Wild With Desire Lipstick in Rebound
Tone: Ruby Red
Finish: Satin
Shade: Clove + Hallow Lip Créme in Damsel
Tone: Bold blue-red
Finish: Semi-matte
Shade: Lisa Eldridge True Velvet Lipstick in Jazz
Tone: Earthy, brick red
Finish: Matte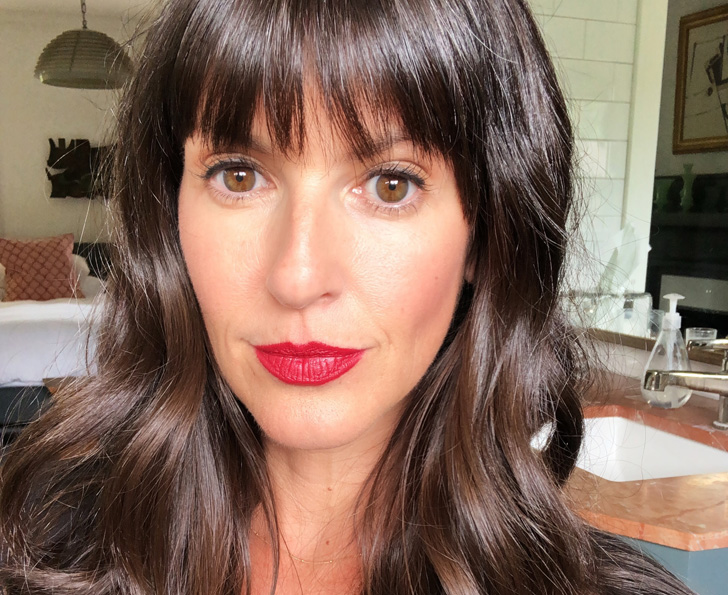 Shade: RMS Wild With Desire Lipstick in Jezebel
Tone: Blackberry red
Finish: Satin
Shade: Rituel de Fille Enchanted Lip Sheer in Devil's Claw
Tone: Warm red with subtle gold sheen
Finish: Semi-matte
Shade: Kosas Lip Color in Thrillest
Tone: Poppy orange-red
Finish: Semi-matte
Questions about natural red lipsticks in general or these particular shades? Hit me up in the comments!
Other posts you might like:
The best skincare for ladies over 40!