Ladies, this is the post I've been waiting to share with you because if there is one makeup category that becomes elusive as hell once you hit the 4-0, it's that of foundation. Women of a certain age, do you cringe at the thought of what a "full coverage" foundation might do to the cracks and crevices fine lines and slight wrinkles on your lovely face? Do you find that the more foundation you apply, the older you look? Are you confused with application techniques? Well, let me whisper sweet foundation nothings into your ear. Yes, it's time to talk about the best foundations in clean beauty for women over 40.
Obvi alert. Long gone are the days of a "perfect" canvas. We've earned every single laugh line, sunspot, and bit of texture here and there and there's no need to spackle on a heavy foundation to hide all our glory. Are you picking up what I'm putting down? The less foundation, the more radiant you will appear.
Say it with me. The less foundation, the more radiant you will appear.
If you follow me on Instagram, you know that I'm a big proponent of using concealer to "spot-treat" around the face just where you need it instead of wearing a full face of foundation. (Did you see my one-minute "foundation" video? That's what I do 85% of the time.) But! There are definitely times when we need to pull out the big guns and embrace foundation.
Listen, I'm only one face over here, but what I've found through trials and tribulations is that mature skin benefits from a certain finish…and that finish is not super dewy, despite that mega glowy trend we are seeing everywhere. (Speaking of mega dewy, did you see my Ilia Super Serum Skin Tint SPF 40 review? Although lovely, it just didn't work with my mature skin texture.)
Shiny skin draws attention to every pore, wrinkle, and texture "challenge" you might be experiencing.
Mature skin really benefits from a satin finish – where's there still a glow, but no actual shine. I mean, many of us are already deep in the perimenopausal woods, so we don't need anything that's gonna make our face look sweatier, am I right? #hotflashcentral
All in all, these foundations would look lovely at any age but have the added benefit of working beautifully on mature skin.
Let's get to it!
My Top Foundation for Mature Skin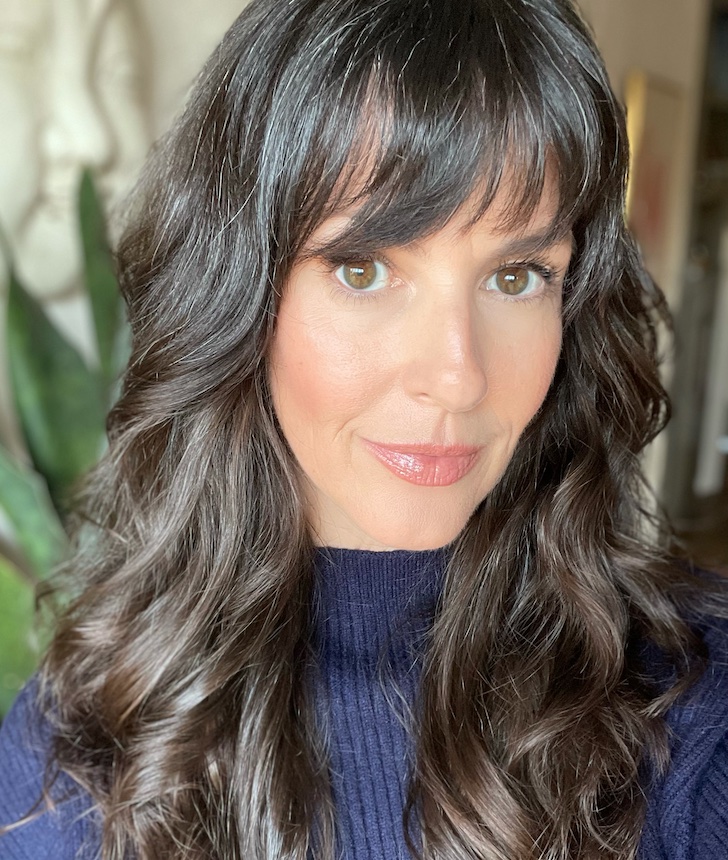 wearing exa foundation in dana 430
Exa High Semi-Satin Fidelity Foundation, $38
My top pick, Exa Beauty High Fidelity Foundation is a weightless vegan foundation that can be worn sheer to full coverage for a subtle, luminous glow that looks just like your skin on a really good skin day. It checks all the boxes that I'm looking for – doesn't settle into pores, doesn't sit on the face, blends beautifully, isn't too dewy, and most of all feels really good on the face.
The latter is probably due to the lightweight base of comforting aloe vera juice and peach fruit extract to protect the skin's barrier against environmental stressors, as well as protective microalgae actives, soothing maqui berry and hydrating hyaluronic acid. The foundation feels super lightweight on the face but lasts all day and doesn't move around with additional makeup application. This cruelty-free foundation is made with gluten-free ingredients, is safe for sensitive skin, and approved by dermatologists.
Here's the best part. This foundation comes in 43 SHADES, making it the most inclusive foundation in clean beauty. I wear 430 Dana, but honestly can get away with most of the shades in the lower 400 range because the pigments are very adaptive. However, I know buying foundation online can be a bit hit-or-miss, so Exa has you covered!
The Exa Foundation Sample Card! Each set contains 11 shades of the High Fidelity Foundation in 4 different shade ranges – 1 Deep Dark to Medium Deep, 2 Medium-Deep to Medium, 3 Medium to Light-Medium, and 4 Light-Medium to Fair, as well as a sample of Exa's universal Jump Start Smoothing Primer, a silky blurring primer that creates a semi-matte canvas of possibility.
This is a no-brainer in my books. Only 5 bucks to nail your perfect match and you will receive $5 off your next order of a full-size High Fidelity Foundation…what do you have to lose?
My Top Tinted Moisturizer for Mature Skin
wearing saie slip tint dewy tinted moisturizer in three and a half: light-medium
Saie Slip Tint SPF 35 Tinted Moisturizer, $32
To my friends who love an all-in-one moisturizer, foundation, and SPF, the Saie Slip Tint SPF 35 Tinted Moisturizer is by far my favorite. I have been soooo pleasantly surprised by this tinted moisturizer! I didn't have the best experience with Saie's regular SPF (too shiny) so I was really happy to see how well this tinted moisturizer worked on my skin. (Superb for dry, sensitive skin!)
Described as a tinted moisturizer that offers skin-loving hydration, sheer, dewy coverage in confusion-free shades, and 100 percent mineral UV protection, the product is gluten-free, cruelty-free, and comes in recyclable packaging. Great skin-loving ingredients like licorice, jojoba esters, and sweet pea help to brighten and nourish.
Here's the deal – I just don't think when applied to a cleanly-washed and toned face, it's super dewy. And I mean that in a good way! It's pretty clear by now that shy away from "glowy" foundations, and this one leaves a nice satin finish with a hint of dewy, but no sort of greasy vibes at all, especially considering it contains SPF.
As for shade, don't overthink it. The flexible pigments really disappear into a wide range of skin tones. Shade Three: Light to Medium Peach suits me the best.
How I Apply Foundation
With liquid foundations, I prefer to dot the product onto my face with my fingers followed by my Clove + Hallow Perfecting Buffer Brush to blend the foundation.
In general, I focus almost entirely on the inner 1/3 of my face – I apply the product in this area and then just blend out over the rest of my face. This keeps the foundation focused on counteracting the redness around the middle of my face while being almost transparent around the parts of my face that don't need coverage. This prevents a mask-like appearance.
Also, when choosing a foundation shade, I tend to match it to my neck as opposed to my face. My face is much redder/darker than my neck and usually, the neck doesn't lie when it comes to your true skin tone because it doesn't have as much damage as our faces, which cause surface tones that might make you believe you are a different tone.
A light hand is key when applying foundation in your 40s…more product, more problems. Start with the smallest amount and build from there! I think you will be pleasantly surprised when employing the less-is-more method. Let me know if you have any questions about these particular foundations or foundations in general in the comments. Always happy to help out if I can!