Best of the Best is a series showcasing my favorite, tried-and-true, go-back-again-and-again green beauty brands. Being a beauty blogger, I'm in a constant state of flux with skincare and cosmetics, as I'm always trying new products. However, these brands are always in my rotation and are worthy of my highest recommendation.
Vapour Beauty is the first cosmetics brand I've featured in my Best of Best series, and that designation does not come lightly. In fact, when considering all the cosmetics brands in the green beauty realm that I adore, it wasn't super easy to pick. However, most of the brands I love excel in one or two areas (for instance, my fave Kosas Cosmetics is all about the lips), and Vapour is one of the few brands that not only I can create an entire look with that garners compliments again and again, but these products PERFORM.
First off, a little bit about Vapour as a company. Founded in Taos, New Mexico by Krysia Boinis and Kristine Keheley, Krysia's knowledge of healing botanicals and alchemical blending in combination with Kristine's masterful blending of natural mineral pigments which creates Vapour's palette of modern, classic color is a match made in heaven.
All products are hand-crafted with the purest organic and natural ingredients, and those ingredients are sourced for their potent benefits to the skin as well as the sustainability of their harvest. Vapour's process respects the power of plants in promoting health, beauty, and wellbeing. Vapour operates its own USDA-approved organic lab where product quality, integrity and purity standards are meticulously protected. The products never contain toxic chemicals, parabens, phthalates or nano-particles, and none of the raw ingredients have been irradiated or animal-tested.
Vapour has earned "champion" safety status from the Environmental Working Group and Campaign for Safe Cosmetics, and products are 100% natural, 70% organic skincare, and 30% mineral pigment/essential oils.
So, yeah yeah, they are super clean. But let's get down to the nitty-gritty. Do they look good on the face? Do they perform? Is the color range robust yet unique? DISH IT, SARAH.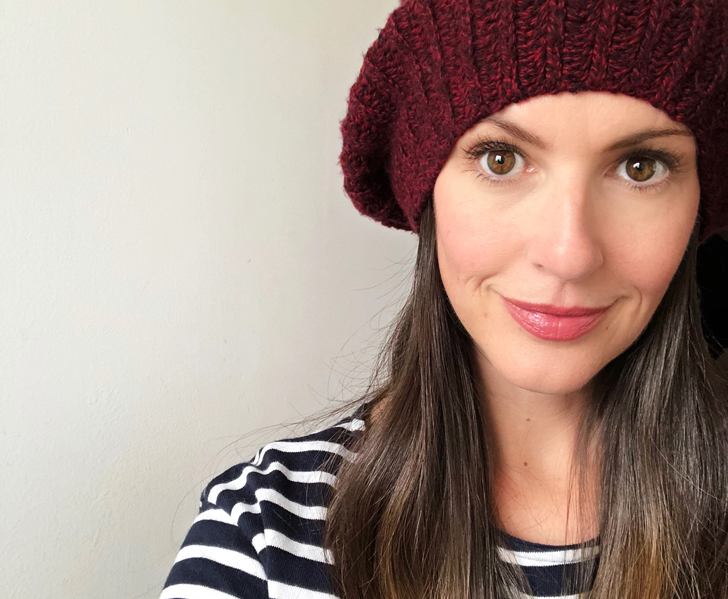 wearing luminous foundation 115, bronzing stick, aura multi-use stick in scandal and siren lipstick in au pair 
Well, I can't say enough about this brand when it comes to performance. The foundations and multi-stick blushes glide on effortlessly and blend seamlessly into the skin. The concentrated and moisturizing bases hold fine particles of reflective minerals which give me this "lit from within' glow without settling into my fine lines or pores. (Hello, I'm 43. I need all the help I can get, people.) And as far as minerals go, their foundations contain about 30% minerals, and that amount of mineral in a product usually gives a sun-protective effect similar to an SPF 15. NOW, I have to preface that statement with the fact that Vapour doesn't make that claim because the products aren't FDA-tested when it comes to sun protection, but using my own noggin, I know that minerals create a shield from the sun. Anyway, small point, but I enjoy knowing that my foundation is most likely protecting my face on those days I forget to apply sunscreen.
The Luminous Stick Foundation is what I would call light-to-medium coverage. I wear the shade 115 and it's a perfect match unless it's the middle of the summer and I'm tan. (Which is a rarity, frankly.) I love that it covers the redness around my nose and mouth, but you can still see my freckles and such. It's great for everyday wear, plus it is so quick to apply being that it's a stick formulation…just a couple of swipes around the center of my face and then I blend outwards with my fingers.
Another thing I love about the Luminous Stick Foundation? Its main ingredient is Camellia oil, which ranks a 0 on the comedogenic scale. (Comedogenic means the ability to clog pores, and the scale goes from 0/no clogging to 5/majorly clogging. You can check out more info here.) Just this past year, I've dealt with new and frustrating breakouts and through trial and error, realized it was from using foundations with coconut oil. You guys, no no no no. Coconut oil rates a 4 on the comedogenic scale, which means that MOST people will break out using this oil unless they have a good tolerance to it. If you have been dealing with out-of-the-blue breakouts after switching to greener products, I would suggest looking at the ingredients. Is coconut oil on the list? Could be the culprit! Now, does coconut oil cause this problem for everyone? Absolutely not. In fact, you might be perfectly fine using coconut oil. But for me? Can't do it. Camellia oil, which is in Vapour's foundations, does not clog pores and in fact, has antibacterial and anti-inflammatory properties. My face is happy once again.
One last thing I'd like to say about the stick foundation, and this goes for the stick blushes too, is that they glide on so effortlessly. Do/did any of you use the Bobbi Brown stick foundations and/or concealer? I did, and I vividly remember dragging those sticks across my skin and then trying to blend. You don't "drag" at all with Vapour's formulations…they glide onto the skin so easily.
However, as I enter my mid-forties, I find myself reaching for the Soft Focus Foundation more often! This is Vapour's liquid foundation and I wrote about it in detail here!
Cheek colors? I prefer Courtesan and Scandal year-round, and Spark is my go-to for Spring and Summer. The Bronzing Stick is one of my favorite cream bronzers. Also, I adore the lip products. The lipsticks are super silky with full coverage, and the lip glosses are luminous. (Plus, they always make my lips look plump, which isn't the worst thing in the world.) Best shade? Everyone needs Au Pair lipstick (such a lovely warm pink) and oh oh oh, and I mustn't forget their Lux Organic Lip Conditioner. When I sit down to apply my makeup, this is the first thing I put on. It moisturizes my lips and primes them for other lip products. (Also works as an eyebrow tamer and highlighter on the cheeks!)
lip gloss in beguile and cheek color in scandal
If you are looking for an eye pencil that won't budge, look no further than the Eye Definer. (Seriously, doesn't move. So awesome.) However, with that being said, the only downfall for me within the brand is the rest of the eye category. All of the eyeshadows are creams, and they don't do much for me personally. (Although, I'm known to shy away from cream shadows altogether so it's probably due to that. If you love cream shadows, don't let me dissuade ya!)
However, I've saved the best for last. THE CREME DE LA CREME. OF MY LIFE. YES ALL CAPS DRAMA RIGHT NOW. Thank Vapour and the moon and the stars above for their new deodorant, the AER Next-Level Deodorant. OMG.
Folks, listen to me and listen carefully. I have tried all of the natural deodorants. ALL OF THEM. Nothing, absolutely nothing compares to this deodorant. It's so good, I almost want to cry tears of joy. If you are still on the natural deodorant hunt, stop everything and buy this deodorant. It's simply that good. It works – keeps me dry and smells great. Plus, you only need the teeny tiniest amount, so it lasts. Love that it has the click-up technology (similar to the Secret soft solid) that I always loved with conventional deodorants, but it's clean as a whistle. Seriously, are the angels singing right now? I need some angelic song right about now.
The deodorant comes in 3 scents – I usually wear the Ginger Grapefruit, although I'm on a Lavendar Myrrh kick right now. If Vapour ever discontinues this, I will march down the streets of my city in protest with a sign and a bullhorn. By myself. I ain't kidding.
I would love for you to give some of these products a try, so as always, leave any questions in the comments and I'll try to help out as best I can.