Brought to you by Energizer®. Click here to learn more about Energizer® Portable Lights with Light Fusion Technology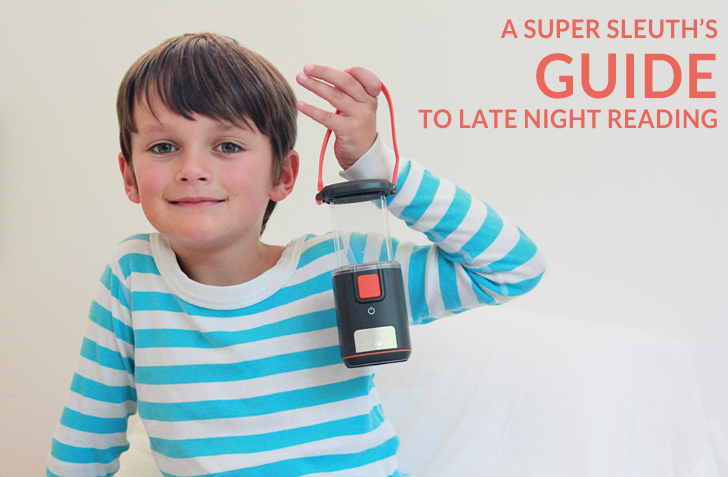 You know what thrills me to the core? Wito's intense love for reading. He started reading books at the ripe old age of 2, and hasn't shown any signs of dialing his obsession back. Do you remember that kid growing up who chose to read a book under a tree during recess at school? That would be Wito. In fact, we had to have a family discussion in which he agreed to at least run around and socialize during one of his two recess periods.
It's tough being a book lover sometimes. I know this from personal experience.
In addition to being a book nut, my dear Wito is also a total rule follower. (MAN, the apple doesn't fall from the tree.) When it's time for bed, I give him about 20 minutes to read quietly in his room and then it's lights out. Except for lately? Long after those 20 minutes have passed I'll be walking down the hallway and see the tiniest sliver of light peeking through the bottom of his door. Lights out? Not so much. Breaking the law, BREAKING THE LAW, that kid.
(I'm secretly thrilled. Book Lovers Unite! Who am I to deny that child those precious moments?)
D, on the other hand, is not a reader. In fact, the last time he read a book was probably 15 years ago while in college. How did I find myself married to a non-bearded non-reader? I don't know, folks. I don't know. Unfortunately, he's not so keen on Wito's extended reading sessions in the evening, and keeps his eye out for that familiar glow under Wito's door.
I decided it was time for one book-loving rule follower to assist another in some law breakage. Fist bump.
Enter super sleuth portable lighting. (Who am I? A REBEL, IS WHO.)
Wito tried out two powerful and portable Energizer lights with Light Fusion technology – a 3-n-1 flashlight and a portable pop-up lantern.
This is what the super sleuth had to say.
"I like this flashlight. It's super bright and I could use it camping. My arm kind of hurts, though. Can you hold it for me? I'm very tired."
(Um, it only weights 10 ounces. Folks, unfortunately all that book reading doesn't build any muscle. For the record, Wito sometimes complains that his legs are WAY TOO tired from walking 15 feet from his bed to the bathroom. Physical prowess is not his forte.)
"Mom! Did you know that if you press the flashlight button again that the whole side lights up?! It's like two flashlights in one! This one is cool. Um, do I have to hold it myself? It's very late (8:25pm) and my arm feels a little weak, you know. Oh look, you can pull out a little tripod thing! My arms are free!"
But the best was yet to come…
"This one is my favorite, mom. I can rest my weary arms (yes, I believe he said WEARY), and it works great under the covers where there aren't any shadows. You know I don't like shadows, mom. Right? RIGHT, MOM?"
Looks like the pop-up lantern is the winner. If you're looking to aid and assist your late night reader, Wito gives it 2 (weary) thumbs up.
Brought to you by Energizer®. Click here to learn more about Energizer® Portable Lights with Light Fusion Technology